By Delusional Economics, who is determined to cleanse the daily flow of vested interests propaganda to produce a balanced counterpoint. Cross posted from MacroBusiness.
You know, post June-2012, I genuinely thought we'd moved past the back and forth, chicken and egg arguments within the Eurozone, but alas, we are here again:
German central bank head Jens Weidmann has strongly criticized French efforts to reduce its budget deficit, just days after the European Union granted Paris more time to meet EU requirements. He warns that French delays could damage the credibility of euro-zone rules.

France needs more time to get its budget deficit under control. That much was made clear last Friday when the European Commission announced it was granting Paris until 2015 to bring its budget deficit below the maximum 3 percent of gross domestic product allowed by European Union rules ensuring the stability of the euro.

But on Wednesday evening, Jens Weidmann, the president of Germany's central bank, the Bundesbank, said he is adamantly opposed to the move. "You can't call that savings, as far as I am concerned," he told the daily Westdeutsche Allegemeine Zeitung in an interview. "To win back trust, we can't just establish rules and then promise to fulfil them at some point in the future. They have to be filled with life," Weidmann said.
I would advise readers to take note of this chart to appreciate the irony of comments about "damaged credibility" in breaking treaty rules.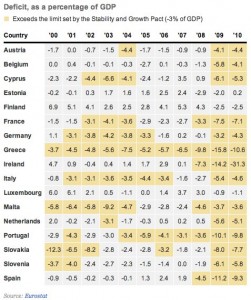 And there's more from Germany:
Germany wants further reforms and savings in crisis-hit euro zone states, according to a report obtained by German magazine Spiegel in which Berlin evaluates progress made under strengthened EU budget rules.

The rules have managed to spur in all euro zone countries a "general political mobilization towards structural reforms and greater competitiveness", Spiegel cited the report as saying in its edition published on Sunday.

However, in Italy there remained "further room for labor market liberalization", while in Greece and Spain further reforms to overcome rigid labor laws were "essential".

In order to improve its finances, France had increased its revenue intake, but also needed to cut spending, the report, prepared by Chancellor Angela Merkel's office continued.
And then some more from Schäuble:
Germany's finance minister has signaled his opposition to any move by the European Central Bank to buy asset-backed securities to help indebted states, telling his party it would amount to "covert state financing", according to German magazine Spiegel.

Spiegel said in its edition published on Sunday that Wolfgang Schaeuble made the comment during a meeting of his Christian Democrat (CDU) party last Wednesday, telling those present the purchase of asset-backed securities (ABS) by the European Central Bank (ECB) would infringe European rules.

German newspaper Die Welt, citing a central bank source, said last Wednesday a majority of ECB Governing Council members seemed to be in favor of the central bank buying ABS.
I'm not going to go through it again, you can see my most recent comments on France's economic issues here , but it seems, at least in an election year, the German elite are happy to continue of the path that means further economic retrenchment across the zone, including the second largest Eurozone economy, France.
But that's not the end of it. This week Schäuble has also taken a swipe at the proposed banking union, something that is supposed to be ratified in the coming months:
German Finance Minister Wolfgang Schäuble has warned that rushing to establish a European banking union could backfire if existing treaties in the bloc were violated. He called for a two-step mechanism.

Wolfgang Schäuble told the Financial Times on Monday that creating a central authority to wind up failing banks in the 17-member eurozone and beyond should not be tackled before binding treaties were amended accordingly.

Seeing the urgency of the scheme to prevent taxpayers from bailing out lenders in the future, however, the minister hastened to add that Europe did not have to choose between a legally shaky authority now and delaying repair work.

He suggested a two-step roadmap, with a first measure aimed at creating a mechanism of national authorities and relying on national funds rather than making a central institution responsible for bank resolution.
So, as we've seen many time previously, when it comes time to actually move in a direction of shared responsibility the Germans baulk and demand legal and/or political changes first. What's more, you may remember that the banking union has already been diluted, mostly by demands from the Germans , to a point where is is relatively useless to any country that is already in strife.
Equity can only be injected in good banks, not bad ones , and there can be no external help given for "legacy" issues unless the burden is taken on by the sovereign. So any country that is already having banking systems issues, namely Spain, Greece and Cyprus couldn't actually access the banking unions safe-guards even if they were in existence today. So basically they are left to fend for themselves and the entire idea of "separating the banking system and the sovereign", as specified as the aim from the June 2012 EU Summit, has fallen by the way-side and we are back to the old "chicken and egg" arguments about fiscal responsibility and control versus moving forward with a tighter fiscal and banking union.
To make matters worse, as I discussed in late April the Bundesbank appears to want to scuttle the ECB's OMT, or at least water it down to a point where it could potentially destabilise the current calm in the sovereign debt markets.
With France facing rising unemployment and falling industrial output, the European commission has already predicted the country will be in recession this year. It is very likely that within a few months we will start to see a fall in consumer spending and once that occurs we will see household wealth begin to fall as unemployment begins to undermine asset prices and the French economy start to show similar dynamics to that of its southern neighbours.
It would appear, for whatever reason, that the German economic elite are happy to see France head in that direction, while the nations that are already there are left to themselves to try an work out how to get back out.
* * *
"… and where it stops, nobody knows." Still, the French don't mess about. The Louvre opens directly onto the Tuileries Gardens these days….