In this post I'm continuing the analysis of the final version of the basic application for ObamaCare that I began here. I'm going to look at how ObamaCare "nudges" citizens consumers into "opting" to renew their eligibility automatically for five years, instead of fewer years, or not at all.
Here's the distinction between "opt in" and "opt out." (As a dyslexic I find myself getting as confused with "out" vs. "in" as a I am with "right" vs. "left." So I certainly hope I get this long explanation right.) From the University of Miami's Miller School of Medicine:
an "opt in" requires an action or affirmation by an individual for inclusion; the default is exclusion;
an "opt out" requires an action or affirmation for exclusion; the default is inclusion.
"Opt out" is where a checkbox is checked that is in the interest of whoever's selling you a product, but not necessarily in your best interest. Like so:
[x] Yes! Sign me up for 36 months of Newt Fanciers' Digest for the low, low price of $14.95 per issue!
You've all had the experience of signing up for something online, and having to carefully uncheck all the checked boxes? You're opting out; the default is inclusion, so you have to undo that. But not everybody goes to the trouble, which is why sleazeball marketing companies use the tactic. Banksters liked to use "opt out" to sign you up for over-draft protection (i.e., lots of lovely rents) on ATM overcharges, a practice so vile that even the Fed couldn't stomach it, and required "opt in" instead.
Leading me by a natural association of ideas to ObamaCare! How does "the final version of the basic application" handle opt in vs. opt out? Well, not so crudely as Newt Fanciers' Digest. But they set you up for "opt out" (default inclusion) anyhow. Let's see how.
First, let's look the draft 26-page "Single Streamlined Application".
Figure 1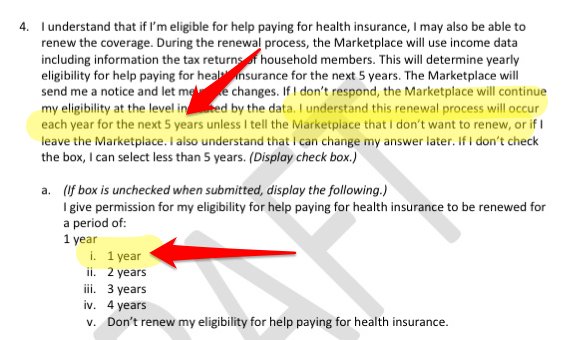 Here are the key passages as text for Figure 1:
I understand this renewal process will occur each year for the next 5 years unless I tell the Marketplace that I don't want to renew, or if I leave the Marketplace. I also understand that I can change my answer later. . (Display check box.)

a.(If box is unchecked when submitted, display the following.)

I give permission for my eligibility for help paying for health insurance to be renewed for a period of:

i. 1 year
ii. 2 years
iii. 3 years
iv. 4 years
v. Don't renew my eligibility for help paying for health insurance
Although the language ("If I don't check the box, I can select…") is convoluted, it's clear that if the citizen consumer takes no action (does not check the box), they will be presented with options that start with one year and end with not renewing at all. Only by checking the box will the citizen consumer be signed up for 5 years. The draft single streamlined application, in other words, used "opt in"; affirmation by the citizen consumer is required for the maximum 5 years.
After the draft "single streamlined application" was introduced, the White House got its hands on the form and revised it, framing its revisions — aided by what retrospectively looks like kayfabe performed with the help of Time's Joke Line — as reducing burdensome paperwork. From Obama's presser:
You know, we put together initially an application form for signing up for participation in the exchanges that was initially about .

And immediately everybody sat around the table and said: 'Well, this is , especially, you know, in this age of the Internet. People aren't going to have the patience to sit there for hours on end. Let's streamline this thing.'

So for an individual, a little more than that for a family, well below the industry average. So those kinds of refinements, we're going to continue to be working on.
Of course Obama is too artful to lie unless he really, really has to. And indeed the White House really did cut down the form for individuals (although making the process more cumbersome for families of four). A neat piece of misdirection! Obama, as we have seen, did not mention one major revision the White House made: Involving consumer reporting agencies in the eligibility determination process. Nor did he mention a second major revision: Converting the ObamaCare application form from opt-in to opt-out. Let's see how that works in the final version of the basic application:
Figure 2

Here are the key passages as text for Figure 2:
To it easier to determine my eligibility for help paying for health coverage in future years, I agree to allow the Marketplace to use income data, including information from tax returns. The Marketplace will send me a notice, let me make any changes, and I can at any time.

[ ] renew my eligibility automatically for the next 5 years (the maximum number of years allowed), or for a shorter number of years:
[ ] 4 years
[ ] 3 years
[ ] 2 years
[ ] 1 year
[ ] Don't use information from tax returns to renew my coverage.
So how do we know the White House changed the final version of the basic form from "opt in" (affirmative action for the maximum 5 years) to "opt out" (affirmative action for less than 5 years)? To begin with, it's right there in the language of the form: "opt out." Now look at the checkboxes. You'll notice at once that none of them are actually checked, leaving open the possibility that none will be checked.* Presumably there will be a rule issued to cover that case; any guesses which option will be the default? Clearly, "5 years," from two cues: (a) the starting "Yes," (at least there's a comma and not a exclamation point, preserving some dignity at least); and (b) it's first. (If you'll look again at Figure 1, you'll see that "5 years" was originally last, not first. "Choice architects" in the White House reversed the order.**) Why is the first item important?
When presented with a list of items to check, citizens consumers tend to treat the first item as the default, and check it. User Interface maven Jakob Nielson from the designer's perspective:
In lists of items, make sure the ones the user is most likely to want come out on top or are made to stand out.
And Nielson on citizen consumer behavior:
How gullible are Web users? Sadly, the answer seems to be "very."

Professor Thorsten Joachims and colleagues at Cornell University conducted a study of search engines. Among other things, their study examined the links users followed on the SERP (search engine results page). They found that 42% of users clicked the top search hit, and 8% of users clicked the second hit. So far, no news. Many previous studies, including my own, have shown that the top few entries in search listings get the preponderance of clicks and that the number one hit gets vastly more clicks than anything else.

What is interesting is the researchers' second test, wherein they secretly fed the search results through a script before displaying them to users. This script swapped the order of the top two search hits. In other words, what was originally the number two entry in the search engine's prioritization ended up on top, and the top entry was relegated to second place.

In this swapped condition, users still clicked on the top entry 34% of the time and on the second hit 12% of the time.
So, the draft ObamaCare application (figure 1) was "opt in," where citizens consumers affirmatively chose the maximum 5 years, and were presented with the one year option first, and the final ObamaCare application (figure 2) is explicitly "opt out," where citizens consumers are presented with the maximum 5 year option first (so the greatest proportion will choose it), and the default isn't even stated let alone visible (though I'm guessing it, too, will be 5 years).
* * *
So, manipulating citizen consumer behavior — all for their own good! — by structuring their default choices…. Does that remind you of anything? It should: That's classic "Nudge Theory" as expounded by the Administrator of the White House Office of Information and Regulatory Affairs in the first Obama administration: Cass Sunstein, the University of Chicago loon — sorry for the redundancy — who proposed the Okhrana-like scheme of "cognitive infiltration" of "extremist groups".*** Anyhow, "nudge theory" was and is Sunstein's Big Idea. Here's a taste from Sunstein's blog:
Decision makers do not make choices in a vacuum. They make them in an environment where many features, noticed and unnoticed, can influence their decisions. The person who creates that environment is, in our terminology, a choice architect. The goal of Nudge is to show how choice architecture can be used to help nudge people to make better choices (as judged by themselves) without forcing certain outcomes upon anyone, a philosophy we call libertarian paternalism. The tools highlighted are: defaults, expecting error, understanding mappings, giving feedback, complex choices, and creating incentives.
Man, "libertarian paternalism." I dunno. I sure don't know many people marching under that banner — like not any libertarians I know, and not any paternalists either — but somebody in the West Wing certainly is, because look how they manipulated those defaults! (Some post-2008 technocratic campaign hagiography attributed Obama's victory to nudge theory as opposed to, say, a crash using up the last of the goodwill from FDR's time the Democrats had on the balance sheet.) Here's an often-cited example of how nudge theory's choice architecture works in practice. From Sunstein's blog ("Obama proposes savings nudges"), The Times in 2009:
One key finding in that research is that people are more likely to contribute to a retirement savings account, like an employer-sponsored 401(k) plan, if they are enrolled automatically. Workers have usually had to sign up for the plan, something that large percentages of people either postponed or never did at all.

Under automatic enrollment plans, employees are automatically signed up unless they explicitly ask not to participate.

Many large and medium-size companies have already adopted automatic enrollment plans, but White House officials said the new initiative was aimed at very small firms that often use a simpler system called the "simple I.R.A."

Under the new initiative, the Treasury Department and the Internal Revenue Service will publish new guidance for small businesses on how to use automatic enrollment for the simplified plans. It will also encourage employers to institute an automatic "step up," which increases a person's saving rate each year or with each raise.
Leaving aside the 401(k) vs. Social Security policy discussion, the choices of the "choice architects" themselves seem unnecessarily constrained: Why are they focusing only nudging people to join the 410(k) program, and not nudging them to pick plans that won't rob them blind with management fees? Even presuming good faith on the choice architects' part — a little hard to do, given that they replace The Noble Lie with The Noble Default Setting — their efforts turned out to have the effect of enriching the rentiers at everyone else's expense. One can only hope the same doesn't happen with ObamaCare!
* * *
I'm not an ethicist, so I can't go much further with Nudge Theory than to say it feels creepy, manipulative, and predatory to me, rather like one of those books on becoming a Player. Here's a philosopher on Nudge Theory:
The folk singer Karen Dalton once said that she sang softly because she wanted people to listen to her. This strikes us as paradoxical. Certainly people are more likely to listen when you raise your voice. Indeed, this is the expectation of the short-term effect. But the long-term effect may be precisely reversed. Think of a grade school teacher who is prone to raise her voice. This may be effective in the short term, but she may have to raise her voice more and more and the overall effect may be that more children would have listened to her had she never raised her voice to begin with. Similarly, there is research showing that the death penalty has a deterrence effect in that the rate of pardon by the governor correlates with the rate of violent crime in subsequent years. (Gittings and Mocan 2003) This is consistent with the brutalisation effect—capital punishment may contribute to a more violent culture and may increase violent crime in the long run.

Now it may be the case that repeated Nudging in public health and pension funds may have short-term positive effects at best. Nudging may not create sustainable effects on people's behaviour for the long-term; as time goes on, the level of Nudging required to retain this effect may increase. Just as Karen Dalton did not want to raise her voice, knowing full well that some people would zone out, we should not be lured by the short-term success of Nudging either. To warrant long-term success, we should let people make their own decisions while providing minimal aid. My point is that short-term success of Nudge may be consistent with long-term failure. The long-term effect of Nudge may be infantilisation, i.e. decreased responsibility in matters regarding one's own welfare.
Well, yes. Infantilization is the flip side of paternalism, no? Consumers. Not citizens. Anyhow, if Nudge leads to the need for more Nudging, that would be a self-licking ice cream cone, wouldn't it?**** So, as the ObamaCare rollout continues, we should probably look for more places where Nudge Theory is being practiced, and when it begins to shade over into compliance.
* * *
The bottom line on the ObamaCare application form for me is this: The White House changes to the form were hardly about how many pages long it was; that Obama, in his presser, would omit to mention the introduction of consumer reporting agencies into the eligibility determination process, and would also omit to mention the change from "opt in" to "opt out" makes it very difficult to believe that the ObamaCare rollout process will be marked by good faith on the part of its most prominent advocate. Shocker, I know.
NOTE * I don't know why they used check boxes instead of radio buttons, the standard when a single item on a list is to be picked. I can only speculate that a list of radio buttons should have the default selected, and they didn't want to make the default that visible.
NOTE ** I don't know why the White House wants to default to 5 years. Nor do I know whether the years are tax years, calendar years, or whether the clock starts ticking when the form is signed. Maybe that's somewhere in the legislation, since it doesn't seem to be tied to electoral politics. For me as a citizen consumer, 5 years just doesn't make sense. Why make that kind of commitment to a program I don't even know will work? Do I get a discount if I sign up for more years? No? So WTF? What's in it for me? I got no incentive, Cass!
NOTE *** Hence, I imagine, Obots, for some definition of "cognitive."
NOTE **** The work of Outis Philalithopoulos on "academic choice theory" is relevant in this regard.