It sometimes feels like a Sisyphean task to keep discussing how Americans were thrown under the bus in the various mortgage settlements reached in 2011 and 2012. The mortgage-industrial complex was deemed too big to fail and as a result, malfeasance and fraud were deemed to be mere "errors", offensively low damages were paid, and the banks were told to adhere to current law, with a few new requirements thrown in (single point of contact, ending dual tracking, and processing modifications in a timely manner). Far more meaningful reform has occurred in states like California that offer stronger protections under newly-passed homeowner bills of rights.
The reason far more serious remedies needed to be implemented was that mortgage servicers have never had the systems in place to handle more than a trivial level of delinquent mortgages. Servicing delinquent mortgages well, or even adequately, and processing modifications is a high-cost, high touch operation, while servicing mortgages that are being paid on time is a factory: highly routinized, high volume, low cost. The only way to get servicers to invest in staff and systems to service delinquent mortgages and process mods properly would be to put a very big boot on their neck. And that never happened.
As, we need to belatedly stop and take note of the latest "nothing to see here" effort by the Administration with the issuance last week of the latest report of the monitor of the national/49 state settlement entered into in early 2012. The media made much of the fact that the large servicers had satisfied most of their financial requirements. Um, that wasn't that hard, since the cash component was a steal. As we wrote last November:
As we and others have written at considerable length, the mortgage settlement was a big exercise in optics. The $26.1 billion number sounds impressive until you compare it to the size of the housing market and the damage done to homeowners. 40% of the value of the settlement can come from junk credits, things the banks would have done anyhow or should be doing in the normal course of business, like razing vacant homes, short sales, and giving homes to charities. And of the remaining part, which was a relatively small amount of actual cash payment ($5.8 billion, but that included over a billion of fines federal regulators rolled into that total), the rest is supposed to be reduction of mortgage principal. Oh, but wait, they can take credit for modifying OTHER PEOPLE'S MORTGAGES, meaning those owned by investors. And they've been doing that in more than half the cases.
The other bit, which Abigail Field dissected at length, is that the settlement also institutionalized fraud by allowing astonishingly high error rates in the various metrics, typically 5%. How would you feel if your bank or credit card issues was allowed to have a 5% error rate?
The part that the media underplayed is that in the categories where the banks fell short, it was above and beyond these "you can drive a truck through them" error rates.
In fairness, the monitor's report did at least make that clear if you looked at the various performance measures. For instance (click to enlarge):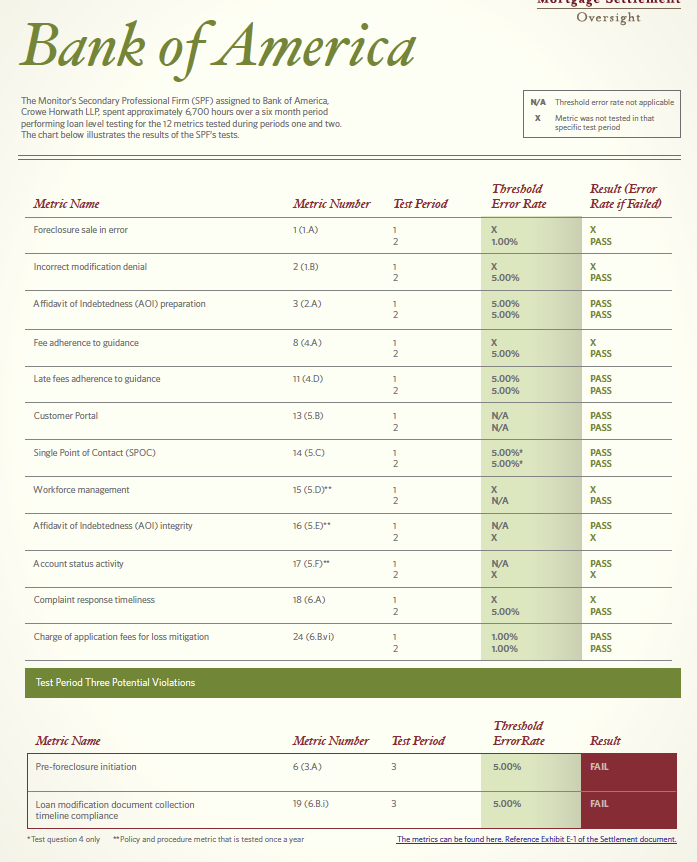 How did the press describe this, um, lapse? Let's turn to the New York Times:
Bank of America failed two metrics, one regarding missing documents and the other regarding the pre-foreclosure letter.
That's technically accurate but misses the significance. As we discusses at some length in our Bank of America whistleblower series, the sending of the breach letter is a key step, because it not only lets the borrower know the boom is about to be lowered, but also tells them how much is owed and where to send the money. The reviewers reported evidence that the letters weren't sent or didn't have the payoff amount and address, which would create a big impediment to getting matters resolved and make it far less likely that those borrowers who had a hope of salvaging themselves would have time to do so.
Similarly, the bland "not complying with document timeliness guidelines" is consistent with the charges that came to light via a class action suit filed against the Charlotte bank, alleging systematic mortgage modification abuses, including periodic "blitzes" to throw borrower documents out and various "dog ate my homework" excuses to claim the borrower hadn't submitted the required paperwork. Dave Dayen gave an overview of the filing at Salon:
Bank of America's mortgage servicing unit systematically lied to homeowners, fraudulently denied loan modifications, and paid their staff bonuses for deliberately pushing people into foreclosure: Yes, these allegations were suspected by any homeowner who ever had to deal with the bank to try to get a loan modification – but now they come from six former employees and one contractor, whose sworn statements were added last week to a civil lawsuit filed in federal court in Massachusetts.
Notice also that two of the seven affidavits were from staffers who continued to work at the bank after the settlement had been signed. The fact that abuses were continuing was confirmed by a current Bank of America who had worked in various modification-related areas before and after the March 2012 settlement who spoke to us:
Yves Smith: I'm assuming that you came forward because you saw the deck stacked against borrowers. I mean, is that a fair statement of where things – the way things were handled? I mean, do you think the bank was serious about wanting to do modifications, or were they only –

Bank of America Employee: (laughs)

YS: – willing to do modifications in very specific – No, I mean, that's a serious – you know, were they serious or not?

BE: No, I'm laughing because I'm taking the stance of the bank if, they would be probably laughing at your statement because it was very clear that we did not want to give the modifications and it was built into our incentive structure.

YS: Mmm!

BE: I was in originally a, you know, regular non-MHA modification person. We would actually get paid for a decision, and a decision was considered either a decline of a file for a modification or an actual modification. Well, guess what, it's a lot easier to do three declines in one day than one approval. So you would see agents and reps and they would be granted very luxurious leeway in declining customers and would do it routinely. There would be no follow-up process if one of them was done wrong, because there was no – the whole structure of the way that it was built, was built on very loosey goosey rules, and it was done specifically so that, you know – I can't say you did it wrong because there's no process, there's no – nothing in writing in our guides or manuals that says it was wrong. It's just, you know, we just feel like it is. (laughs). So –

YS: Wow, and that's – I assume that's particularly shocking for a bank like Bank of America, because one thing I've heard is that it's very process driven, that it likes having everything kind of nailed down and written, much more so than most banks.

BE: Right. Well, as far as that's concerned, they do do that, but, see, they do it in a very vague and open-to-interpretation process. You get a lot of the instructions and manuals, like, I may have a couple manual documents that kind of just show how they're like, well, "in a situation where this may be called for," and then it doesn't define what the situation means or doesn't define what may be called for or its limitations or its extremes. (laughs) It's just vague material.

YS: So it's process theater is what you're saying. A lot of it is process theater.

BE: Exactly. Exactly.
And this system to make it hard to get modifications produced the desired results:
YS: Yeah. So the first layers you're describing – let's go through the layers of how they impeded. Because I just want to get all the mechanisms down that they had for making it hard for customers to get modifications. One is the one we've heard about a zillion times, and you've confirmed that it happened. It was basically almost impossible for a customer, you know, to get straight information and get their paperwork in. It already seems like a huge hurdle.

BE: Right.

YS: And then the next one was that, even if they somehow miraculously got their paperwork in, the frontline personnel were paid to process more files, which basically meant they had a huge incentive to reject modifications since it's harder to evaluate one and recommend one than just nix someone.

BE: Absolutely.

YS: Now, let's say there's a deviant person there (laughs) who actually approves a modification. One of these frontline people doesn't get, isn't with the program and actually approves a mod, or recommends a mod. Then what happened? Then what would happen?

BE: Well, basically, either that responsible person basically will lose control of that file. Because at that point it may go to a third party, and if there's any issues, they will not get answers. They've now made an excuse, since the supposed order that they have one person one agent, they have now split up the process. So many different people are now on a file that there's no communication between person #1 and person #10, whereas before the order there was only about three people, three to four people involved. After the order, they made sure that it was ten people and they made it even more difficult.
This employees stated that he was forced to dual track two people, which resulted in them losing their homes. Recall that when the class action suit was filed, the bank denied its allegations vociferously. So how did the bank think its behavior was kosher? By taking the position that the modification process was not underway:
BE: What the bank does is the bank takes the liberty of defining what "in a modification" is. If a customer has submitted to me all their documents – okay? – and I need an underwriter to review the file? They are not in a modification. Nor are they under review for a modification. They make that explicit point that they are not in review for a modification if our underwriters have not approved or – no! I take – did not approve the file.

YS: Wow.

BE: So what they have filed in – say, a file is in underwriting, I have a foreclosure date coming up in two weeks – oh well. It's probably going to foreclosure because if I don't have a response back from the underwriter, I am not able to postpone the foreclosure or make the request.
Now remember how the settlement metrics work. They are self-scored, but the results are checked via sampling by "independent" consultants. But it is a virtual certainty that the consultants won't be able to unearth behavior like this employee is describing, that of not entering a modification as being under consideration until a huge number of internal steps have been taken, well beyond the borrower getting all of his documents in on a timely basis (and that's before you get to the other widely-attested problem of documents mysteriously going missing).
In other words, it's a virtual certainty that the monitor isn't capturing the degree of failure to comply with the settlement because the servicers have plenty of room to game the system. Welcome to the rule by bank in America.