I know it probably sounds really really REALLY silly to be happy that Digg's replacement for Google Reader is up and was a total snap to get running and have import my feeds from Google Reader (which officially dies as of July 1).
To understand why I am so pleased, you need to appreciate several things:
1. I am new technology phobic because I have an unerring ability to find what is wrong with an application or device in record time and break it. It is probably a subconscious holdover from the fact that my favorite toy as a toddler was a crash car.
I don't know how many times I'll get New Thingie and be sputtering either on initial launch or within 15 minutes because it does not do what it is supposed to do. The ritual that then follows is:
I call the most expert technology buddy I can raise at that hour for help (I have enough technology buddies who keep weird hours that there is usually a hapless victim on duty)

I press him/her into service

They initially go into "help desk dealing with idiot user" mode on the assumption that the New Thingie is fine and I'm the problem

They are able to replicate the behavior I'm experiencing. Suddenly they are perplexed

They then check message boards and discover either:

The problem I'm having is real and not resolved OR

(no joke, at least 1/3 of the time) I have found a defect that isn't acknowledged on the web
And to make matters worse, Problem With New Thingie inevitably involves functionality that is important to me.
2. Google Reader has long been one of the tools I rely on. I was ripshit when Google said they was killing it. It's hard enough to manage the drinking-from-a-firehose level of information on my various beats. Google Reader was a very efficient and well-ordered way to keep on top of a lot of blogs (not that I'm keeping on top of them anywhere near as well as I'd like, but it at least made it a lot more manageable).
3. I hated Feedly, which was the aspiring "replace Google Reader" tool. You go to its home page and it's hipster Brooklyn green. Bad sign, since that says they care more about eye candy factor than functionality.
I waste a lot of time trying to import my feeds from Google reader, as in go dutifully provide my Google credentials in the required page. Nothing happens. Nothing. I go search on the Web. There are no other instructions. Something is supposed to happen automagically but there is no magic happening here. I empty cache, reboot, still no change in behavior.
My next step is to go through my classic New Thingie protocol with indulgent technology person (ITP) who has managed to get Feedly working. I send screenshots to show how I am getting nowhere. ITP is mystified but mentions that he has it working in Firefox. I am using Safari. So I open Firefox. It turns out the automagic process that wasn't happening in Safari but was able to take place in Firefox is a download. Um if you don't have an app that will download to a widely used browser, you might tell people rather than have them tear their hair and repeatedly follow procedures that don't work, search on the Web for clues as to what is amiss, and then go back and flail around some more.
I thank ITP and go to poke at Feedly on my own. But has no obvious navigation and all I can get is a page with my feeds organized in a cute newspaper-like view. I am not here for cute visuals. I am here to scan a lot of information in the most stripped-down manner possible. I sputter again but I feel I can't go back to ITP, so I click on every every visible icon (that's all they give you) to see what happens. There are only three in the Brooklyn hipster frame and they don't take me to a list view. I exit the site, log out of Google, and try starting over from a log-in, but I get the same useless view as before. I also look for instructions on the Web and they are as unhelpful as the earlier set. I gather more screenshots, quit Firefox, and go away to sulk.
A couple of days later, I sputter to another tech person who likes Feedly. She can get the list view. I go again to the site and this time there are more icons in the Brooklyn hipster green frame and one of them takes me to the list view. So apparently my inability to get a list view was some sort of initial visit behavior (but remember, even exiting the site didn't change that, it was apparently quitting my browser that changed things), but again how the hell am I supposed to know that? Users should not be required to be telepathic.
I now regard Feedly as an abusive landlord and have resolved to it only when I have no option, so I go back to Google Reader. A few days after that, hear from Lambert that Digg might have something, but they miss their launch date of June 26. I am now getting depressed.
Tonight I look at the calendar and realize I had maybe better go kick the Feedly tires a bit more, since it looks like as of Monday I will have to use it.
I go look at the list view. That seems OK, but it does not have what Google Reader had, which it allows you to see both an alphabetical list of your feeds on the same page as a list view of the feeds. That enables you to scan both all feeds in reverse chronological order AND easily look at feeds individually (important for feeds of people like Steve Waldman who don't post often but have good stuff).

Now remember, this means two of my big demands of a feed reader are that I can view them in a headline view in reverse chronological order and also easily view a list of all sites (or a tagged grouping of sites, but I'll live with all sites) in alphabetical order by site name.
So what does Feedly offer in the latter category? A totally bizarre index view, organized by some utterly arbitrary principle. There is no logic in how the sites are organized. I looked in Preferences and see no way to make it alphabetical. Lambert checks and confirms I am correct in how deranged and incompetent this is. Each column is longer but this gives you an idea:

Lambert pings me that Digg said as of 2 hours ago that their reader went live. I am now DESPERATE for Anything But Feedly.
It is remarkable.
I have a good technology experience! You have no idea how happy that makes me!
It recognizes I am already logged into Google and asks me to accept sharing 3 kinds of data.
I hit one button.
I get a cute screen showing that it's importing my feeds and gives me a progress message (this is all pretty fast but telling users is a nice touch).
And the feed view reader pops up immediately!

And the display of individual articles is more aesthetically appealing than in the old Google Reader: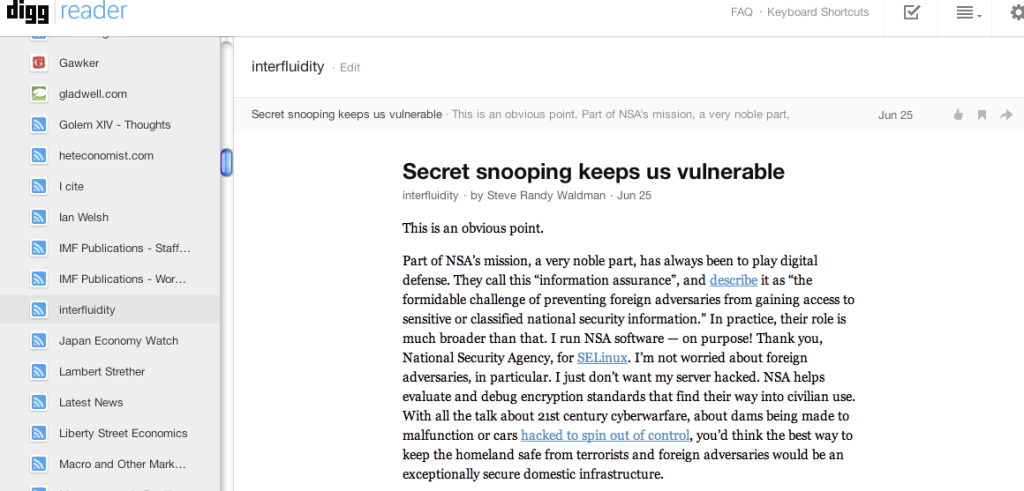 As a CIO at a client once said to me, "Good technology should be easy. If it's not easy, it's not good technology." The Digg Reader is good technology. Congrats! And thank you for rescuing me!
Update 5:00 AM: Having poked around a bit more, there are some things the Digg folk still need to do (this is a beta version, remember) and I hope they are in the offing. My feeds within my big folder aren't in alphabetical order. They are listed in three alphabetically-ordered sublists, so this is better than Feedly but not yet ready for prime time. And they need a search field (ideally for "all", any folder, and any blog). Those were all in Google Reader, and since they seem to be replicating Google Reader functions, I trust these will be added soon.