Yves here. I have to say I'm still gobsmacked by the Fed's belief that the labor markets are showing meaningful improvement, and the further "clarification" that this means the central bank thinks it's on track to start easing up on bond buying this year. Cardiff Garcia at FT Alphaville does a good job of capturing why many investors were caught off guard:
Before the presser on Wednesday, Ben Bernanke's vague definition of "substantial improvement" in the outlook for labour markets resembled the old line about porn: he'll know it when he sees it.

The phrase was originally intended to represent the scenario under which asset purchases would end, not when they would be slowed (or "tapered"). And the purpose of this round of quantitative easing was to "increase the near-term momentum" of the economy until growth was self-sustaining, and conducted in the context of price stability….

Bernanke's decision on Wednesday to confirm his earlier congressional testimony — when he said that the Fed would begin scaling back asset purchases later this year — can be understood as a move in the direction of such a variable policy.

The idea was that given the FOMC's heightened expectation of better growth later in the coming years, a substantial improvement in the outlook for labour markets is likely to have occurred by roughly the middle of next year. And it would be represented by a 7 per cent unemployment rate.

But rather than continuing with the current pace of asset purchases until mid-2014, "it would be appropriate to moderate the monthly pace of purchases later this year". Presumably by then, the near-term momentum will have increased such that fewer and fewer asset purchases are needed to sustain the quicker decline in the unemployment rate that the Fed is now forecasting.
7% would normally be considered a bad number on then way to a worse number. Now it's some sort of victory. Help me. And the focus on headline unemployment, as we and numerous other commentators have pointed out, overstates the health of the labor market if you look at the pretty much any other metric (labor force participation, wage levels, trends in hours worked, quality of new jobs, etc.) The Fed looks to be cherry-picking data to validate its desire to get out of the QE business.
Another remarkable moment of Fed disconnect from the press conference was when Bernanke remarked, "The change in mortgage rates we've seen so far is not all that dramatic." Huh? It's been enough to slow down refis (a source of spending) sharply and send buyers racing to close deals out of fear of further rate increases. And perhaps most important, the signal that the Fed really wants to start tapering this year means even higher rates are coming soon. That means buyers who are homeowners (as opposed to investors/landlords) are looking at a lot less affordability, which can't not have a price impact. MacroBusiness weighs in on this issue, and its broader ramifications.
By David Llewellyn-Smith, founding publisher and former editor-in-chief of The Diplomat magazine, now the Asia Pacific's leading geo-politics website. Cross posted from MacroBusiness
Last night US existing home sales went through the roof. From Calculated Risk: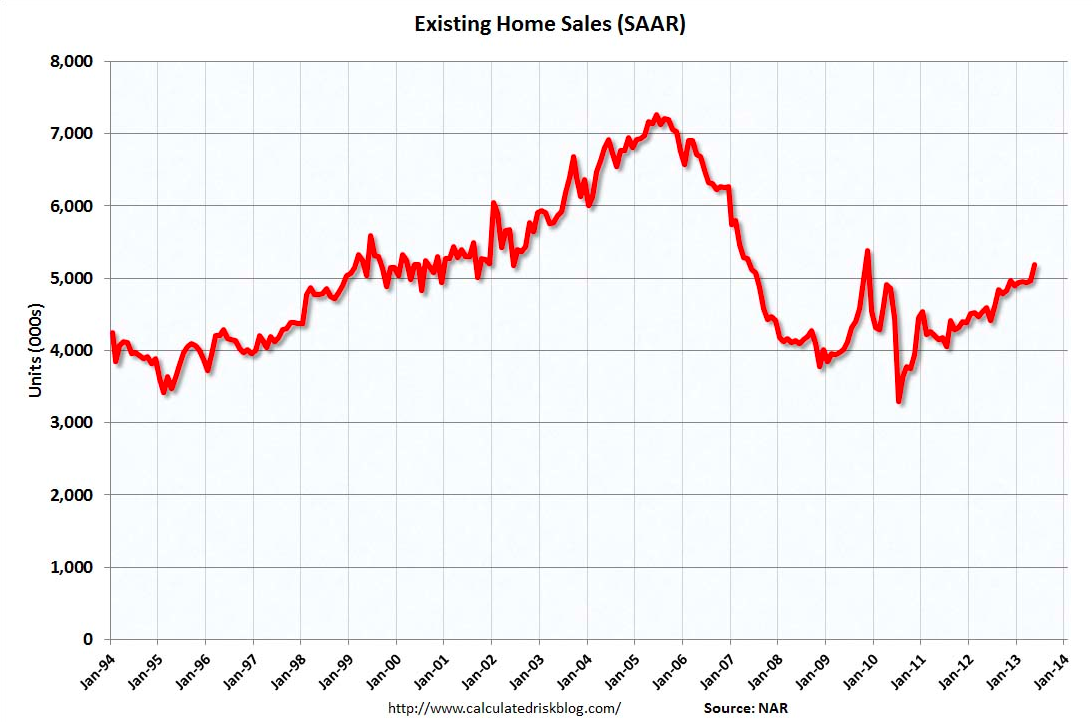 Total existing-home sales, which are completed transactions that include single-family homes, townhomes, condominiums and co-ops, rose 4.2 percent to a seasonally adjusted annual rate of 5.18 million in May from 4.97 million in April, and is 12.9 percent above the 4.59 million-unit pace in May 2012.

Total housing inventory at the end of May rose 3.3 percent to 2.22 million existing homes available for sale, which represents a 5.1-month supply at the current sales pace, down from 5.2 months in April. Listed inventory is 10.1 percent below a year ago, when there was a 6.5-month supply.
House prices are now rising at double digit rates. It looks like a booming recovery and solid support for Bernanke's taper.
But I just don't buy it. You can't fire off a US housing market recovery using historically low interest rates then expect it to be unaffected when rates suddenly revert to mean. It's really that simple. Pimco's Bill Gross agrees:
The real economy won't follow the path the Fed thinks it will," said Gross. "The chairman suggested yesterday that, once we get through this soft patch of fiscal austerity in the U.S., that the 3 percent growth number is indeed where we should be and where they expect we'll be. We have our doubts at Pimco…"The chairman was rather dismissive in terms of mortgage rates," Gross said. "To dismiss that increase in costs based on higher interest rates I think is not only dismissive but again not reflective of what may lie ahead in terms of housing prices and the real economy."
And from housing specialist, Mark Hanson:
In 6 short weeks the market has priced out all of the Twist and QE-3 benefit and taken rates back to "nose-bleed" levels of mid-2010 through mid-2011.

Based on the change in mortgage rates from 3.5% to 4.75% in the past 6 weeks, the median CA house price of $324k, and typical debt-to-income ratio of 45% the chart below captures how much the real change in cost of ownership has increased in the past 6 weeks:

These are huge moves especially considering — when purchasing a house using a mortgage – most people buy based on "monthly payment and the maximum allowable debt-to-income ratio".
I'll readily admit that I've been behind the curve in the past twelve months on the US housing market recovery. But these kind of dramatic interest rate hikes are going to kill refinancing activity and retard new mortgages as well. That will slow the housing market. Stock market sell-offs come and go but housing slowdowns have deep impacts.
Perhaps if the global economy were stronger it would be smooth. But with a European recession, a deteriorating China and rising US dollar, I'm still not convinced that the Fed will even get to its taper.