Yves here. This post from MacroBusiness describes three risks facing the American housing recovery, and I thought I'd add a fourth, which is the open question of how much longer private equity funds and other speculators will continue to bid up housing prices. No one knows for sure how much they've contributed to demand, since in the hotter markets, there are flippers who are buying properties and then reselling them within months to PE investors. The assumption is that a big proportion of the "all cash" buyers are investors as opposed to homeowners. At the end of May, we posted on how single family home rents had already started to fall in some major markets, including Chicago, Orange County, and Washington. Some recognized-as-astute property players such as Carrington have said they've stopped buying homes for rent because too much "stupid money" is chasing this trade.
Reader Scott send us further confirmation by e-mail from his buddy George N, which he took from the website of Silver Bay Management Company:
Take a look at the number of houses for rent in Phoenix…The snap shot above was taken today [July 22] off their website.

The following is the snap shot I took on March 18, almost exactly 4 months ago.

How the hell can they be making money when there are so many empty houses cooking in the desert sun? How can they possibly generate those double digit cap rates?

Sooner or later, these Wall Street OPM is going to lose interest. I like to see how Bernanke is going to carry the pump all by himself to inflate this real estate recovery story.
Now if anything, the picture is in some ways even uglier. Silver Bay, at least according to its website, is operating in only two cities, Phoenix and Atlanta. In fact, its form 424B does show it to be operating in more cities, but as of the time this tally was made, Phoenix was more than a quarter of its holdings (click to enlarge):

In addition, conventional wisdom among the rental investors I've heard discuss various markets was that Phoenix had better fundamentals than a lot of other distressed markets, such as Vegas. Of course, that may just have meant it attracted more hot money.
One issue addressed in the piece below is that the low level of household formation is a concern. I've seen some analysts take a sanguine posture, that all these young folks will eventually live independently and buy houses. I'm not sure that's such a given. Historically, Americans have had more people living in extended family groupings than we do now. In Japan, in the long bust, "parasite singles" or young women living with their parents, have become common. Unless the employment market for young people improves considerably, there's no reason to assume we're going back to the old normal any time soon.
By Leith van Onselen, Chief Economist of Macro Investor, Australia's independent investment newsletter covering trades, stocks, property and yield. You can follow him on Twitter at @leithvo. Cross posted from MacroBusiness
The US housing recovery is seemingly on track. The latest results show home prices increasing by 12% annually across the 20 biggest markets, with the rate of housing starts up almost 30% (see next chart).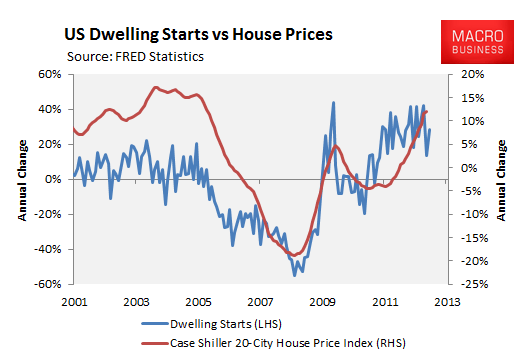 While the recovery looks good on the surface, there are a number of factors conspiring to thwart the housing market, which in the process could also threaten a broader US economic recovery.
First, the rate of US household formation remains weak, held back by a high proportion of Americans opting for shared housing over going it alone. According to the Wall Street Journal, the number of "missing households" — defined as adults who would be owning or renting their own home if household formation rates had remained at normal rates since the recession — increased by 4% over the past year, representing a total of around 2.4 million individuals, up 100,000 from a year earlier:
The analysis on missing households, performed using census data by Jed Kolko, chief economist of real-estate website Trulia Inc., suggests that four years into the U.S. recovery, slow household formation remains an obstacle to a more robust economy. It is damping demand in the housing market, where home sales have been rising but remain below historical levels.

Young adults "have not regained confidence in the economy enough to start moving out of their parents' homes," Mr. Kolko said. "Even people with jobs are choosing the security…of living under their parents' roof rather than forming their own households".

Multiple factors lie behind slow household formation. Unemployment remains high, and wages stagnant, particularly for young adults. Many of them lack the down-payments and credit histories needed to qualify for mortgages. High rents, due to rising demand and tight inventory, also are likely limiting household formation. Also, Americans are waiting longer than previous generations to start families, a trend that began well before the recession…

Economists say household formation is closely linked to home construction: If the 2.4 million "missing households" took the leap and entered the housing market—either as renters or buyers—overall housing demand would increase, leading to a pickup in construction…

"This key measure of the housing recovery is still near the worst point of the recession," Mr. Kolko said.
The sluggish rebound in household formation rates is perhaps not surprising given the weak recovery in both the jobs market and incomes. According to analysis published last month by Westpac, the US labour market has barely recovered, with the unemployment rate remaining stubbornly high (when adjusted for the participation rate):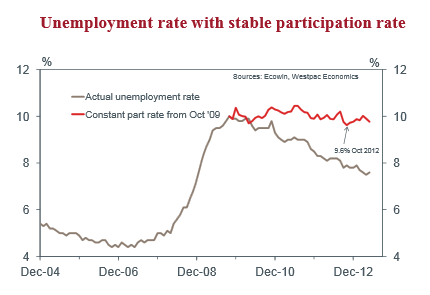 In fact, the overall number of jobs is still 2.5 million below its peak, the employment-to-population ratio has also barely moved off its lows, and aggregate hours worked is yet to recover lost ground (see next chart).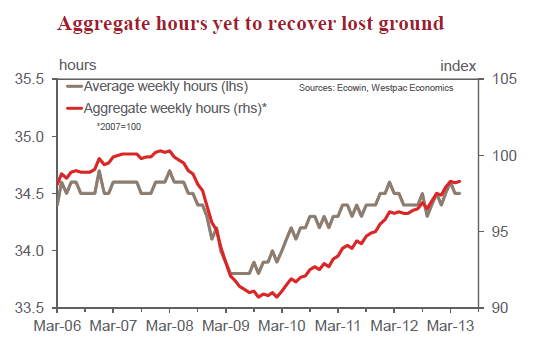 To make matters worse, real average hourly wages are still 0.5% lower than their June 2009 level, with real weekly wages (inflation-adjusted take-home pay) having grown by only 1.3% over the past four years (see next chart).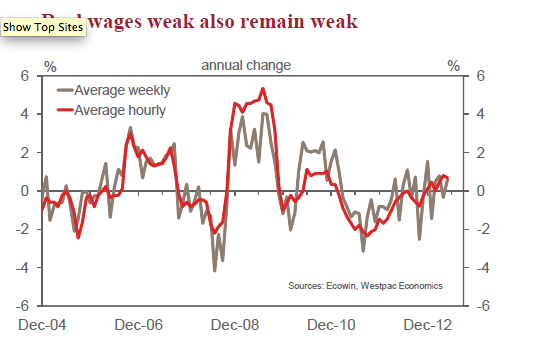 And while households have benefited from lower interest rates, this boost to discretionary incomes has been offset by rising health care and gasoline costs, meaning that real discretionary incomes have not grown since 2006 (see next chart).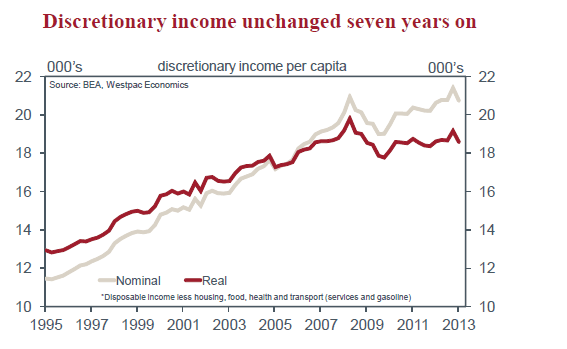 The second factor that could thwart the nascent US housing recovery is the steady decline of first home buyers (FHBs), which have fallen significantly, according to the Wall Street Journal:
First-time home buyers, long a key underpinning of the housing market, are increasingly getting left behind in the real-estate recovery.

Such buyers, typically couples in their late 20s or early 30s, have accounted for about 30% of home sales over the past year. They represented 40% of sales, on average, over the past 30 years, and accounted for more than 50% in 2009, when recession-era tax credits fueled the first-time market, according to data from the National Association of Realtors.

The depressed level of first-time buyers could prove to be a drag on the housing rebound and the broader economic recovery over the longer haul…

"First-time buyers are important to get the housing market to move to a new plateau," said Steven Ricchiuto, chief economist with Mizuho Securities USA Inc. "Without them, you just get stuck at a marginal recovery environment"…

In June, first-time buyers accounted for 29% of purchases of existing homes, compared with 32% in June a year ago, according to the NAR's June existing home-sales report released Monday.
FHBs, along with investors, are key sources of new housing demand and chief enablers of the upgrader market, since upgraders typically sell to FHBs or investors. If demand from FHBs is restrained, then logically it could have flow-on effects up the chain, potentially stifling the housing recovery.
The final obstacle that could thwart the US housing recovery is the recent lift in 30-year mortgage rates, which have risen by around 1% over the past month (see next chart).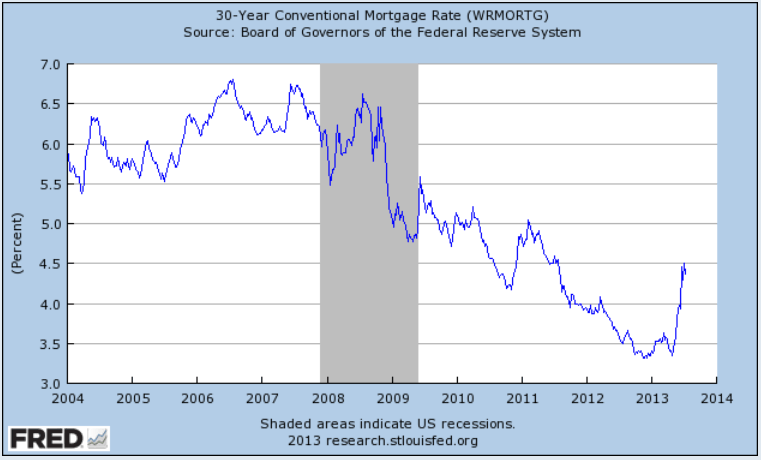 Needless to say, a circa 1% increase in the cost of financing has a material impact on mortgage affordability, materially reducing the size of the loan that can be taken on by a potential buyer for a given monthly outlay. Moreover, it reduces the windfall discretionary income gain on offer to US households from refinancing, also reducing their incentive to do so.
Only time will tell if the housing market is strong enough to weather these headwinds.