Journalist Helen Thomas dies at 92 Washington Post
US jets 'bombed' Great Barrier Reef BBC
The CIA Is Studying How It Can Control the Weather Gawker
First lady's nutrition drive loses steam Los Angeles Times. Why am I not surprised?
Potential for the International Spread of Middle East Respiratory Syndrome in Association with Mass Gatherings in Saudi Arabia PLOS (Paul Tioxon)
Former Secretary of State for Human Rights kidnapped in Brazil (tim fong)
'Is there no limit to what this Government will privatise?': UK plasma supplier sold to US private equity firm Bain Capital Independent (1 SK)
Big Brother is Watching You Watch:
Panasonic and Its Subsidiary Sanyo Agree to Plead Guilty in Separate Price-Fixing Conspiracies Involving Automotive Parts and Battery Cells Department of Justice. Oh, the DoJ will file criminal charges against people in the car business. What about the folks at Goldman manipulating aluminum prices? How is that not a Sherman Act violation?
Public Cops for Private Kochs Yasha Levine, NSFW (mookie, unlocked for next 30 hours or so)
What's Happening in Detroit Adam Levitin, Credit Slips. On the state challenge to the BK.
The River of Purchasing Power Dries Up at Detroit Balkinization
Miami faces SEC charges over bonds Associated Press
4 of America's Most Abusive Prosecutors Alternet
Washington Push for Higher Minimum Wage for Workers Has Walmart Balking New York Times. Quelle suprise!
"Dizzy and sick": McDonald's workers strike after enduring 110 degree heat Salon
America's Worst Companies To Work For 24/7 Wall Street (Carol B)
Unfunded Pension Liabilities Are $1 Trillion, Not $3.8 Trillion: Never Take Anything in a Washington Post Editorial at Face Value Dean Baker, Firedoglake
BECU has surpassed Chase Bank in Seattle Seattle Times (martha r)
Trying to Pierce a Wall Street Fog Gretchen Morgenson, New York Times
Elizabeth Warren, hard-liner Politico. Warren is starting to kick the traces.
Antidote du jour (Richard Smith). The photo may look a bit weird, but getting sanded up is apparently sea lion sunscreen.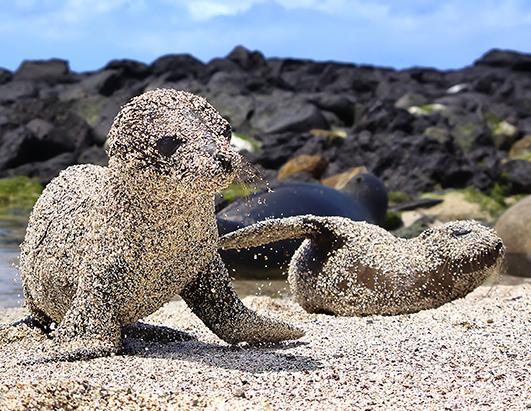 And: Dog Finds A Tiny Kitten, Risks Everything To Save Her BuzzFeed. martha r: "Very high aww factor. Photos"