Despite all the consternation in the US about Edward Snowden's revelations about the extent and intensity of snooping in the United States, it isn't clear that the surveillance industry is even breaking a sweat. But the government and public uproar in Europe about US snooping on its supposed allies may change that pronto.
One indicator of concern about US reactions would be PR efforts directed at ordinary people. Even though the mainstream media has provided a lot of critical material (and death by a thousand unkind cuts of innuendo) on Snowden and Greenwald, comment sections show strong support and opinion polls continue to move in their favor. My reading is unscientific, but both here and looking at major US sites now and again, I see fewer signs of organized trolling than I have on other hot issues (for instance, anti-union trolling when Wisconsin's Governor Scott Walker started union-busting or during critical financial regulation fights). I'd hazard that the NSA and its allies feel that they have both the Administration and much of Congress firmly behind them, and all they need to do is manage elite opinion enough so as to reduce the amount of 'splaining their backers have to provide.
Nevertheless, American citizens might still benefit from the Snowden revelations. It's possible that his disclosures will throw a wrench in the European, and perhaps also Pacific trade talks underway. Both are hazardous to middle-class economic and even physical health.
Despite their branding, these pending pacts are not much about trade (international trade is already substantially liberalized) but about increasing the power of multinational corporations, by weakening regulation and by strengthening intellectual property protections. From a recent post:
By way of background, the Administration is taking the unusual step of trying to negotiate two major trade deals in the same timeframe. Apparently Obama wants to make sure his corporate masters get as many goodies as possible before he leaves office. The Trans-Pacific Partnership and the US-European Union "Free Trade" Agreement are both inaccurately depicted as being helpful to ordinary Americans by virtue of liberalizing trade. Instead, the have perilous little to do with trade. They are both intended to make the world more lucrative for major corporations by weakening regulations and by strengthening intellectual property laws…

These "trade" deals are Trojan horses to erode or eliminate national regulations. Baker anticipates that these deals will include sections that would limit government regulation (including at the state and local level) on fracking and could revive much of the internet surveillance that reared its ugly head in the failed SOPA.

And this sort of erosion of the right to regulate will most assuredly extend to financial services. Dodd Frank? The Brown-Vitter bill that some see as a great new hope for tougher financial regulation? Public Citizen noted">They are already unworkable under existing trade agreements. And the TPP would tilt the table even further in favor of financial firms….From Public Citizen:

The draft text of the Trans-Pacific Partnership (TPP), a NAFTA-style FTA under negotiation between the United States and 10 Pacific Rim countries, contains the same limits on financial regulation as the WTO, and more. In addition, these rules would be privately enforceable by foreign financial firms that could "sue" the U.S. government in foreign tribunals, which would be empowered to order payment of unlimted sums of U.S. taxpayer money if they saw our laws as undermining such firms' "expected profits." Also, even as the International Monetary Fund has officially shifted from opposition to qualified endorsement of capital controls, which are used to avoid destabilizing floods of speculative money into and out of countries, the TPP would ban the use of these important regulatory tools. Despite years of pressure from former House Financial Services Committee Chair Rep. Barney Frank to permit capital controls, the Obama administration is the strongest promoter of this ban in the TPP.
Back to the current post. If you think the discussion above must be an exaggeration, think again. On June 12, he Coalition of Services Industries and the Global Business Dialogue co-hosted a meeting on the Trade in Services Agreement showcasing Deputy USTR Michael Punke and including representatives of Verizon, UPS, and ACE Group. The meeting was on the record, and here are the key points from notes taken by a representative from Public Citizen:
· In the wake of revelations that the U.S. National Security Agency is indiscriminately spying on Verizon customers' telephone records, a Verizon representative expressed hope that TISA can be used to "make sure that privacy rules do not undermine these seamless data flows" between TISA countries.

· An insurance industry representative expressed hope that TISA would be used to impose "disciplines" on the WTO's (already-weak) "prudential exception" for financial services. He stated, "What we're concerned about is a government saying that for prudential reasons we're going to limit your business."

· Michael Punke, Deputy USTR, stated that the next TISA negotiating round will take place next week. He also called GATS a "wonderful framework" for TISA, but one that "doesn't[] go nearly far enough." Punke made clear that everything, from financial services to immigration, is on the table for TISA negotiations.
To translate: Verizon hopes that TISA will be used to undermine EU privacy rules, which in theory stand in the way of "seamless data flows". But as fresh revelations make clear, NSA already has its nose very deep in the European data tent.
As readers may know, Der Spiegel revealed late last week that the US has been spying on EU commissioners as well as monitoring up as many as 60 million phone calls a day in Germany. That's created an uproar, since Germany has fresh memories of how the Stasi operated and it was targeted more intensively than other countries (well, the UK cooperates, so why does the NSA need to spy there? It can just ask).
The Guardian reports today on how the concern in Germany isn't simply about spying on officials, which some in power dismissed as routine and expected, but the extent of surveillance of messages of ordinary citizens and business. Given that Germany has not been a source of terrorists targeting the US, the level of monitoring seems grossly disproportionate, unless other motives are at work, such as industrial espoinage. Both the immediate concern about violation of privacy rules and the fear of even uglier motives could derail the trade talks. From the Guardian:
The prospects for a new trade pact between the US and the European Union worth hundreds of billions have suffered a severe setback following allegations that Washington bugged key EU offices and intercepted phonecalls and emails from top officials…

Germany's justice minister, Sabine Leutheusser-Schnarrenberger, called for an explanation from the US authorities. "If the media reports are true, it is reminiscent of the actions of enemies during the cold war," she was quoted as saying in the German newspaper Bild. "It is beyond imagination that our friends in the US view Europeans as the enemy."

France later also asked the US authorities for an explanation. France's foreign minister, Laurent Fabius, said: "These acts, if confirmed, would be completely unacceptable."…

Washington and Brussels are scheduled to open ambitious free trade talks next week following years of arduous preparation. Senior officials in Brussels are worried that the talks would be overshadowed by the latest disclosures of US spying on its closest allies.
The fact that France has sided with Germany in demanding an explanation ups the ante considerably. The former prime minister of Belgium and now leader of the liberal block in the European Parliament, the current head of the Parliament, and the foreign minister of Luxembourg have also joined the denunciations. The US is going to have to provide some sort of response, and Clapper-esque "least untrue" statements won't cut it.
And the coming revelations are likely to produce rifts with the European side of these negotiations:
Meanwhile, it has emerged that at least six European member states have shared personal communications data with the NSA, according to declassified US intelligence reports and EU parliamentary documents.

The documents, seen by the Observer, show that – in addition to the UK – Denmark, the Netherlands, France, Germany, Spain, and Italy have all had formal agreements to provide communications data to the US. They state that the EU countries have had "second and third party status" under decades-old signal intelligence (Sigint) agreements that compel them to hand over data which, in later years, experts believe, has come to include mobile phone and internet data.

Under the international intelligence agreements, nations are categorised by the US according to their trust level. The US is defined as 'first party' while the UK, Canada, Australia and New Zealand enjoy 'second party' trusted relationships. Countries such as Germany and France have 'third party', or less trusted, relationships.
In other words, if you don't agree to be one of our best buddies, you get treated like an enemy.
Tonight's Guardian disclosures give some insight into snooping on the other side of the Pacific:
US intelligence services are spying on the European Union mission in New York and its embassy in Washington, according to the latest top secret US National Security Agency documents leaked by the whistleblower Edward Snowden.

One document lists 38 embassies and missions, describing them as "targets". It details an extraordinary range of spying methods used against each target, from bugs implanted in electronic communications gear to taps into cables to the collection of transmissions with specialised antennae.

Along with traditional ideological adversaries and sensitive Middle Eastern countries, the list of targets includes the EU missions and the French, Italian and Greek embassies, as well as a number of other American allies, including Japan, Mexico, South Korea, India and Turkey. The list in the September 2010 document does not mention the UK, Germany or other western European states.
Japan, Mexico and South Korea are all important parties to the TPP. Mexico is unlikely to balk, but Japan has been pushing back against the US on a number of fronts and appears to be chafing badly in its traditional role of military protectorate of the US (it also had the eight largest army in the world in the 1980s, and I suspect it has moved up in the ranking since then). The nationalists in Japan could use this news to strengthen their hand.
One measure that the snooping victims may start taking is to change routing priorities and over time change network architecture so as to route lessInternet traffic through the US. That would be a poke in the eye and over time would enable countries to take some measures to secured their communications better. See this recently disclosed slide from the PRISM deck: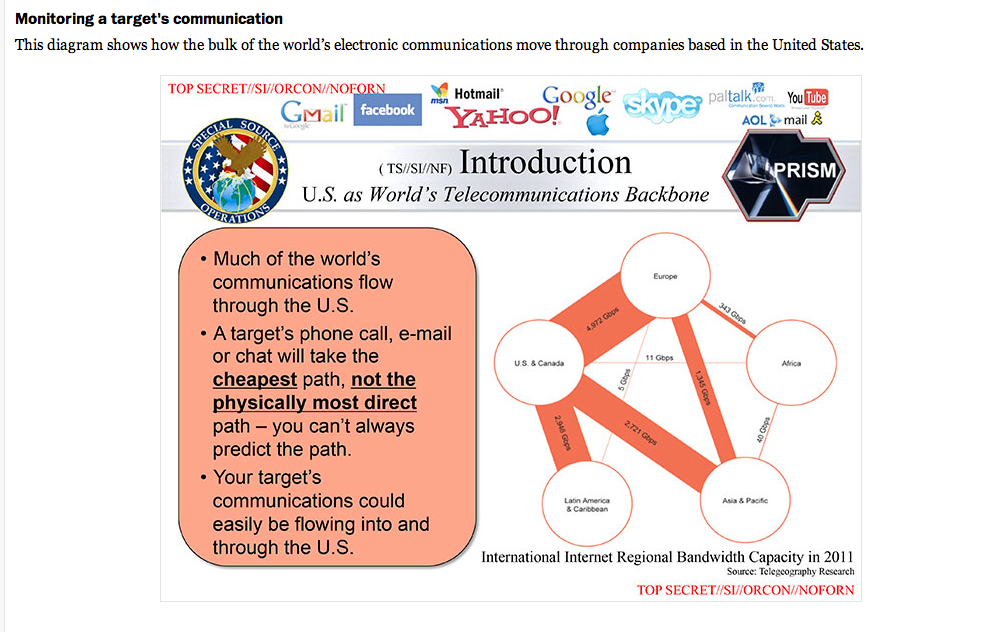 And in an extreme case, you could see a Sputnik-type reaction, where the countries that are particularly upset with US surveillance start aggressively funding building better math and tech capabilities to defend their companies and build more home-grown data and communications services. And remember, unlike the space race, where the objective was dominance, here the lower standard of a decent defense will do. Wired (hat tip Chuck L) has found a report that mere mortals using encryption have stymied wiretaps, so Germany and France could do a lot with existing technology to throw sand in the NSA's surveillance machine if they were to get serious about it:
For the first time, encryption is thwarting government surveillance efforts through court-approved wiretaps, U.S. officials said today…

According to today's report from the U.S. Administrative Office of the Courts:

Encryption was reported for 15 wiretaps in 2012 and for 7 wiretaps conducted during previous years. In four of these wiretaps, officials were unable to decipher the plain text of the messages. This is the first time that jurisdictions have reported that encryption prevented officials from obtaining the plain text of the communications since the AO began collecting encryption data in 2001

Those figures are just a blip on the screen in the office's 2012 Wiretap Report, which said there were 3,395 authorized wiretaps from federal or state judges.
The report said that 97% of the wiretaps were for portable devices, meaning cells, CrackBerries, and pagers.
While Snowden remains a defacto prisoner in the transit zone in Moscow, the more his document leaks keep dribbling out, the more and more the reputation of the US, and Obama Administration, sinks. The fact that Susan Rice felt compelled to issue a heated denial over the weekend to questions about damage Snowden's revelations to Obama and US policy is compelling evidence the reverse is true. Her remarks are a howler:
Rice rejected suggestions that Snowden's disclosures had made Obama a lame duck, damaged his political base and hurt US foreign policy, saying: "I think that's bunk."

"I don't think the diplomatic consequences, at least as they are foreseeable now, are that significant," she added.

"I think the United States of America is and will remain the most influential, powerful and important country in the world, the largest economy, and the largest military, [with] a network of alliances, values that are universally respected."
If all the US really plans to fall back on might makes right, which is what Rice's position amounts to, the Administration is even less well prepared to deal with international fallout than I had thought. The European demands for transparency means that more of the fallout will be handled in public forums than the US power brokers are accustomed to. The next few weeks could be very entertaining indeed.