From his latest presser, Obama's partisan perspective on ObamaCare:
[OBAMA:] Now, I think the really interesting question is why it is that my friends in the other party have made the idea of preventing these people from getting health care their holy grail, their number-one priority.
However, from the public purpose perspective, the really interesting question is why our "friends" in both parties refuse to put truly universal coverage — for example, single payer Medicare for All — on the table at all. Remember, ObamaCare is, pathetically, projected to enroll only 7 million people in its first year, and when fully implemented will leave about as many uninsured as newly insured — 25 or 30 million, but with "these people," who's counting?
Be that as it may, we're stuck with ObamaCare for now. And no matter what Obama says, the real problems with ObamaCare are not "glitches" and can't be solved with "adjustments" or "administrative changes"'; they are fundamental to its system architecture, which demands that every American be thrown into one eligibility bucket or another, with the number of possible buckets being 1 (Federal) x 50 (states) x 9 (the number of income levels) = 450. At least I think so.* Maybe somebody smarter than me wants to calculate the combinatorial explosion, taking the differences between the actual plans offered in each jurisdiction into account. Anyhow, as I've been relentlessly documenting, ObamaCare's complex, confusing, and Rube Goldberg-esque system of eligibility determination mean that people inevitably get thrown into the wrong buckets, or there aren't even the right buckets for them. Worse, people are thrown into buckets for whimsical and arbitrary reasons, leading to a fundamental lack of equity, of common fairness, for the entire program. Today I'd like to ObamaCare's fundamental lack of equitable treatment for all citizens by using Kaiser's Subsidy Calculator** for people at "the margins": Those at the top, too well-off to participate in the Exchanges, and those at the bottom, too poor to do so. For continuity with this (conservative) example, the test case will be a family of two 56-year old non-smokers, with two children under 20.*** (Hat tip Beowulf — yes, that Beowulf — for the example, and for extending it to the poor.)
First, let's define the margins:
If your income is lower than 400% poverty level [top, maximum], you will receive assistance paying for your health insurance and if you earn less than 138% poverty level [bottom, minimum], you will be eligible for Medicaid – unless you are in one of those states that made the ridiculous decision not to expand Medicaid coverage for their poorest citizens.
(Matters are actually more complicated; the maximum is 400% of poverty level or 9.5% of income, whichever is least.) Taking our income figures from the 2013 Poverty Guidelines, let's plug the figures at the top margin (400%) household into the calculator: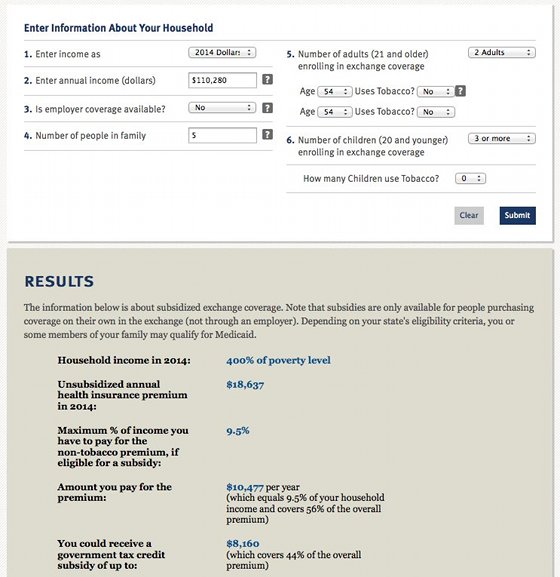 Now, since we're at the margin — 400% of the poverty level exactly — let's add a dollar and see what happens: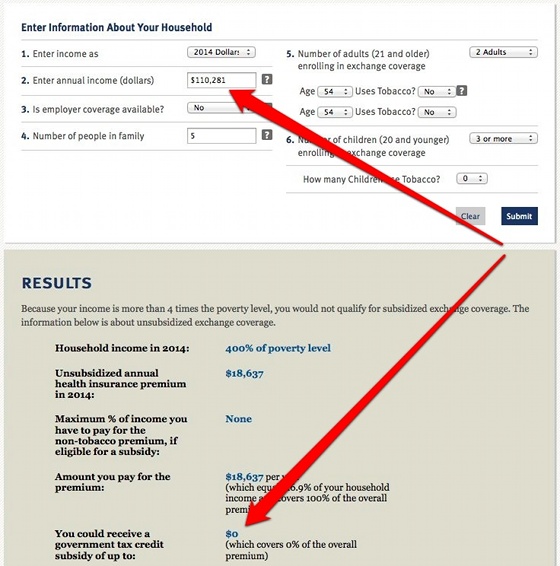 Before: $18,637 unsubsidized – $8,160 subsidy nets to $10,477. After: $18,637 – 0 = $18,637. That extra dollar of household income at the margin cost you $8,160 dollars worth of (actuarially determined) health care. I ask you: How can effect so grossly disproportionate be fair? Is there any way for a health care program to justify this? And that's before we realize that a relatively well-off household is going to be able to afford the professional services to manage their income so as to retain the subsidy. Of course, this obvious inequity is a consequence of Obama's system architecture: Buckets have edges, and people fall in a bucket, or out of it.****
And now, let's plug the figures at the bottom margin (138%) household into the calculator: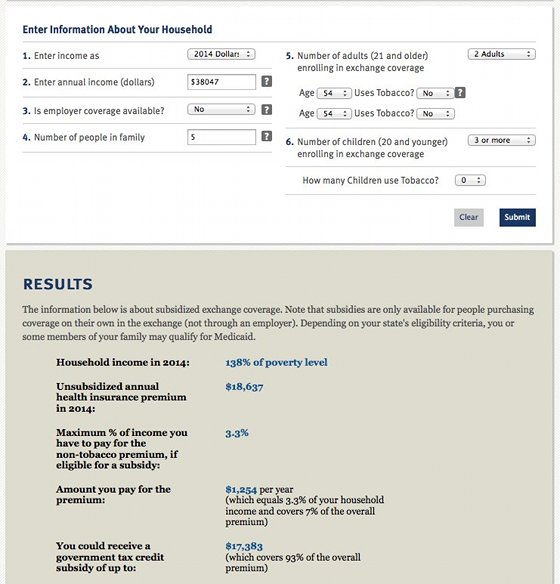 And now one dollar less: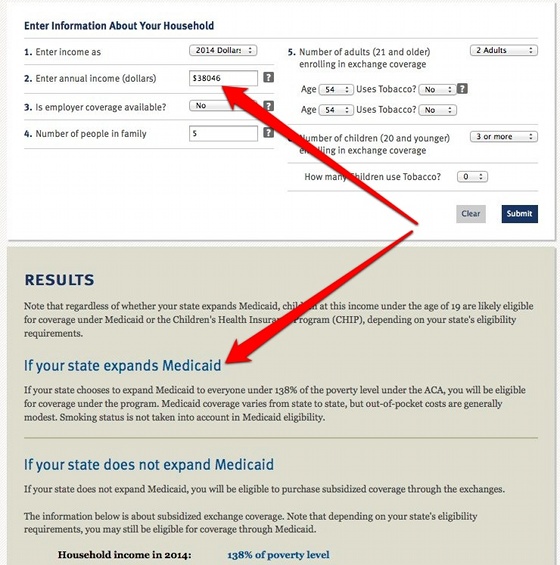 Before: $18,637 unsubsidized – $17,383 subsidy nets to $1,254. After: Medicaid.
Never mind that some states "expanded" Medicaid and others did not. Here is the central point of unfairness for me, and the Kaiser site describes it falsely. They write: "[Y]ou will be eligible for coverage." In fact, you aren't "eligible," because you don't have a choice. You're forced into Medicaid. This is important if you're over 55, because Medicaid expenses will be clawed back from your estate.***** ObamaCare, in other words, prevents you, by force majeure, from providing for your children if you're poor and over 55. You don't even have the option of taking on risk by buying a crappier policy. How can that be fair? 
The bottom line, again: ObamaCare, by its very system architecture, is riddled with these nutty distinctions, these whimsical and arbitrary inflection points, where a dollar this way or that way has massive and disproportionate effects that play out with people's health (for pity's sake). That's why health care should be a guarantee — and although Obama occasionally nods to universality, he's very careful not to deliver it — and a clean and fair system like single payer Medicare for All is the right way forward. 
NOTES
* It's true that only 17 states are building their own exchanges, but I think that different states can have different policies even if they are using the Federal exchange. All this when we have a proven single payer system in action already — Medicare — which LBJ rolled out to all over 65s in just one year, back in the day when Big Iron mainframes roamed the earth, and women wearing bunny ears was considered quite the thing. All in all, ObamaCare seems like a case of what Yves calls devolution. Infestation of the body politic with rent seekers will do that.
** Here's Kaiser's caveat on its calculator:
We assume an average premium for a single adult enrolled in the second-lowest cost Silver plan to be $4,827 (before subsidies). This estimate was derived by multiplying the CBO estimate for a family premium by 37% (the average ratio of single to family premiums in previous CBO estimates) and then adjusting for assumed inflation and differences over time in the aggregate reinsurance pool to arrive at a 2014 estimate. Premiums could vary from this amount due to assumptions insurers make in setting premiums or the degree of competition in the market, and will also differ based on regional variations in underlying health costs.
In addition, the entire notion of calculators is flawed: Exchange values, and hence the values the calculator spits out, represent actuarial values, not the dollar value of real services delivered, and as a study from Kaiser shows, actuarial values can differ wildly by insurer (i.e., can and therefore will be gamed). Of course, the details are obuscatory. From Kaiser:
[T]he levels of coverage in the ACA are not defined using specific deductibles, copays, and coinsurance. Rather, they are specified using the concept of an "actuarial value" (AV). … [A]ctuarial values are not an inherently intuitive idea for most people, so the Kaiser Family Foundation initiated a study to estimate the deductibles and coinsurance that would meet the thresholds defined in the ACA. Because there is inherent uncertainty in actuarial analysis – driven by different assumptions and data – the study commissioned estimates from three well-established actuarial and benefits consulting firms. … Apart from the specific details of any of the plan designs, one notable conclusion from the analysis is the substantial variation in the estimates … The analysis also points to the potential for substantial variation in plan designs meeting the actuarial value thresholds in the law, suggesting that the terms of coverage could vary significantly across insurers.  …
In other words, when Obama said that buying insurance on the exchanges would be like buying "a flat screen TV," he was at best ignorant, and at worse was flat-out lying.
*** The effects are smaller for smaller families, but the principle remains the same.
**** Some might make a similar argument against progressive systems of taxation. Since taxes don't fund spending, the same government services can be delivered regardless of tax structure. However, one might, from the perspective of public purpose, support a steeply progressive tax system (the top rate under Eisenhower was 91%) to prevent the development of an aristocracy of inherited wealth (unfair) and/or to prevent the rich from buying the State (also unfair) with the loose cash they'd otherwise squander on yacht covers and expensive handbags. (It seems to me there's a difference between passing on creature comforts to one's heirs, if any, and (say) entailing an estate, let alone primogeniture. Perhaps that is a petty bourgeois perspective, or a perspective limited by the post-World War II fashion for homeownership. And a discussion for another day.)
***** To be fair — and I'm guessing here — if you're poor and at the 138% margin, your income is more likely to fluctuate than if you were destitute, or (relatively) well-off, and so you'll be falling into Medicaid and then escaping into the Exchanges again.