I was just working on a post saying that Larry Summers campaign to become Fed chairman was in serious trouble, and here he's gone and done us all the favor of getting the message. Larry has such high regard for himself that I doubt he has the self-awareness for a day of fasting and atonement to have led to a change of heart. His withdrawal was more likely to be based on hardening media opposition and lack of enthusiasm even among his professional peers (polls of academic and Wall Street economists showed a marked preference for Janet Yellen; there was also considerable derision and a wee bond market slump when the Nikkei ran a story that the Administration was indeed going to nominate Summers).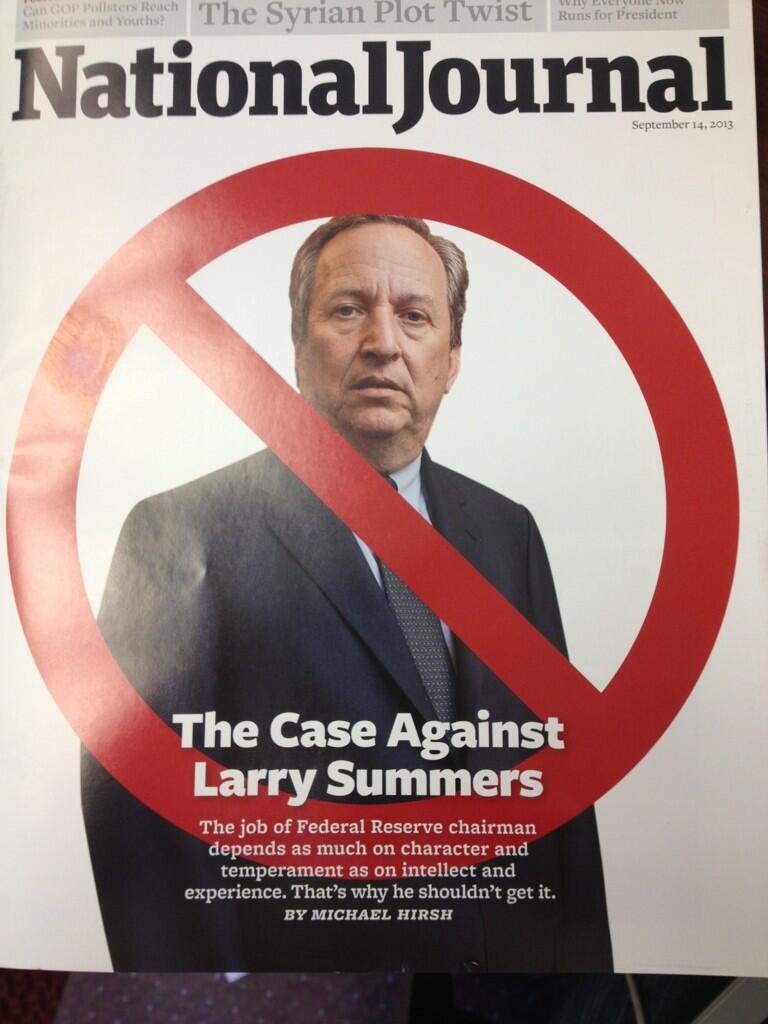 Thing had gotten for Summers candidacy that various people had started making whip counts on the polling for Summers on the Senate Banking Committee. He already had four nos from Democrats (the usual bank skeptics of Sherrod Brown, Jeff Merkley and Elizabeth Warren were joined, in a very bad sign for Summers, by Jon Tester, who is seen as generally pro-bank, albeit worried about the power of Wall Street behemoths relative to small banks).
Summers was already nearing the danger zone (not that he would not necessarily get through the committee, but would be such damaged goods as to put the full Senate vote at risk).
Hopefully, Team Obama will do the sane thing and put Janet Yellen forward.
From the Wall Street Journal:
Lawrence Summers, a former U.S. Treasury secretary, called President Barack Obama Sunday to say he is pulling out of the contest to succeed Ben Bernanke as chairman of the Federal Reserve.

"I have reluctantly concluded that any possible confirmation process for me would be acrimonious and would not serve the interest of the Federal Reserve, the Administration or, ultimately, the interests of the nation's ongoing economic recovery," Mr. Summers said in a letter to the president that followed the telephone call.
Another bit of good news in the Journal account: the Administration will not pull a rabbit out of the hat in the form of Timothy Geithner. The Journal reports that Geithner has already said he does not want the job.
Update 9/16, 12:30 AM. Via e-mail rom Bill Greider, who among other things, wrote an authoritative book on the Fed, Secrets of the Temple:
This is a watershed moment. The defeat of Larry Boy marks the beginning of the end of the long political hegemony of Rubinoid bond traders and speculators. It took a generatl of collusion between the Federal Reserve, Congress, both parties and five presidents (not counting Obama) to dig this hole. It will take at least that long to rescure the country. But this is the starting point, where all of shouting and hollering suddenly has the possibility of being heard.

RIP Larry. Don't kick his bones.