Last year, the Occupy Wall Street group Strike Debt announced its Rolling Jubilee initiative to help address the problem of debt collection abuses. Rolling Jubilee's approach is to buy debt which sells for pennies on the dollar and forgive it. Their idea was to bring attention to the unresolved problem of high levels of consumer indebtedness and to try to develop new, creative approaches for dealing with it.
Because this effort was part of Occupy, and many Occupy groups, like Occupy the SEC, Occupy Sandy, Occupy Homes, and Alternative Banking, have done impressive and important work, it goes against the tide to criticize a well-intended initiative like Rolling Jubilee. But if Occupy is to serve as the incubator for new ways to organize, provide aid, and govern, that includes holding individuals and groups accountable. Otherwise, Occupy simply becomes a different type of tribal entity, like the legacy political parties, rationalizing its actions because its cause is supposedly nobler than that of its opponents.
Rolling Jubilee's Failure to Live Up to Its Plan of Action and Promises of Transparency
According to its website, Rolling Jubilee has raised nearly $617,000. It had hit the $500,000 mark by November 2012. Its main site declares (emphasis ours):
All contributions go to The Rolling Jubilee Fund, a non-profit 501(c) (4) organization with the exclusive mission of buying and abolishing debt. 100% of the money raised will go to the process of buying and abolishing debt (a process that includes some associated costs such as paperwork, accounting, and legal fees). The volunteers managing the fund receive no compensation. In the interest of transparency, a full accounting of funds received and spent will be reported on our website.
From its Transparency page:
RJ is committed to operating with transparency, integrity and in the spirit of the Strike Debt principles. The Board has agreed to a policy of transparency and openness while being careful not to compromise the complicated work of carrying out its mission. This page is an attempt to practice the principles we preach. It contains the following information about RJ, all of which will be updated regularly.

1. Status of funds
2. Operations, policies & protocols
3. Individual debt buys
Despite the promises about openness, the site does not appear to have been updated since February 2013. We aren't the only ones to notice the lack of apparent activity. On September 17, when Strike Debt re-tweeted some old news stories about Rolling Jubilee debt buys, the responses were skeptical: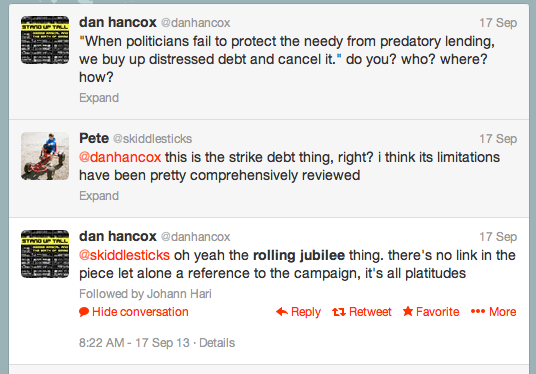 Initially, Rolling Jubilee was forthcoming. It made two purchases of medical debt, one in November 2012 and a second in January 2013. For each, they provided a summary of the key statistics that was easy to scan and helpful. Those summaries allow you to see that so far, Rolling Jubilee has spent $28,079 buying debt, which provided relief to 1108 people. This is a mere 4.6% of the total funds Rolling Jubilee has raised. So it's legitimate to wonder what they've been doing with the rest of the dough in the meantime.
They also held two board meetings, one in January and the second on February, but the minutes were skimpy, troublingly informal and fell well short of basic requirements (no indication of who submitted them, whether there was a quorum; contrast the Rolling Jubilee record with those from this legal guide for not for profit board minutes).
But the big problem seems to be the lack of a proper governance structure. A board, be it for a profit-making organization or a not-for-profit, is not supposed to be identical to the people running the venture. It is designed to oversee the people doing the work and to serve as a check and control on them (boards will typically have some key people from the organization involved, such as the executive director, but the majority are not in operating roles). However, the titles of the individuals listed as board members are all corporate officer titles: President, Vice President, Secretary, etc. At this remove, it looks as if Rolling Jubilee has an inherently defective governance structure, with the board too involved in the actual work of Rolling Jubilee to provide proper oversight (no one will put on his board member hat and find fault with the work he did while wearing his Rolling Jubilee worker bee ha).
And there red flags even in what little we can see of what Rolling Jubilee has been up to. They've publisheda statement of financial and control policies, and some of them are troubling. Individual board members have the power to spend significant amounts of Rolling Jubilee funds and make binding commitments:
– All Board members are authorized to individually sign checks up to $10,000. Checks greater than $10,000 require a signature of a second Board Member.
– All Board members are authorized to enter into contracts for activities that fall within the purview of the organizational mission.
To put it politely, a $10,000 signing authority for a board member is simply unheard of. And in general, there's no reason in any organization for lots of people to have spending authority — let alone board members who, as we see above, should not have executive authority. It's preferable to have as few people as possible empowered to disburse funds (the board minutes also show that unnamed tech people are handling PayPal, and funds can be disbursed from PayPal, so it may well be that people in addition to the board members are disbursing funds).
I spoke to someone who sits on the board of a foundation with a $100 million endowment and has also been on the boards of smaller not for profits. When I told him that Rolling Jubilee gave board members signing authority up to $10,000, the first sentence out of his mouth expressed shock. The second had the words "criminal" and "attorney general" in it. An investigative journalist who looked at the financial policies page said by e-mail: "This is shocking. They're either corrupt or incredibly incompetent, either way this is appalling."*
Now the board did plan to develop and "Operating Reserve Policy" and a "Document Retention Policy" by June. But due to the lack of updates, we have no idea whether that happened. And in any event, those policies would not address the governance and control concerns we've flagged.
Even worse, there are no apparent constraints on the contracting powers of individual board members. As the policies read, a board member can sign a contract for any amount unilaterally, without discussion with or approval of fellow board members. The only restriction is that the Board must approve the use of the "designated cash reserve fund" (which as we will see below is only 10% of the funds raised). To put it another way, I produced amateur theater in college and we had better controls over funds collection and expenditures than what I see from Rolling Jubilee.
In addition, even though the main section of the site states that board members and volunteers receive no compensation, the policies give some wriggle room:
– Advances of funds to volunteers or directors can be authorized by the Board. Direct and necessary expenses by volunteers or directors including travel for meetings and other activities related to carrying out responsibilities shall be reimbursed.
The more conventional approach is for parties making expenditures on behalf of Rolling Jubilee to get expenditures approved in advance and then submit for reimbursement with receipts for anything other than very trivial expenses. While I can see that a volunteer might need a cash advance upon occasion, I'm troubled by the idea of allowing board members to take cash advances.
But even with these concerns, Rolling Jubilee gets credit for providing information through early February. But they went quiet after that. They had already stopped tweeting from their Twitter account on December 18, so any Rolling Jubilee news appears on the Strike Debt account. They maintain a separate Facebook page, but it's largely inactive.
Rolling Jubilee reaffirmed its commitment to transparency and the timely release of financial information in a March 17 press release (emphasis ours):
With a focus on transparency and a policy of humble indebtedness to our donors, supporters and the public, we decided to release the following on our newly launched transparency page:

FY12 CPA audit (in process, will be forthcoming ASAP)
Quarterly financial reports (in process, will be forthcoming ASAP)
Names of Board of Directors
Board of Directors meeting minutes
Financial Policy
Redacted purchase agreements
Debt buy summaries
It is difficult to understand, particularly in light of an "ASAP" promise made over six months ago, why no further financial disclosure has been made. Anyone who runs a small business can see what a simple operation Rolling Jubilee has, or more accurately, should have if they have minimal controls in place. They have limited sources of funds: PayPal, WePay, checks, and proceeds from a big party they had last November. It would both streamline reporting and improve controls if they had all transactions flow through the corporate checking account (as in no use of PayPal to make payments; the board minutes of January 22 indicate funds are "automatically deposited" but given that PayPal is the equivalent of a bank account, the discussion is not clear). But even if they used PayPal and a corporate credit card too, there simply aren't that many sources of funds or disbursements for a bookkeeper to reconcile.
In addition to publishing the summary information about the debt purchases, the March 17 press release also listed their other major expenditures:
We decided to put aside 10% of our donations in reserve, and have spent some initial money on start-up costs: CPA fees, consulting fees, insurance fees, registration paperwork, etc. Going forward, we expect these costs to be significantly minimized; most of the remaining money will go directly to buying and abolishing debt. We still expect to abolish around 20x what we raised: which would be nearly $12 million.
It's important to keep in mind that the total amount abolished is actually not the most important metric. Not for profits are judged to a significant degree on how much of the money raised goes to the goal of the program, rather than for administrative expenses. My understanding is the usual rule of thumb is for 90% of funds raised going to the program's goal (readers who are more current can correct me if the calculus is more complex. Update: Reader Eleanor in comments says that the target is more like 30% for overheads, fundraising costs, and other admin like accounting. My intel was stale and from someone involved mainly in really big charities which can often be run more efficiently than small ones). In theory, Rolling Jubilee should score well here by having so much work done by volunteers. But there are reasons that may not prove to be the case.
The first is that certain types of overheads like annual accounting tend to have de facto minimum levels (and not for profits require more extensive reporting than a for profit). In addition, it is likely that Rolling Jubilee will have to register as a debt collector in states where it buys debt. That entails another set of filings, legal costs, and fees. In addition, both of fact sheets on the debt buys listed the amount spent as "Total Cost (w/ Servicing)". A footnote stated: "Servicing: Data review, data input & cleanup, tracking, mailing, etc."
Now it isn't clear whether the servicing costs were paid to a debt collector or debt seller (raising the troubling issue that Rolling Jubilee is enriching the very parties that are part of the problem) or were incurred by Rolling Jubilee. I'd like to see more detail and disclosure on the servicing component, particularly since some of it might be considered to be part of general administration.
The reason for the concern with the administrative costs is that it may not be possible, even with Rolling Jubilee getting so much free labor in the form of volunteer help, to buy debt efficiently for reasons of scale (too much fixed costs relative to how much money they've raised) and complexity (as they've gotten into it, the project is more difficult than they thought). The March 17 press release confirms these concerns:
If you are wondering why we have not spent all of the funds we raised on debt yet, fear not. We are proceeding with care and caution, and more announcements will be made and actions planned in the coming months. A significant amount of due diligence must be done on each portfolio and we are weighing our options carefully. We think it's more important to spend donations well–on debts that will actually help people–than spend them quickly. Each portfolio of debt we buy also provides an opportunity for public education and political momentum, and we hope to use these opportunities as wisely as possible.

When starting Rolling Jubilee we committed to buying medical debt first and foremost, wanting to call attention to the profound inhumanity and inequity of our for-profit healthcare system. We have spent a great deal of time learning about the medical debt market, and the healthcare industry at large. It is an industry designed to confuse, overwhelm, and exploit….It's also hard to purchase. Unlike credit card or payday loan debt, it is usually sold by hospitals and practitioners to local debt collectors, sometimes in bundles or by physicians groups. Because we don't want our purchases limited to New York, we have to work locally and regionally rather than in the national market. This means building relationships, one at a time.
Now while that sounds responsible, consider: if it takes Rolling Jubilee more than a year (and at the rate it is going, it's going to take a LOT longer than that) to spend the money they raised in 2012, are they really doing what is highest and best for the people they say they want to help? Justice delayed is justice denied.
One benchmark for measuring whether this experiment is successful would be to compare what the results would have been if the same amount of money had been give to Legal Aid or to law schools for the express purpose of helping individuals discharge medical-related debt (many law schools have clinics that provide legal advice and representation to stressed borrowers). These are low-cost, efficient, established channels that can achieve the same end and might provide higher leverage of the funds and more rapid relief to debtors than the Rolling Jubilee initiative.
Rolling Jubilee's Reluctant and Incomplete Responses to Our Inquiries
We started in mid-August trying to find out why Rolling had stopped making disclosures. Our diligent intern Jessica made inquiries through several channels with no success. The one that seems to have finally worked was FaceBook message on August 26. Even so, she didn't get this reply from the president Laura Hanna until September 4:
Apologies for the delay, we have been very busy and some of us traveling for the holiday. We have made significant progress and would be happy to provide further information but it would need to remain off the record until our next public organizing effort.

Please let me know if you would like to discuss further, perhaps we can meet for coffee? If that is not possible, a GHO? [Google Hangout]
Needless to say, given all the promises of "full transparency," off the record does not cut it. We asked Jessica to send a politer version of that response and ask more specific questions on September 18. She received this reply from Laura on September 21:
Hi Jessica,

The team is happy to talk on the record according to a timeframe that works with our organizing and media strategy, early November. If you want to perform any interviews earlier it will need to remain off the record.
Yves here. Notice how "full transparency" has become subordinate to other, unexplained priorities.
However, November is right around the corner if she would rather wait for all of our updated material?
Yves here. Ahem, November is not "right around the corner" from September 21. And Rolling Jubilee said it would publish financial statements "ASAP" in writing, on its own initiative, in March, so its track record does not lead one to put much faith in this promise about November.
As we say on our website, all donations go to buying and abolishing debt and minimal administrative costs, the primary one being the services of our CPA. The Rolling Jubilee team and the legal team all work pro bono. Our taxes are on extension for mid-November, day to day work is carried out by the RJ team and while we are under no legal obligation to provide board meeting minutes we will probably be inclined to do so.
Yves here. You can see how they've repudiated an earlier commitment to provide full transparency to taking as their starting point the minimum of what the law allows. Contrast Hanna's "no legal obligation" and "probably be inclined" to this commitment on its website:
RJ is committed to operating with transparency, integrity and in the spirit of the Strike Debt principles. The Board has agreed to a policy of transparency and openness while being careful not to compromise the complicated work of carrying out its mission.
And Rolling Jubilee had earlier established that they thought more or less contemporaneous releases of debt purchases and prompt disclosure of board decisions met Occupy standards of transparency. Now they've retreated considerably. Back to the e-mail:
We do recall Yves having concerns about our legal team. She should have learned that we created this project with a legal team and our tax attorney is David Miller, a partner at Cadwalader. He is ranked the top tax lawyer in the United States for the seventh consecutive year by US Lawyer Rankings, Chambers Global's The World's Leading Lawyers, The Legal 500 etc.

If she would like a current public update about Strike Debt, Rolling Jubilee is not our only initiative. We recently released this piece in Jacobin. http://jacobinmag.com/2013/09/higher-education-can-be-free/ and will be publishing the second edition of our Debt Resistors Operations Manual. I am happy to put you in touch with others working on the second edition.
Yves here. Notice that the "created this project" and the immediate mention of Miller would leave someone not familiar with the history with the impression that Miller was involved from the inception. But in fact, it's only in their final published board minutes, on February 7, 2013, that they say he has agreed to help pro bono. In fact, they make a critical tax decision, which form of organization to use, well before Miller was involved, when they set up a 501 (c)(4) in October 2012. And Miller in November told Bloomberg he would have done it differently. From Bankrate in November 2012:
Tax attorney David Miller suggested to Bloomberg Businessweek that Occupy Wall Street form a tax-exempt 501(c)3 organization to negotiate directly with credit card companies on behalf of individual debtors and structure the Rolling Jubilee payments as grants.

That tax code charitable designation also would be helpful to folks who want to contribute to the cause. Occupy is asking for donations to its strike debt fund, and you and I can only deduct gifts that go to IRS-approved groups.

Because Occupy is a 501(c)4, a nonprofit tax structure that allows it to allow lobby for causes, our donations to it are not tax-deductible. If it were, however, a 501(c)3 then we'd be able to deduct our donations.
In other words, Rolling Jubilee had already made some basic tax decisions, such as what type of tax exempt organization to use, before Miller was involved. In the summary above, he's not speaking as their attorney but as a helpful outsider offering some advice that differs from what they've already done.
Back to Laura's e-mail:
We are not sure how else to say this but we have nothing to hide, we are just trying to be as responsible and strategic as possible. Because we work on this as volunteers (and need to work other jobs to make a living) it takes a little longer to do our work. We are proud to be able to say we have met our public promise, on a reasonable timeline… and the supporting evidence will be provided to the public November.

Rolling Jubilee was created as an organizing tool that would also help some debtors along the way. We are very concerned about not wasting the opportunity to educate and mobilize people we hope will come with the upcoming announcement.

Sincerely,
The Rolling Jubilee team
Yves here. It's clear that the Rolling Jubilee position is that being "strategic" is somehow in conflict with the sort of prompt and full disclosure they were providing early on, and they've now decided that being "strategic" is more important than repeated, specific promises they've made regarding transparency and financial accountability, such as releasing quarterly financials.
Needless to say, I did not find this response satisfactory. We had told them repeatedly the facts in the public domain did not tell a pretty story and we were not prepared to wait till November when more disclosure might or might not be made.
To give them a final opportunity to respond to the issues that concerned us most, rather than go on the ugly-looking information we had at hand, I drafted a reply and asked Lambert to give it a go and send it on directly:
Laura:

Yves has returned to her desk, and I have some more detail for you.

We'd like on-the-record answers to the following six points in 24 hours (that is, by 10PM EST Sunday, September 22). Please explain your failure to:

1. Document the rationale for the unusual $10,000 signing limit for board members;

2. Make more debt purchases as promised, or if you made them, to disclose them properly;

3. Engage in normal corporate governance practices like holding regular board meetings, or if you did hold them, to publish minutes;

4. Disclose all professionals you have hired and/or what you have paid them;

5. Publish your quarterly and annual financials, which were promised "ASAP" in a March 17 press release. Given your claim that you have few types of expenditures, the inability to produce any information after repeated promises of "full transparency" is troubling;

6. Explain the servicing component of your debt purchases more clearly; it is bundled in and not broken out separately. Was Rolling Jubilee paying the debt seller for this servicing? Or were these tasks performed by Rolling Jubilee? If the latter, why are these tasks being treated as part of the debt purchases?

We understand your desire to be "strategic." That's why we feel it would be best to go on the record with explanations for the above six points.

Thanks!

lambert strether
We got this reply an hour and a half later. However, notice how they did not answer the questions we had just sent, but instead provided a Q&A which included most but not all of the questions our intern Jessica had sesnt earlier (emphasis theirs):
Yves and Lambert:

We will continue to work with Fuoco** until the end of the initiative. You are right, it is a shame… so we have provided a statement.

Everything written below is on the record:

The Rolling Jubilee has been able to abolish more debt that we had initially hoped. We are preparing an announcement in mid-November about our most recent debt purchases. We will publish full transparency reports about these debt purchases as we have with our previous debt purchases. We want to use these announcements strategically to focus media attention on the injustices of capitalism and build a debt resistance movement.

Q) If there have been more debt purchases, why have they not been disclosed?

RJ) Yes there have been more debt purchases, ones that are much bigger than our earlier purchases. We are planning an announcement for mid-November. Each debt purchase will be accompanied by full transparency reports just like our earlier debt purchases.
Yves here. Hopefully we will see the promised reports in November. But notice that the response fails to answer the question, what their rationale is for refusing to adhere to what their earlier actions indicated they thought "full transparency" mean, which was punctual and fairly detailed disclosure of major expenditures. Absent providing the promised quarterly reports, they have still not explained their justification for a policy change. Instead, they are trying to pretend they have not retraded one of their fundamental promises.
Q) Are the board meetings still being held? If so, why are the minutes not published?

RJ) The board is required to meet once a year and will probably not meet more often than that unless there is some specific need to. The Rolling Jubilee working group which researches the debt portfolios and does the day to day volunteer work for the project meets often.
Yves here. It's worth noting that the financial policies allow for the board to make decisions by e-mail, without having a meeting. And as we've indicated, the extremely lax policies (large signing authority, ability of board members to make large contractual commitments) would normally lead one to hope for more concerted, rather than "bare minimum the law allows" approaches to oversight to compensate for such unusual arrangements.
Q) Why have financials not been published? Tax returns were due no later Sept 16th for 2012.

RJ) We are on an extension, when we make our upcoming announcements in mid-November we will also be publishing a transparency report and a Quarterly Report, created by our CPA. While we have hired a professional team of CPAs for the duration of this initiative, the list below covers all other professional and administrative costs per purchase:

– portfolio purchasing and other debt costs

– consulting and professional fees

– bank wire fees

– state registration fees

– mailing and postage fees

All of this information will be forthcoming. To be diplomatic, we do not want to break the news of our next purchase on your blog right now.
Yves here. This still leaves us in the dark as to whether the servicer is paid or Rolling Jubilee makes these payments, and how large they are relative to the actual amount of debt purchased. And even though one hopes they'll meet their extension deadline, it is hardly unheard of for organizations to file late. So we'll have to see what Rolling Jubilee provides in November.
Back to the e-mail:
The Rolling Jubilee team (including legal) all work as volunteers. We do recall Yves having concerns about our legal team. She should have learned that we created this project with a legal team including our tax attorney is David S. Miller, a partner at Cadwalader.

He is ranked the top tax lawyer in the United States for the seventh consecutive year by US Lawyer Rankings, He is listed in Chambers Global's The World's Leading Lawyers, Chambers USA: America's Leading Lawyers, The Best Lawyers in America, and The Legal 500.

David was Chair of the New York State Bar Association's Tax Section in 2008. He is a recipient of The Burton Award for Legal Achievement, which recognizes exceptional legal writing. He is a member of the Tax Forum and a member of the board of directors of the International Tax Institute.

David has represented more than two hundred charities on a pro bono basis. In 2011, he was named as one of eight "Lawyers Who Lead by Example" by the New York Law Journal. David has also been recognized for his pro bono work by The Legal Aid Society, Legal Services for New York City, and New York Lawyers For The Public Interest.

Lastly, we would like to inform you that we will plan to publish our full email interaction with Naked Capitalism.

Thanks!

The Rolling Jubilee Team
Notice what happened:
1. It took a "strategically" stern warning and a deadline to elicit an on-the-record response.

2. While we do appreciate getting some sort of answer, notice what they did. They answered the questions Jessica asked in August and not the later ones Lambert sent relating more specifically to our main concerns. This is better than nothing but less than fully forthcoming. Moreover, the tone of their message makes clear that they feel they answered under duress. Again, both the attitude and the level of disclosure is inconsistent with what they represent, now, on their website, which remains open for donations (Lambert gave them $20 on Friday).

3. Rolling Jubilee does indicate they will publish a "Quarterly Report". That will hopefully be the first of regularly quarterly financial reports, but it could be less than that (as in some key financial metrics as opposed to full financials). Stay tuned to see what sort of disclosure they provide.

4. Since Laura brought up Miller again, it is is only fair to remind readers that he joined their effort in February, after we had written three posts in November and December questioning their tax position and urging them to get a heavyweight tax attorney involved.
It's troubling to find the members of the Rolling Jubilee board try to avoid answering basic questions and living up to promises they made by taking the position, in effect, that they have good intentions and a good cause and thus aren't required to provide much in the way of responses. Yet they use the Occupy brand in marketing (Google the press on Rolling Jubilee), profess to represent a more ethical, humanistic approach to the problem of indebtedness, and made repeated, specific promises about openness. All we've asked is that they walk their talk. It's disappointing to see egos and concerns about appearances, couched as their desire to be "strategic," get in the way.
____
* If you think we are asking too much of a board of a comparatively small non profit, please look at the following:
Right From The Start: Responsibilities of Directors of Not-for-Profit Corporations New York State Office of the Attorney General
Ten Basic Responsibilities of Nonprofit Boards National Center for Nonprofit Boards
Bylaws of the Model Railroad Club (NJ)
http://tmrci.org/assets/bylaws.pdf

All institutional documents:
Example of minutes, Central Arkansas Model Railroad Club
http://artrains.org/index.php5?title=CAMRC_MINUTES_8_05_2013

"At this point in time, all bills are paid. Current account balance is $1,500.13. 2013 club dues have been paid by….
**Fuoco is an accounting firm mentioned in the board minutes but it was not clear whether or not they had been engaged.