By Lambert Strether of Corrente.
Since today, September 22, is the Autumnal Equinox, when the earth begins its tilt toward winter, I thought I'd write about an event from summer's past: A permaculture blitz in partnership with a band of Micmacs up in Aroostook County; details of the project can be found here. So this is a trip report. I'll start with some garden geekery on the blitz, and end with a small but surprising political twist. But first, the video:
The feel of a "permaculture blitz" comes through in the video, but to be safe let me cite to definition:
Permablitz (noun): An informal gathering involving a day on which a group of at least two people come together to achieve the following:

create or add to edible gardens where someone lives
share skills related to permaculture and sustainable living
build community networks
have fun

Permablitzes are free events, open to the public, with free workshops, shared food, where you get some exercise and have a wonderful time. To be defined as a permablitz each event must also be preceded by a permaculture design by a designer with a Permaculture Design Certificate. [Julia and Charles Yelton]. The network runs on reciprocity, and in order to qualify for a permablitz you usually need to come to some first, although there can be exceptions in this case.
All of which was true, especially the food part; as it turns out, the "Micmac Farms and Trading Company" makes and sells excellent relish, among other foods.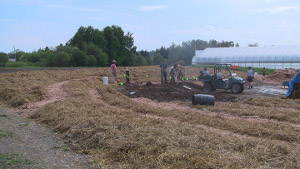 Geekery aspect #1: Swales. As you can see from the photo at right, the edible garden we were creating is on a slope, and parallel grooves have been cut into the earth, following the contours of the slope:
Swales are water-harvesting ditches, built on the contour of a landscape. Most ditches are designed to move water away from an area, so the bottom of the ditch is built on a modest slope, usually between 200:1 to 400:1.

Swales, however, are flat on the bottom because they're designed to do the opposite; they slow water down to a standstill, eliminate erosion, infiltrate the surrounding area with water, and recharge the groundwater table. When water moves along the flat bottom of a swale, it fills it up like a bathtub — that is, all parts of the bath tub fill at the same rate. The water in a swale is therefore passive; it doesn't flow the way it would on a slope.
One of the central permaculture design principles is "stacking functions"; my raspberry patch, for example, is placed along the sidewalk, so that it functions as: (1) a source of food; (2) a barrier to sight, for privacy; and (3) a living fence, for protection; humans and other animals will avoid the prickles. Here, the swales serve at least two functions: (1) to harvest water, which will keep plants on the slope happy (for more on water capture, see Sepp Holzer); (2) to protect the Trading Company building from water flowing down the slope from the direction of the road. (It seems reasonable that water capture would improve the soil, too, beyond preventing erosion, but I'm not sure about that.)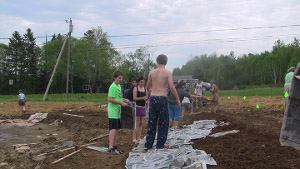 Geekery aspect #2: Sheet mulch. The previous photo shows that the entire garden was sheetmulched in a day — not too shabby, because it's a big garden — and here's a photo that shows the process. Focusing on the ground, we notice a layer of dark soil, with a layer of wet newspaper, and in back, straw covering the newspaper. You can get a lot fancier than that, with soil amendments, and green manure, and cardboard instead of newspaper, but the basic principle of layering what you want to decay, with a lightblocker on top of the layers, and then straw on top of the lightblocker, prevails. From Sheet Mulching: Greater Plant and Soil Health for Less Work:*
Once you get the hang of it, sheet mulching can be used anywhere plants are grown in the ground. Sheet mulching may be used either in establishing a new garden or tree planting, or to enrich existing plantings. In both cases, mulch is applied to bare soil or on top of weeds. New plantings are planted through the mulch, and a small area is left open to accommodate established plants and trees.

The benefits of mulching justify putting the energy into doing the job right, using ample materials. Collect all of the materials…, and complete the mulching process in a day. A reduction in maintenance and increase in plant vigor will reward the initial effort.

Sheet mulch is put down in layers to mimic natural forest mulch: well decayed compost, weed barrier [newspaper, or even fallen leaves], partly decayed compost and raw organic matter [we substituted straws].
(Semi-pro tip: Do the sheet mulch first, then punch holes in it and pop in the plants. Do not attempt to sheet mulch around existing plants, except maybe trees. That won't hurt the plants any, but it will sure annoy you. How do I know this… ) I'm here to testify on sheet mulch meaning less work: The only time I ever have had to weed is when I got lazy and didn't sheet mulch an area, or got too cheap and spread the newspaper too thin. So, for a small investment of time and money at the start of the season, you get: Little to no weeding (stacked function 1), and better yet, sheet mulch captures water (2), besides (3) encouraging earthworms, who enjoy the sugars produced by the newspaper or cardboard as it breaks down. For three seasons now, I have watered only at the very start of the season to make the seedlings happy; then from a couple weeks after Memorial Day 'til frost, no watering at all. That saves on my water bill, and who wants to be dragging hoses around, anyhow?
We left the Micmac property in better shape than we found it, and headed home. So this is the political twist part: I was talking to a husband and wife team, and they asked me what I do, and I (rather cagily) replied that I write about political economy online. "What topics do you write about? We hear a lot about Benghazi." [Oh… kay, I thought, calculating rapidly.] "We mostly write about stories that aren't covered at all." [They nod.] "What's an example of one of those stories?" "Well, we might write about why some bankers ought to be in jail." [BIG nods, the wife's bigger than the husband's.] And we went on to have a very pleasurable evening; the right is often very sound on gardening and food issues.
Now, I know that's a mother-in-law story. ("My mother-in-law says…"). But stories like this are why I have some confidence that "strange bedfellows" tactics really can have positive outcomes — as on the NSA, or Syria.
NOTE * Oooooh! I like that! "Less work"! My object is not to work in the garden; I can't imagine why people see that as virtuous. I want to sit in the garden, and enjoy the garden, and occasionally eat some of the produce.
NOTE Photo page here.