We are getting closer!
See the latest version of the redesign here.
username: preview
password: nakedcap
[When suggesting a change and/or making a criticism, please give your OS and browser (e.g. "Windows 7, FF 24.0"). We really cannot see what you see, and the pages render differently in different browsers, so without the OS and browser information, your comment is in no way actionable. Also, for those of you visited the redesign page before, please clear your browser's cache so we can be 100% sure that you're loading the fresh copy. –lambert]
We've made a number of changes. What you'll probably notice is the return of the NC orange. We've also had the logo turned into an image so you all get it in American Typewriter font as you are supposed to (basically, now only Mac users see it the way it is supposed to look).
The site has more grey and less blue than before because we've limited the blue even further in favor of grey (our designer said the blue that went with the NC orange is a color combo in advertising used for cheap products). Before, when you clicked on a link (say in Links), the site remembers and shows the link as blue. We've eliminated that. Now the only blue links are ad links (and you'll see there aren't many). If you miss that feature, please let us know, we might try restoring it in a different color.
We thought about making the site Optima for everyone (right now only some users see it even though that is the preferred font) but to do that and have an Optima look decent for everyone (the free Optima does not render well on PCs in IE) would have required us to license Optima at a cost of at least $40 a month. $500+ over the course of a year is what a day trip to DC costs, and also buys a ton of intern time, and those seemed to be better uses of funds. But we did change the default sequence (as in "If you don't have Optima, then X font, if you don't have X, then Y") in light of the new design. That means some of you who used to get Arial will get a different sans serif font, probably Calibri (we moved Arial down and some fonts we liked better up in the stack).
The Tip Jar is not on the landing page but on the article pages. Not sure that's a good call but my instinct was people clicked on the jar from individual article pages, not from the landing page. If that's wrong and you think it goes on the landing page too, tell me pronto!
I did that in response to a very few but very vocal readers not liking the use of animal images for the Tip Jar. I was going to have a lot of rotating photos (we were looking to get hundreds to keep it interesting) but now I'm not sure given how vociferous two people were in their response. I do adore the snow leopard picture (it now alternates with the squirrel), so if there is to be only one Tip Jar photo, that's it.
Also not sure the Tip Jar labeling is obvious enough. The old "Donate" and "Subscribe" buttons are really ugly but communicate VERY clearly. Do you have a suggestion as to how to make the label under the image more obvious (as in literal) without being too long?
In addition, in the last go-round, one reader suggested we run the page through an HTML editor. Our designer said that was a waste of time, in that she checks her HTML, but the HTML glitches come from WordPress plugins. She say no WP site will get a clean score in an HTML editor. She's even tried scrubbing the code on some plug-ins, only only to have her edits overwritten by the next WP upgrade (and she does research plug-ins before installing them, since in some cases it is better to buy them than go with the free versions).
We still have a lot of detailed cleanup to do (thanks Lambert's sharp eye for finding and documenting inconsistencies in use of blank lines, other demarcation stuff). But any and all changes, comments, and reactions appreciated!
Header Area
1. Change sharing button colors (just above header bar) to brand colors, as in RSS orange and Twitter blue. Designer will decide colors for rest. Those colors are so strong that probably means the icons need to shrink (notice they have cute descriptions when you roll over them). Size as X-height of "SUBSCRIBE
2. Make the tagline smaller to conform with smaller sharing buttons
3. Search field and button should be same height and same top
4. Search box + button combo should be sidebar width.
5. Hover on twitter button should not being up text for Occupy banner (z axis)
Landing Page
6. Bio author area text should be same size as body text of article
Article
7. Include Recent Items field as on landing page
8. Headline and author formatting should be same as front page e.g. orange headline
9. No more than one "line" between paragraphs (same leading as in paragraph, no extra space)
10. Copyright line should be same size as text
11. Rule at article bottom should be grey dot, identical to front page and sidebar separator
12. Can the icons for sharing be in the same format as in the header? Small, round, color?
13. This page uses -> for arrow, front page uses >>, I like ->, but should be consistent.
Comments
14. No more than one "line" between comment author block and comment body (same leading as in paragraph, no extra space)
15. Rule between should be grey dot, identical to front page and sidebar separator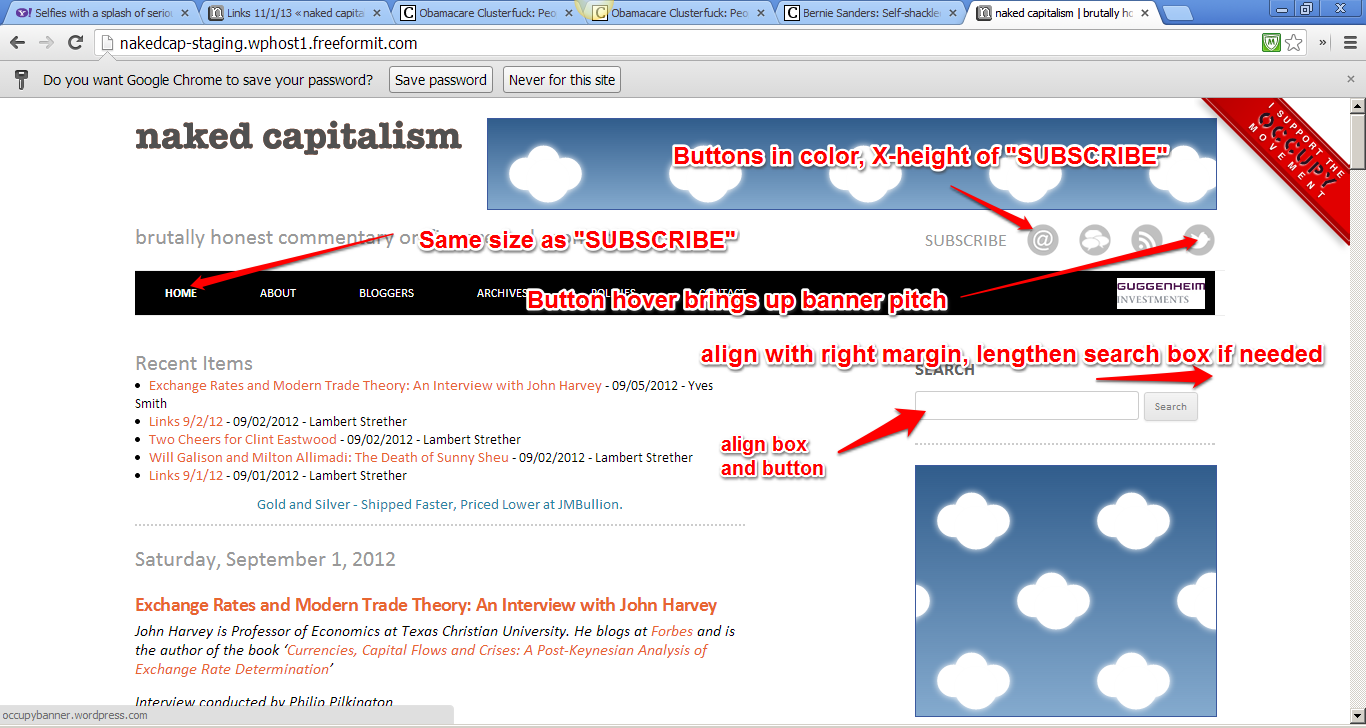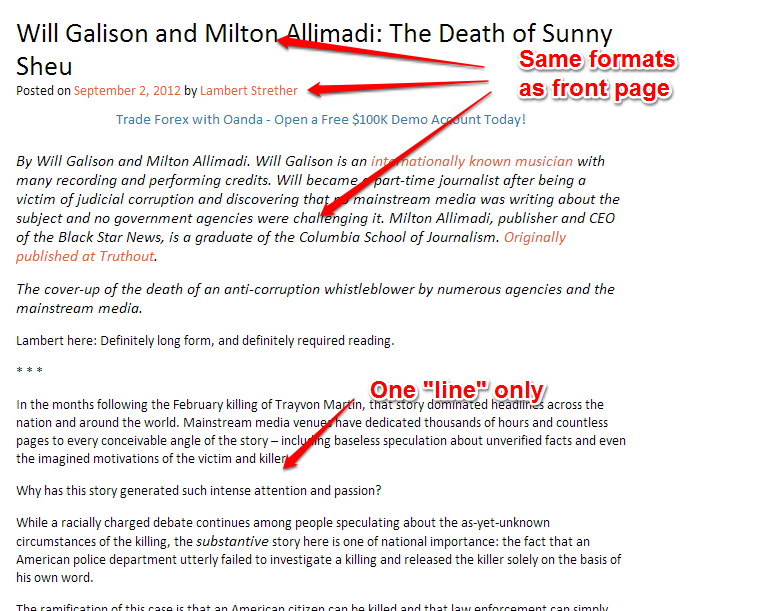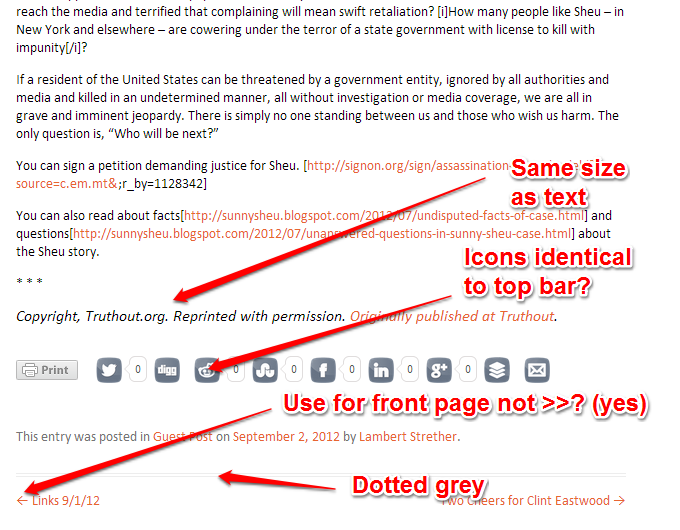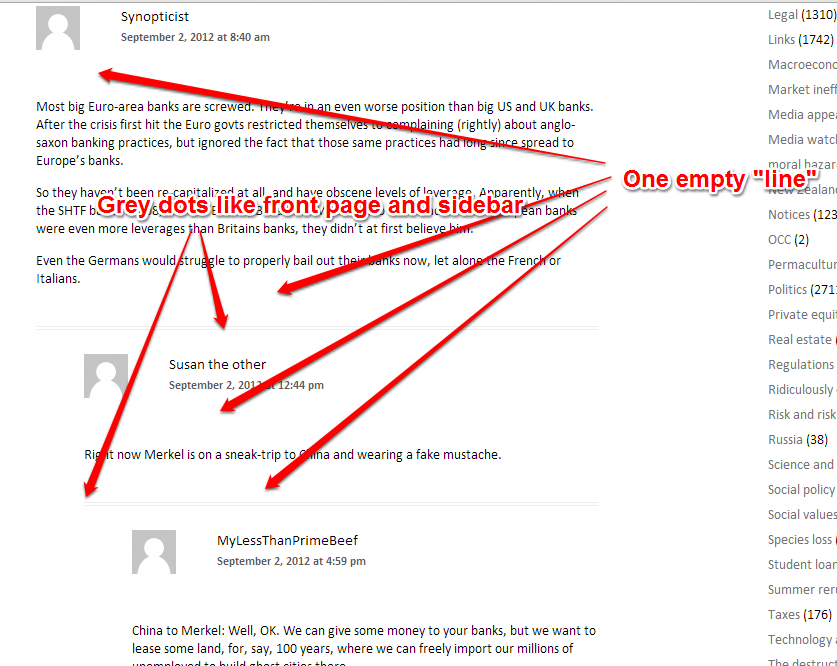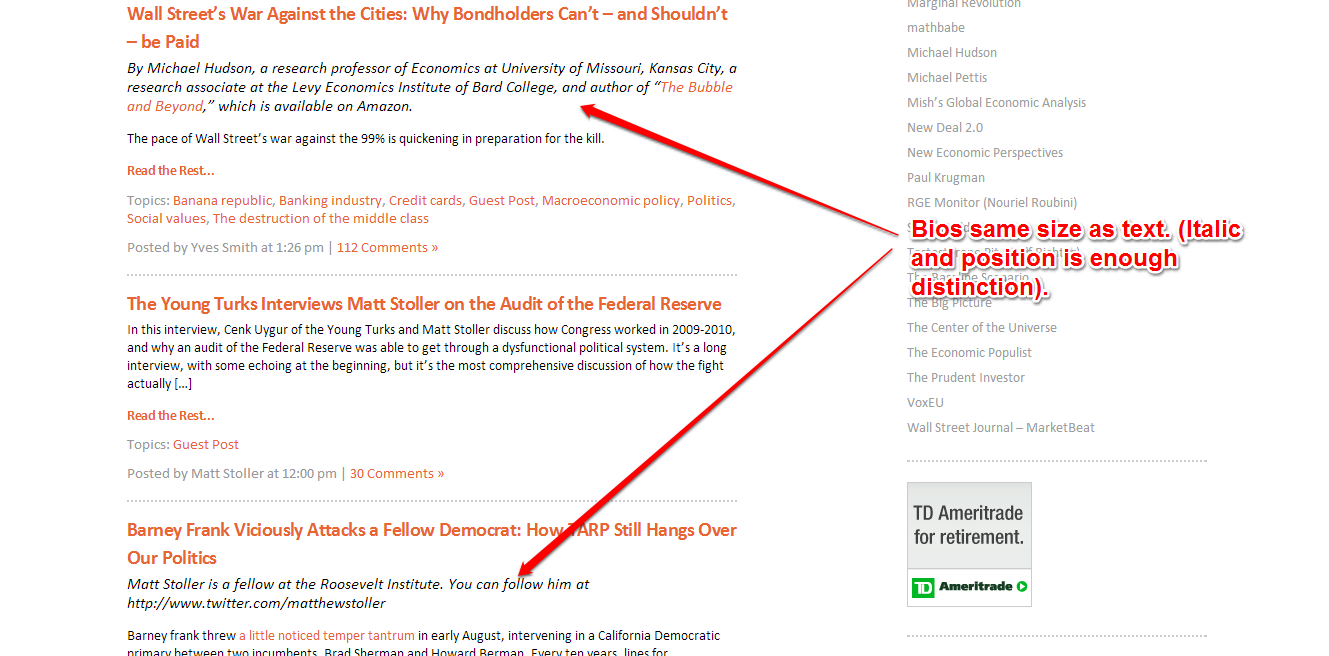 And as before, please give us any comments, suggestions, and reactions! Thanks!