I'm normally not big on "one chart says it all" posts, but this one is so striking I made an exception. Hat tip FT Alphaville: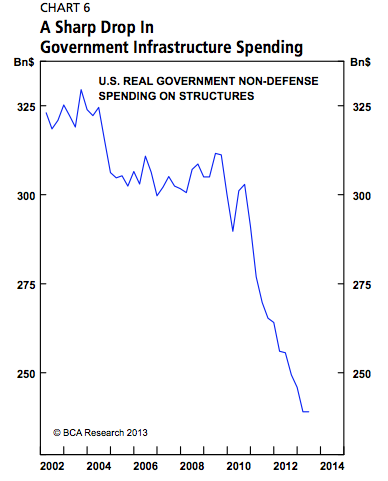 The source is BCA Research, which included state and local government spending in the total, since they are responsible for 75% of non-defense infrastructure spending.
Now FT Alphaville sort of cheerily remarks that most of the missed spending will be made up someday, but it will cost more since interest rates will be higher when the projects are finally financed. First, I have to tell you that the upside-down logic of NPV based analysis sees deferring investment as positive if the inflation in the cost of getting the project done is less than your discount rate (that's crude but not too far off the mark). And from a political standpoint, later spending is always better. But of course, that doesn't factor in the real economy costs in the meantime: delays due to breakage of various sorts (everything from potholes taking lanes out of commission and necessitating inefficient emergency patch-up to accidents of various sorts).
And this underspending comes when we already were under-investing in infrastructure. After a bridge collapse in 2007 that killed 13 people, the media seized on what had been a long-standing issue of under-investment in bridges. The result of all this scrutiny and alarm? The number of structurally bridges is indeed down, but "barely," per Transportation for America:
We hope you had a chance to check out our new report released yesterday on the state of our nation's bridges? 1 in 9 US bridges — about 66,500 in total — are rated structurally deficient and in urgent need of repairs, maintenance or even replacement.

The Fix We're In For: The State of Our Nation's Bridges 2013 is an updated version of the data we released two years ago, and the findings are much the same: Everyday, Americans of all different stripes drive across these deficient bridges, with more than 260 million trips taken on them each day. To put that crazy number in perspective, McDonalds' restaurants will serve only about 64 million worldwide today. And though we've gotten about 0.5 percent better nationally in the last two years, from 11.5 to 11 percent deficient, that's only a difference of about 2,400 deficient bridges.
Anyone who travels at all can see how shoddy America has become. Our airports and train stations are a disgrace by international standards. Decades of underinvestment in the New York City subways has been somewhat reversed, but it will never be pleasant. The Tube was stunningly unpleasant when I lived in London in 1984, and it now bears no resemblance to the system I encountered back then. By contrast, New York City has at least invested in generally much more modern cars, and a full decade behind most transport systems has finally installed screens so you can see when trains are due to arrive in the station, but the stations themselves remain dumps. Too many roads across the US are clearly overdue for resurfacing. I saw one road in Maine where the locals had slapped tar on either side of the yellow center line. They apparently didn't have budget to repaint the road markings, so the resurfaced around them. Aiee!
The US is already well on the way to being a third world country, and the chart at the top gives you a preview of how your experience of public amenities will decay as a result of post-crisis budget starvation. Brace yourself.