Reuters has a new article, Insight: A new wave of U.S. mortgage trouble threatens, which is simultaneously informative and frustrating. It is informative in that it provides some good detail but it is frustrating in that it depicts a long-standing problem aided and abetted by regulators as new.
When the mortgage mess was a hotter topic than it has been of late, we would write from time to time about the second mortgage time bomb sitting at the major banks, particularly Bank of America. Unlike first mortgages, which were in the overwhelming majority of cases securitized and sold to investors, banks in the overwhelming majority of cases kept second liens (which in pretty much all cases were home equity lines of credit, or HELOCs) on their books).
This arrangement led to tons, and I mean tons, of abuses, which regulators chose to ignore or worse, actively promoted. Second liens, as the name implies, have second priority to first liens. In a bankruptcy or resturcturing, they are to be wiped out entirely before the first lien is touched ("impaired" as they say).
But the banks that had HELOCs on their books were often the servicer of the related first liens. And even though they had a contractual obligation to service those first liens in the interest of the investors, they'd predictably watch out for their own bottom line instead. For instance, if a borrower was deeply underwater, it would make sense to at least partially write down the second. If the borrower was delinquent, the servicer should write off the second and restructure (aka modify) the first mortgage. But instead you'd see banks use their blocking position as second lien holder to obstruct mortgage modifications. Worse, Bill Frey of Greenwich Financial documented that Bank of America had modified subprime mortgages securitized by Countrywide (as in reduced their value) without touching the seconds, a clear abuse (notice that this issue was raised in the BofA mortgage settlement, and bank crony judge Barbara Kapnik looks almost certain to sweep it under the rug).
Regulators played a direct hand in this chicanery. If the regulators had forced the banks to write down HELOCs, banks would have much less incentive to try to wring blood out of the turnip of underwater borrowers (particularly if the regulators had made clear they took a dim view of that sort of thing). But the authorities were far more concerned about preserving the appearance of solvency of the TBTF players.
Another dubious practice that regulators enabled was extend and pretend on HELOCs. Unlike first mortgages, where fixed payments are stipulated, HELOCs didn't require borrowers to engage in principal amortization until typically ten years after the loan was first made (a minority of loans set the limit at five years). This is not unlike credit cards in the pre-crisis era, where banks were permitted to set the minimum payment so low as to pay interest only (banks are now required to set minimum payments high enough to that the balance would be paid off in 60 months).
If that isn't bad enough, the banks went one step further. Banks were engaging in negative amortization, as in not even requiring borrowers to pay all the interest charges, which meant they were adding unpaid interest to principal in order to keep the mortgages looking current so as to avoid writing them down. As we wrote in 2011:
The bone of contention is that mortgage servicers, which also happen to units within the biggest US banks, have not been playing nicely at all with stressed borrowers out of an interest in preserving the value of their parent banks' second liens. And the reason for that is that writing down second liens to anything within hailing distance of reality, given how badly underwater a lot of borrowers in the US are, would blow a very big hole in the equity of major banks and force a revival of the TARP…

Anecdotally, it appears that banks use a very aggressive carrot and stick to keep seconds current. They threaten borrowers with aggressive debt collection on seconds. And on home equity lines, which are the overwhelming majority of second liens (see this spreadsheet courtesy Josh Rosner for details of the results from the five biggest servicers, click to enlarge), negative amortization is kosher.

For data junkies, 1 is Citi, 2 is JPM, 3 is BofA, 4 is Wells and 5 is GMAC

So what does a bank do? On day 89, before the HELOC is about to go delinquent, it tells the borrower to pay anything on it. A trivial payment is treated as keeping the HELOC current. So this explains Eisenger's question: it's easy for the Wells of this world to pretend that these second loans are doing fine if you will go through all sorts of hoops to make them look current, including if needed by lending them the money to make part of their interest payment. So even though a lot of commentators argue that it's hard to argue that banks should write down their seconds if borrowers are current, what "current" really means deserves a lot more scrutiny than it has gotten.
And as Matt Stoller wrote in early 2012:
Over the past three years, the big four servicers have been keeping hundreds of billions of dollars of second mortgages on their books (mostly in the form of Home Equity Lines of Credit, or HELOCs).  Many of these mortgages would seem effectively worthless, because a home equity line of credit or second mortgage on top of an already deeply underwater first mortgage has no value.  You can't use it to foreclose, because you'd get nothing out of the foreclosure – all of that would go to the first mortgage holder (usually some investor in a pension fund somewhere).  It has only "hostage value", or the ability to stop a modification or write-down from happening.  The best way to clean up this situation is to have the regulators (FDIC, OCC, Federal Reserve) simply tell the banks that they must write down their second mortgages on collateral that has been impaired.  That way, the incentive problem goes away.  By forcing the bank to recognize the loss now, the bank will no longer stop a modification on a first mortgage.  And in fact, the regulators pretty much agreed that this is what their examiners should do, when they issued new rules earlier this year on accounting for second liens.

Only, the regulators haven't done it, because the banks claim their seconds are performing.  Bank of America says that these loans are worth 93 cents on the dollar.  Several of the other banks don't break out their loss reserves for seconds, so it's hard to tell, but I think it's clear they aren't reserving enough.  We can tell that because the Federal Reserve itself is dramatically overvaluing these seconds.  In a stress test, the Fed said in its worst case scenario that the banks would lose only "$56 billion".  These are low numbers.  According to their most recent investor report, Wells Fargo alone has $35 billion of second liens behind first mortgages that are underwater.
So now, after years of denial by banks and enabling by regulators, the second lien chickens are finally coming home to roost. Homeowner advocate Lisa Epstein gives an idea of how bad this looks from the borrower side:
People who've owned their homes for decades, never paid a bill late in their life, and got one of these HELOCs in the early to mid 2000s are starting to get seismic shocks in their monthly statements. Monthly bills going from $200 to $1,200 is met with incredulity and confidence that a mortgage servicer mistake has been made until it is clear that they've received a rude reminder of something most families have forgotten or never fully realized. Some have been paying interest only for 10 years and a $25,000 balloon is coming due. For most, the only option is to sell if not underwater or to default and try to negotiate a reduction and deal with the IRS 1099 issue if the Mortgage Forgiveness Act expires without extension in a few weeks, risking foreclosure. And, then there's the question about what to do with the first mortgage if there is one.
But the Reuters piece, while doing a good job of trying to get a handle on the magnitude of this problem, peculiarly plays down they way regulators have given the banks a wink and an nod all these years:
U.S. borrowers are increasingly missing payments on home equity lines of credit they took out during the housing bubble, a trend that could deal another blow to the country's biggest banks….

More than $221 billion of these loans at the largest banks will hit this mark over the next four years, about 40 percent of the home equity lines of credit now outstanding….The number of borrowers missing payments around the 10-year point can double in their eleventh year, data from consumer credit agency Equifax shows. When the loans go bad, banks can lose an eye-popping 90 cents on the dollar, because a home equity line of credit is usually the second mortgage a borrower has…

The number of borrowers missing payments around the 10-year point can double in their eleventh year, data from consumer credit agency Equifax shows. When the loans go bad, banks can lose an eye-popping 90 cents on the dollar, because a home equity line of credit is usually the second mortgage a borrower has…

For home equity lines of credit made in 2003, missed payments have already started jumping.

Borrowers are delinquent on about 5.6 percent of loans made in 2003 that have hit their 10-year mark, Equifax data show, a figure that the agency estimates could rise to around 6 percent this year. That's a big jump from 2012, when delinquencies for loans from 2003 were closer to 3 percent.

This scenario will be increasingly common in the coming years: in 2014, borrowers on $29 billion of these loans at the biggest banks will see their monthly payment jump, followed by $53 billion in 2015, $66 billion in 2016, and $73 billion in 2017.
The Reuters story also says that the Office of the Comptroller of the Currency was "warning" about HELOCs in early 2012. Ahem, they were recognized as a big undeplayed risk in the infamous bank stress tests of 2009. And if the OCC was so concerned, why did it then (as now) natter about the need for more data? Why didn't it just demand it?
Regulators were clearly hoping that the housing market would recover enough to reduce the size of this looming time bomb. But the much-touted housing recovery has been almost entirely due to price appreciation in foreclosed properties. Josh Rosner ascertained that the year-to year median sales price increase in owner-occupied homes was a mere 1%.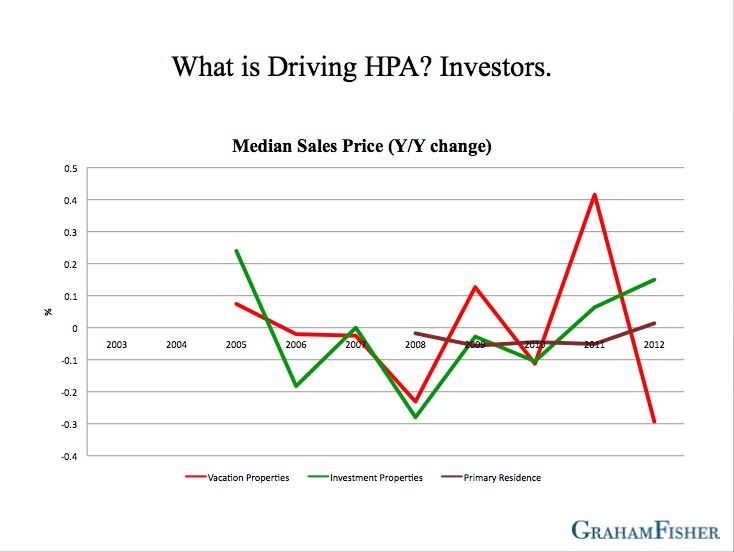 Investor appetite for homes has been cooling, in part due to concerns about QE taper, in part due to one of the hoped-for exit strategies, that of turning a portfolio into a REIT and taking it public, looks to be pretty much dead. And reports of bad maintenance and tenant abuses by the kingpin investor in rentals, Blackstone, could also put a pall over the category, even for more responsible operators. So even a bit more uptick in supply due to HELOC-shock sales, short sales, and foreclosures, could put another dent in the faltering housing recovery.
The math of payment shock means the Reuters story is the harbinger of more accounts. I only hope some of them focus on how banks and regulators made matters vastly worse for borrowers through their efforts to save their own hides.