By Lambert Strether of Corrente.
MMT's Bill Mitchell narrates a slide presentation of a paper (draft) co-authored with Louisa Connors, Member, Centre for Literary and Linguistic Computing, University of Newcastle. I wish the paper had an abstract, so lazy people like me could just grab it, but here are what I see as the key paragraphs in the introduction:
It is reasonable to expect that professional failure on the scale of the GFC would lead to a re-evaluation of the paradigm with in which these economists work, and major changes in economic curricula and research. Mainstream economists, however, have re-energised their anti-government free-market biases and effectively reconstructed what was a private debt crisis into a sovereign debt crisis, obscuring their role in the crisis and deflecting attention from the flaws in their model. The dynamics that created the crisis (deregulation, reduced financial oversight, etc) continue to be advocated by the mainstream as solutions. The fact that mainstream macroeconomics has retained its hegemonic status in the face of its failure to resonate with reality is [and inability to master simple Excel macros as well they've mastered hegemonic status seeking, despite their field's carefully cultivated reputation for scientific rigor], in no small way, due to the way economic debates are framed in the public discourse. Framing refers to the way an argument is conceptualised and communicated by speakers and listeners. Processes of conceptualisation proceed by way of adaptive reasoning on the basis of models and representations. Research in cognitive philosophy and cognitive linguistics suggests that the models that constrain our thinking operate at a largely unconscious level, and that the abstract concepts we draw on are "largely metaphorical", "imaginative", and "emotionally engaged" (Lakoff and Johnson, 1999:3-4).
So, light the fire in the woodstove with the Sunday Times, get a cup of coffee, and listen Mitchell's laconic narration (and charming Australian accent):
Note that neither the paper nor the slide presentation themselves exemplify the Lakoffian approach; Mitchell and Connors do not, as the techies say, eat their own dogfood. Rather, the paper and the slides lay out a research program in political economy; emphasis political (and how not?)
* * *
I don't know that I have that much to add, except to say that I look forward to the research program, and that the blogosphere (as with The Coin) could provide a useful test platform or (to mix metaphors) crucible. Let me express my doubts about the Lakoffian approach in the form of a picture [WARNING: Put down your coffee!]:
Figure 1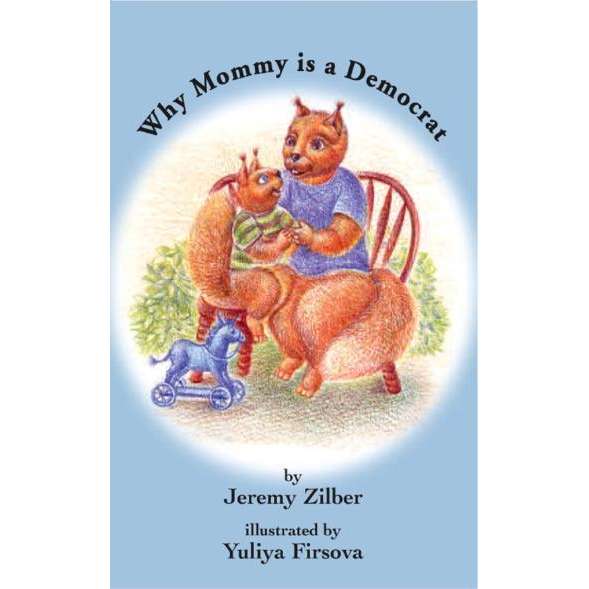 Note the title. (And is the horse Trojan?) Summarizing crudely, one of Lakoff's big ideas was that the Republicans were "the Daddy Party" and the Democrats were "the Mommy Party." With results that you see above. Now, I'm not saying that brain bleach-demanding kitsch like that — and if you are one of the readers who didn't heed my warning, and yet still didn't lose a keyboard when you spit out your coffee, I'd very much like to know why — like that, I say, is the inevitable outcome of Lakoff's work with the Democrats, but outcome it was. I can't bear to dig out the book where Lakoff explained the Mommy Party/Daddy Party metaphors, even though I actually bought it.* Anyhow, this interview from 2003 will serve to expand on Lakoff's ideas:
Why do conservatives appear to be so much better at framing?

Because they've put billions of dollars into it. Over the last 30 years their think tanks have made a heavy investment in ideas and in language. In 1970, [Supreme Court Justice] Lewis Powell wrote a fateful memo to the National Chamber of Commerce saying that all of our best students are becoming anti-business because of the Vietnam War, and that we needed to do something about it. Powell's agenda included getting wealthy conservatives to set up professorships, setting up institutes on and off campus where intellectuals would write books from a conservative business perspective, and setting up think tanks…..

Why haven't progressives done the same thing?

There's a systematic reason for that. You can see it in the way that conservative foundations and progressive foundations work. Conservative foundations give large block grants year after year to their think tanks. They say, 'Here's several million dollars, do what you need to do.' And basically, they build infrastructure … Why? Because the conservative moral system, which I analyzed in "Moral Politics," has as its highest value preserving and defending the "strict father" system itself. And that means building infrastructure. As businessmen, they know how to do this very well.

Meanwhile, liberals' conceptual system of the "nurturant parent" has as its highest value helping individuals who need help. The progressive foundations and donors give their money to a variety of grassroots organizations. They say, 'We're giving you $25,000, but don't waste a penny of it. Make sure it all goes to the cause, don't use it for administration, communication, infrastructure, or career development.' So there's actually a structural reason built into the worldviews that explains why conservatives have done better.

Back up for a second and explain what you mean by the strict father and nurturant parent frameworks.

Well, the progressive worldview is modeled on a nurturant parent family. Briefly, it assumes that the world is basically good and can be made better and that one must work toward that… On a larger scale, specific policies follow, such as governmental protection in form of a social safety net …

The conservative worldview, the strict father model, assumes that the world is dangerous and difficult and that children are born bad and must be made good. The strict father is the moral authority who supports and defends the family, tells his wife what to do, and teaches his kids right from wrong…
2003, of course, was a happy innocent time, a bad decade ago. True, Bush (with the help of 308,000 Democratic voters) had stolen election 2000 in Florida, and had just invaded Iraq, but we hadn't hadn't lost Iraq yet, or Afghanistan, and hadn't had the Great Financial crisis or grinding disemployment, and above all, hadn't seen Obama's Democrats consolidate and normalize all of Bush's executive power grabs, or adopt Republican policies. Back in those days, we — the innocent — thought of the Democrats as the natural home for the left, if only we could help them be stronger! ("Grow a spine," as we put it back in the day of "More and better Democrats.")
And in those days, Lakoff's influence was pervasive. For a blogger like me (I started at Eschaton in 2003, playing whack-a-mole with WMD propaganda) Lakoff's approach seemed tailor made: If I can invent better language, I can help the Democrats be strong! (Hence the invention of all sorts of verbal combat disciplines, including snark.) To people less innocent than me, but still perhaps, at that point, innocent, Lakoff's approach also seemed tailor made, but with a difference: If I can invent better language and get funding**, I can help the Democrats be strong! (And never mind Lakoff's weird assumption that nurturing parents don't build infrastructure. Where did that come from?)
What nobody, I think, realized — though perhaps I was not cynical enough — is that the problem wasn't that the Democrats were weak, but that the Democrats were Democrats. Time for another picture. [WARNING If you still have coffee in your cup, put it (the cup) down!]
Figure 2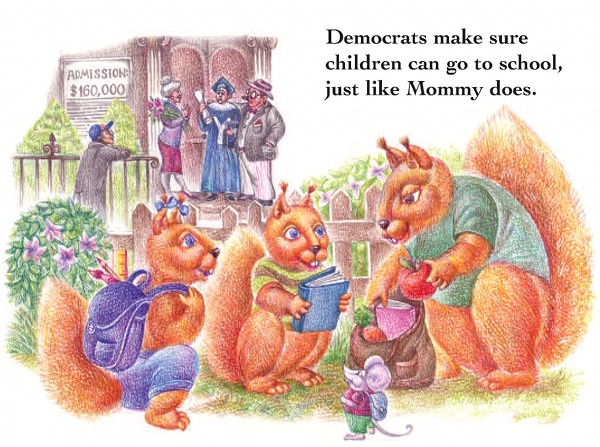 That's the stuff to give the troops cute little squirrels! Until you remember scams like Race to the Top and privatization, or students loaded down with debt regardless of whatever little the administration has done.
Of course, a consultant is only as good as their client, and just because the Democrats are the Democrats doesn't mean that Lakoff's ideas — binary though Mommy Party/Daddy Party now seems, in retrospect — aren't good. Perhaps the MMTers will have better luck with them. Here is a key slide from Mitchell and Connors' presentation, from the section where they go into detail on their Lakoffian approach:
Figure 3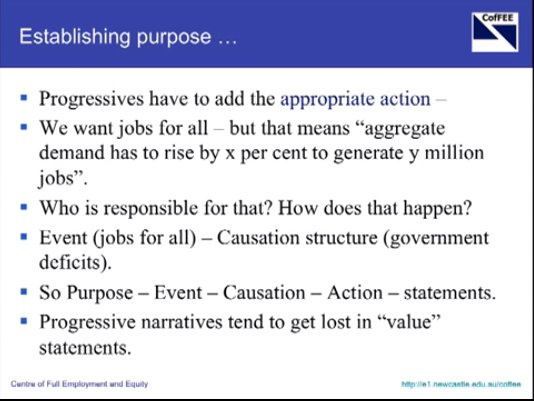 Notice the last bullet:
Progressives*** have to add the appropriate action
Exactly what's missing with "Democrats make sure that children can go to [gutted public or corrupt charter] schools, just like Mommy does [after loading herself down with debt to gamble on the horrible job market]. Sure, the book is for kids, but you'd think there'd be some kinda narrative hook to explain how all this good stuff happens, no? Those cute little squirrels will have to pass the education bill to find out what's in it!
In other words, in Figure 2, we have a classic case of the Underpants Gnomes, to invoke non-gendered, non-binary metaphor:
1) Collect underpants
2) ????? <– The "apppropriate action" is missing!
3) Profit!!!
In Mitchell and Connors' Figure 3, Step 2 is not "?????". Appropriate actions must be present! So perhaps there is hope for this MMT research program in political economy; the MMTers are linking metaphor to policy much more directly than Democrats do, which MMT enables them to do. (More hope than simply waiting for all the fresh- and saltwater economists to die off, which is sometimes the only way that a paradigm shift can occur.) We might also take hope from straws in the wind like Warren Mosler publishing in U.S. News, the success of #mintthecoin, and even Obama's taking The Coin more seriously than people thought at the time. After all, you lose until you win.
So, I can see this research program getting decent traction in our famously free press, but will that translate into traction with policy makers? Time will tell, but the eternal question — Are the elites stupid or evil? — will surely have as great an effect on the outcome as proper framing. And then there's the public, and their notion of public purpose….
NOTE Why Mommy is a Democrat is a real book, I swear!
NOTE * Lakoff, before he became a Democratic consultant, wrote the really interesting, scholarly, Women, Fire, and Dangerous Things.
NOTE ** A conundrum never solved, to this day. Yves (and bloggers like her) have one funding model; Kos, another; Greenwald et al. still another. None can be said to rival the "wingnut welfare" network, though all have been making inroads into the discourse.
NOTE *** Apparently, in Australia, it's still possible to use the word progressive without irony. I envy them.