By Lambert Strether of Corrente.
Let's not start at the beginning;  let's start at what we hope isn't the end result of Verizon v. Federal Communications Commission [PDF], where the US Court of Appeals for the District of Columbia Circuit struck down the FCC's net neutrality policy.
Figure 1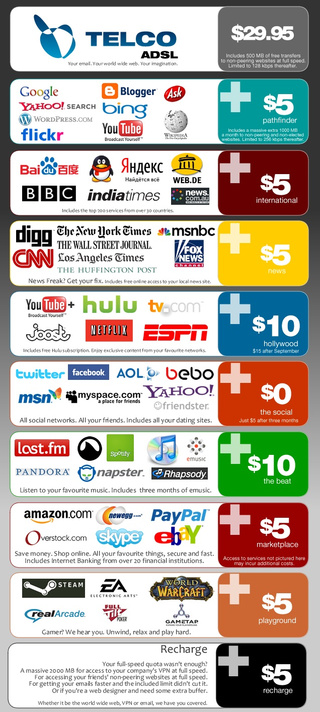 (Via). See Naked Capitalism there? No? In other words, with no net neutrality, the Internet's going to end up like cable.
A little history. "Net neutrality" — the engineering principle that all data that moves on the Internet is treated equally — is a policy triumph where the political class actually did something right (although the engineering principle was only embodied in the FCC's "Open Internet" rule in 2010):
In the 1990s, U.S. policymakers faced critical choices about who should build the Internet, how it should be governed, and to what extent it should be regulated and taxed. For the most part, they chose wisely to open a regulated telecommunications market to competition, stimulate private investment in broadband and digital technologies, and democratize access to the Internet.

The policies that took root in the '90s were refined and strengthened during the Bush and Obama administrations. Digital policy, in fact, remains a rare, bipartisan exception to the zero-sum logic of polarization that has paralyzed our national government.
(So whenever you hear the idea that net neutrality is new, or is being imposed, you know the speaker is not making an argument in good faith.)
The key word being "democratize." "Net neutrality was coined by Tim Wu, who reacts to the DC Circuit's decision this way:
Brian Fung: The D.C. Circuit court has struck down net neutrality. What does that mean for consumers [citizens]?

Tim Wu: It leaves the Internet in completely uncharted territory. There's never been a situation where providers can block whatever they want. For example, it means AT&T can block people from reaching T-Mobile's customer service site if it wanted. They can do whatever they want.
Think of the, er, Intertubes as a water supply system, and the Verizon, AT&T, Comcast, Time-Warner (obscenely profitable) regional monopolies as utilities. Up until the Court's ruling Tuesday, they own the pipes, and water's water; you get charged the same price for water no matter where it comes from; it's all equally treated. What these guys want to do is leverage their control over the pipes to sell you different kinds of water; "innovative" water from a branded faucet, if you will. Does that make sense? Thought not. As PC News puts it:
Imagine if we did the same with electricity. Rich neighborhoods and lucrative businesses pay more for electricity, so they get 24/7 juice. The rest of us? You have a second-tier service, so you can run electricity from 5-8 a.m. and then 7-11 p.m. Think that's far-fetched? Ask anyone from Ukraine how their government distributes heat.
(More examples, with cute animated bear gifs.) The problem here is that the FCC set itself up for failure — or, depending on your level of cynicism realism, for success — by the way it wrote its rules and argued its case. (David Pogue' new) Yahoo Tech:
[T]he tough thing for Internet users is that the court's opinion of the Federal Communications Commission's rules isn't wrong. The FCC's rules were weak.

The 63-page ruling by judges David S. Tatel, Laurence H. Silberman and Judith W. Rogers for the United States Court of Appeals for the District of Columbia Circuit said that because the FCC declined to classify broadband providers the way you probably think of them — as "common carriers" that deliver information without interference, as the phone companies are considered — it can't impose common-carrier-style regulations through other means:

The FCC itself queued up this collapse back in 2002, when it chose to classify cable Internet providers not as "telecommunications services" but as "information services," then repeated the mistake in 2005 when it put phone-based broadband under the same category.

What's the difference? The FCC says a telecommunications service "is used to deliver information without change in the form or content of the information," while an "information service" consists of "applications that run over the 'pipes' of a communications network and depend on computers to generate, store, or process information."
[T]he FCC made what would turn out to be a pivotal mistake. Instead of stating the blindingly obvious — internet service is a utility just like landline phone service — the FCC tried to appease the out-of-control corporate egos of behemoths like Verizon and Comcast by pretending internet providers were special and classifying them as "information service providers" and not "telecommunications carriers." The wrong words. Then, once everyone was wearing the nametag they wanted, the FCC tried to impose common carrier-style telecommunications regulations on them anyway.

The entire American internet experience is now at risk of turning into a walled garden of corporate control because the FCC chickened out and picked the wrong words in 2002, and the court called them on it twice over.
So, c'mon. Everybody knows that Verizon, AT&T, Comcast, Time-Warner aren't "information services." They're not selling innovative water from a branded faucet; water's water and they're selling it from their pipes. Period. So treat them like common carriers or public utilities they are. Harvard's Susan Crawford:
The court did, however, offer a way forward, if the commission was willing to take it. The agency must revisit and reverse Mr. Powell's 2002 decision, relabeling high-speed Internet access a common carriage service.

High-speed Internet access isn't a luxury; it is basic infrastructure, like electricity, clean water and a functioning street grid, that is essential for the free market to function. The F.C.C. can show its strength by having the guts to change its mind.
The USA Today editorial board:
The court clearly stated that the FCC could continue its net-neutrality policies if it reverses its decision from the 1990s to not treat broadband as a common carrier, as it had with traditional telephone service.

That decision, which looks hopelessly naive in retrospect, was based on a belief that the broadband industry would be much more competitive than it has turned out. In large swaths of the country, consumers have no more than one viable option.
This is all fixable. The court did not say that the FCC could not enforce net neutrality. It said only that if the commission wanted to enforce it—a measure the court broadly agreed with—it would need to decide, as every regulator in every other developed country has decided, that a company that owns the wires is a common-carrier telecommunication service. In its 2005 decision, the Supreme Court already confirmed that the FCC is within its rights to make this decision.
Heck, why stop at half-measures like the common carrier solution? Why not just turn the pipes into public utilities? (We could hardly get worse service.) Tech360's Peter Bernstein:
Crawford is correct that access to broadband is not a luxury. I would go further and say that every citizen should have a right, to paraphrase the language in the 1934 Act, to state-of-the-art broadband communications at reasonable rates.

[M]y view that current fixed network providers, cable and telecom, should in the national interest divest their outside plant. The goal would be creation of a one-pipe, not dumb pipe, utility—jurisdictional issues to be settled as this would play out—that everyone could play on.
What to do? Well, you can send an e-mail at the FCC's website. Or tweet @TomWheelerFCC. Because it looks like Wheeler's angling for a post-FCC job in the industry. Tell Wheeler to make the ISPs common carriers, or you'll expropriate their pipes. And watch for more organizing; I hope readers will leave such efforts in comments.
APPENDIX Comcast's Stately Pleasure Dome
Meanwhile, in what I'm sure is a totally unrelated event, Comcast is doing the happy dance in the form of commissioning a humongous Norman Foster-designed skyscraper in downtown Philly. (As Atrios says, "Hope the building doesn't wobble.")
Comcast Corp. announced Wednesday that it's building a new, iconic skyscraper that will redefine Philly's skyline, create thousands of jobs and shift the city's image from a Rocky, blue-collar town to a city of innovation that rivals the Silicon Valley.

"It will be a melting pot of talent and people who want to change the world in the businesses that we are in," said CEO Brian Roberts.

The $1.2 billion development will be home to up to 4,000 employees dedicated to developing new apps, software and business services for the Philadelphia-based company.
And what will those apps look like? I'd bet they'll look a lot like Figure 1.