Yves here. Please welcome Igancio Portes to NC. He's a sophisticated young writer who has a sharp eye for power dynamics and is keenly interested in why the left (the genuine left as opposed to the fake version we have in the US) so often fails to achieve its intended results when it gets control of a government. He'll be providing posts from time to time on Latin America, which is too often covered in a cursory and propagandized manner in the mainstream English language press.
By Ignacio Portes, a freelance journalist who lives in Buenos Aires. He has been published in English at PandoDaily and NsfwCorp
The rise of left wing movements in Chile has led some analysts to believe that the neoliberal model of the country might finally be subjected to a serious challenge. Students have organized demanding that education should be a universal right, not a privilege to compete for; the private pension system has come under question; and the conservative-neoliberal alliance that's been in government for the last four years has proven to be a false alternative to the limits of the also-neoliberal (but more socially oriented) Christian Democrat + Socialist Party alliance that presided over the country from the end of the Pinochet dictatorship to 2010. A new, slightly more leftist alliance that includes both the 1990-2010 governing coalition and some other parties will now have four years of rule.
These are all positive developments, but a sustainable shift in power is still quite far from materializing. The left might be overestimating its own powers and underestimating the strength of neoliberalism, which has its supporters inside the new ruling coalition, and is also sustained by something that transcends Chile: the power that capital has today to shape the world economy.
The pro-capital, Mont Pelerin-inspired, export-based economy of Chile was installed during Pinochet's dictatorship, when resistance against it could easily be held back as there was no democracy or human rights to put any limits on the regime or its unpopular reforms. Navigating Chile's moments of crisis and its negative impacts on living standards was much easier for the Pinochet regime, knowing that state terror ensured there was hardly any chance of massive social unrest. But this doesn't explain why, after the dictatorship ended and basic liberties were restored, many of the tenets imposed by its neoliberal reformers were kept in place, unquestioned. Inequality, the weakness of organized labor, the idea that the market should be in charge of most of the economy, and that compliance to market logic and an almost unlimited competition are the basis of a healthy society: most of these neoliberal principles were, at best, slightly toned down during the post-dictatorship "Concertation" decades, and at worst, left completely intact.
What alarms me is how the left can't seem to deal intellectually with one of the biggest reasons for why this happened. Parts of the capitalist tale about Chile are true in a perverse way: capital does flow towards places with lax regulations, low wages, low social spending and weak unions—and that can bring an amount of growth and prosperity to a country under certain conditions, even if life becomes totally dominated by capital, and it's not too inspiring to live with so little time to dedicate to things in life other than The Market.
Suppressing wages to restrict internal demand is a recipe for Depression if you are a developed European country in the middle of a deep recession—but it's the reality under which competition to attract capital has forced Latin America and other underdeveloped regions to work with for a long time.
Under Pinochet, Chile set the foundations for exactly that: what was (and is) a relatively educated and healthy workforce was made cheap and disciplined enough under an iron fist so as to attract a lot of capital to Chile, once internal resistance was quashed. By the end of the dictatorship, much of the brutal sacrifices imposed from above to lower wages, destroy labor's bargaining power and eliminate state interventionism had already been accomplished. And after several horrendous crises, the economy was now attracting a lot of foreign investment and growing steadily, thanks to the work of Chile's now disciplined workforce.
So the democratically elected government that followed the Military Junta was presented with the following dilemma: "Should we risk our now considerable growth rates by trying to reverse all these changes, making our country less 'competitive' internationally? Or do we just take advantage of the fact that we're now getting lots of investment, exporting massive amounts of raw materials, have decent levels of employment and the ability to import a lot of consumer goods without bankrupting the country to keep the population happy? We could even improve the welfare state a bit without bothering capital too much, using the year-on-year increases of state revenue that growth leaves, without even needing to seriously tax the rich."
It was hard for Latin American countries to compete with Chile's love affair with capital, which was all flowing its way. Some tried to do it, but the social consequences of firing people en masse, lowering internal demand, privatizing state assets and so on were so harsh that barely anyone resisted the reforms without having first experienced all kinds of crises that made them unsustainable.
The rise in the prices of the commodities that the continent exports in the last decade has made it a bit easier for everyone, giving some space for governments in the region to develop safety nets, curb inequality or try to develop alternative economic models (without much success in this last department). But the system in place is still a race to the bottom, where labor organization ends up being the big loser. Once installed, the dynamic is hard to escape, and Chile is possibly the one country that has best adapted to it in the region.
Chile's caste of technocrats is smarter than what the left generally gives it credit for. The country's post-dictatorship neoliberals, most of them inside the Socialist-Christian Democrat coalition, not only inherited the disciplined workforce of the Pinochet years, they also have read Keynes, and use his recipes all the time to escape the typical problems that the more fanatic and less pragmatic market fundamentalists create on their own economies, although they do it in quite a conservative way.
Every time Chile faces a potential depression, the government spends to get out of it. Every time the economy booms, the governments saves, so there's money to spend in the next recession. The difference with what the leftist Keynesians want in Europe and the US is that this countercyclical spending is not done with big distributive goals in mind, but mainly as a way to save capitalism from its own recessions without redistributing much social wealth or irking capital too much. This means: in times of boom, don't tax the rich too much (as a leftist Keynesian would), but save money from other means (spend a little less on social programs, increase interest rates). In times of recession, don't spend massive amounts of money on the poor, but do spend on someone, do stimulate the economy, to save it from stagnating. It's a kind of right-wing Keynesianism that doesn't redistribute income too much, and Chile has mastered it like clockwork. You don't have to be a fan of the results to see that they're good at it, that they've managed to avoid big scale social reform by avoiding economic crashes better than, say, today's Europeans, who are simply failing to apply any countercyclical measures in times of bust, and are combining regressive redistribution of income with a recessive economy, while Chile, today, only has the former.
Chile's technocrats even put some capital controls in place, to weed out the most highly-speculative, unsettling, short term investors who can destabilize an open economy. They are far from blind to the self-destructive limits of free markets, and in this sense they are possibly their best defenders.
Looking at the numbers says a lot. On the one hand, inequality has increased massively in Chile since Pinochet took over, and only slightly improved since, but never went back down to pre-1973 levels.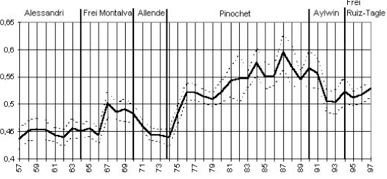 (source)
The graph only shows the GINI coefficient evolution from 1957 to 1997, but it's been very stable since then, the latest value available being 0,52.
But now look at the other half of the picture: absolute poverty, as proudly shown by The Economist: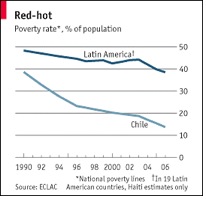 This last graph does obscure some facts, mainly about how poverty had grown significantly during the dictatorship, and about how national poverty lines differ from each other (so comparisons between countries are never as straightforward as the graph makes them seem), but the reduction after the hardship of Pinochet's years is still impressive: from about 45% in 1987 to around 15% today, much of it thanks to how the capital that every developing country desperately needs decided to go to Chile over other places.
As growth is still there, and so are jobs, food on the table and generally more purchasing power, the demands for a more equal redistribution of income aren't as big (the fact that organized resistance was crushed by Pinochet obviously helps too). The Socialist Party/Christian Democrat coalition has actually been an excellent center-right capitalist government in this sense. They've distributed some crumbs (compared to the Pinochet years, which distributed from the poor to the rich) but left the neoliberal system intact, took advantage of the way it managed to attract capital, and actually improved it by adding security patches to it such as the Keynesian anti-recession countercyclical policies that make it much more stable than it was during the dictatorship. The social divide is similar to what it was in the Pinochet years (crumbs notwithstanding), but demands for reform have been successfully contained for more than 2 decades since the end of the dictatorship, and have only recently started surfacing.
And when they surface, what both the Pinochet/libertarian right and the more neoliberal within the Christian Democrat/Socialist Party coalition tell the wannabe reformers is: if we do what you want and start redistributing wealth, helping the unions and so on, all the growth that Chile has benefited from by being so friendly to international capital—all it's given us, like boosting construction, mining and other dynamic sectors—will go away. And they are right in a sense, because the world is rigged for international capital, which can boycott any government they don't like by simply moving elsewhere.
In this context, where national workforces are being played against each other to see which of them can serve the market more effectively, it's hard to see how a movement of students, a couple of trade unionists and well-meaning citizens and some half-assed center-left politicians inside one country could defeat such an octopus of a system. A homeostatic octopus at that, which has the power to regulate its movements in such a way as to control and eliminate any localized effort to reduce its power. Raise your taxes, raise your salaries? How bad, we are going elsewhere then, good luck paying for all that new infrastructure and investment you needed. Behave like a good boy, do what capital says? Good boy, here, have some of my dollars, have a bit of jobs and welfare, at least for as long as the resource-extracting economy lasts or someone starts behaving better than you.
Chileans didn't want to get here (most of them favored heavy state intervention and distribution of wealth when they were polled during the last years of the dictatorship)—they were violently forced into this situation. But since the worst part seems over, and they survived and kind of adapted, you can see why they've been hesitant to pick a full frontal fight against a rival with such extortive powers—if they pick it, and go alone, it'll be a massively uneven contest, in which they could lose much of what they've earned.
Still, all these extractive, export-based models in Latin America tend to run in the long term into the same problem: whenever the international prices for the commodities they export fall, their highly dependent economies weaken or collapse. When that happens, the masses who more or less kept quiet despite their subordinate position, placated by continued growth, find out they suddenly don't even have an expanding pie anymore, and even worse, that their rulers are coming for a bigger share of it even if it's now shrinking, in order to "make the economy more competitive" and re-boot it into profitability and growth, a process which makes class struggle inevitably resurface, exposing the farcical nature of the neoliberals' harmonious depiction of society, at no small social cost.
So there might be no choice but this: to start thinking of ways of transcending national barriers to stop the race to the bottom, and instead join efforts to confront it.