Happy belated Australia Day! Lambert was running the site yesterday, so apologies for not acknowledging the holiday on a timely basis.
Dog cancer 'dates back 11,000 years' BBC
Genetic Engineering Companies Promised Decreased Pesticides … But GE Crops Have Led to a 25% INCREASE In Herbicide Use George Washington
"Our Food Is Dishonestly Priced": Michael Pollan on the Food Movement's Next Goal of Justice for Food Workers Truthout
Researchers teach old chemical new tricks to make cleaner fuels, fertilizers PhysOrg (Chuck L)
Stephen Hawking Thinks Black Holes Don't Exist Smithsonian (furzy mouse)
Bletchley Park s bitter dispute over its future BBC
Himmler letters and diaries found Guardian
Cash pours into Aussie joke virtual currency MacroBusiness
Beijing Cracks Down on Pollution, Banning New Refining, Steel, and Coal Plants OilPrice
All the less reason Prachatai English (furzy mouse)
Ukraine state of emergency warning BBC
Afghanistan Exit Is Seen as Peril to Drone Mission New York Times
Emerging Markets Meltdown
Big Brother is Watching You Watch
12 privacy-destroying technologies that should scare you Info World (Chuck L)

Adviser: Snowden requires amnesty Guardian. This was predictable.

Snowden asks 'how reasonable' it is to assume only Merkel was tapped DW
Debt Collection Industry Poised for Changes Credit Slips. Note that the CFPB has posts a ANPR, which is "advanced notice of proposed rulemaking". That lets interested parties, including the great unwashed public, chime in. This will also serve to show whether the agency has any guts (and with so many of the incumbents small fry and so much bad press on this topic, they should be able to take significant ground. But I'm not holding my breath).
Obamacare Launch
Maryland Will Limit Hospital Charges Statewide Bloomberg (furzy mouse). From earlier in the month…
Obama's Plan to Use Executive Action Triggers Republican Criticism Bloomberg
States Weigh New Plans for Revenue Windfalls Wall Street Journal
Fox News' unique approach to polling MSNBC (furzy mouse)
Ezra Klein Is Joining Vox Media as Web Journalism Asserts Itself New York Times
Top MBAs' pay doubles in five years Financial Times
The Terror of Our Age Greg Grandin, TomDispatch
Antidote du jour. Furzy mouse tells us: "Humphrey was a house pet that became too large and was moved to the Rhino and Lion Nature Reserve in South Africa , where he was safe but lonely. Cameroon Pygmy Mountain Goat climbed Humphrey's enclosure fence and befriended him."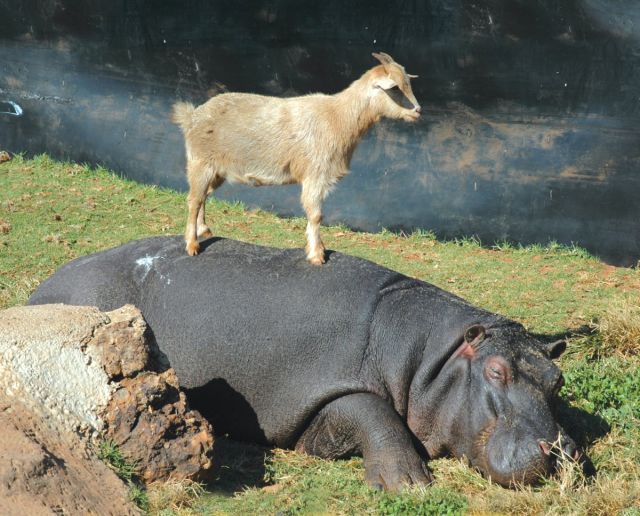 And a bonus (Swedish Lex):