Yes sports fans, New York City's new mayor, Bill de Blasio, is showing his true colors as a liberal by….pointedly not plowing the Upper East Side.
But is this really an effective gesture to stick it to the 1%, or even the top 5% in Manhattan (which is a lot higher income than the top 5% elsewhere)?
And classist plowing — which generally gets blamed on the Mayor, and which can be a problem in New York — there may very well be. Currently marked out in the yellow streets, which haven't seen a plow in at least six to twelve hours — are the Upper East Side and SoHo.
Now since I live in the Upper East Side, and am at risk of having my views on this matter misinterpreted, a bit of disclosure is in order. I live all of a three minute walk from former Mayor Bloomberg's residence. Bloomberg made a point of plowing his 'hood well. For instance, in a late December 2010 storm, when Bloomberg was criticized for doing a crappy job of plowing after a blizzard, this is how his block looked: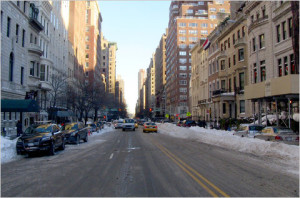 The part that isn't so evident from the pictures, and probably would not be yet operative in today's plowing even if Bloomberg were still in charge (we were expected to get up to 14 inches of snow) is even though I can't any corroborating information on the Internet, I am highly confident our former mayor trucked snow out. Even when you get plowed out pronto, those plows shove snow around, leading to big piles on the corners, where mere mortals on foot make footpaths through. In the old normal of the winters of the 1980s, that snow would hang around all winter, getting really dirty, melting a bit on the surface in the sun and then freezing. So on some corners you'd have treacherous footing much of the winter. There was a remarkable absence of said snow piles under Bloomberg (we must add that dumping snow in the river is an EPA violation, and I see a dearth of candidates for other places to have put it).
Note that the "big icky snow pile" problem hasn't been much of a problem over the last 20 years due to warmer winters (less snow overall, and warmer temps between storms, so the snow would melt almost entirely between storms). So the Bloomberg trucking looked like serious overkill and a waste of taxpayer money.
So de Blasio's repriorization of plowing was an long-overdue corrective, right?
Well, it's not so simple. My sources in Queens say they got the same crappy plowing job they always get, and the guys in my building say the Bronx also got stepchild treatment. So this looks to be a juggling within Manhattan, not an inner v. outer borough revamp.
And the problem is that if he (or some of his staffers) intended to send a message to the Upper East Side, this poke in the eye might have offended the sensibilities of the high and mighty, but it discomfited ordinary people a lot more.
Now I actually had a surprisingly good time today. A flight to Dallas was rescheduled four times before I threw in the towel and moved the trip back to next week. But American did an admirable job each time, automatically rebooking me and the two times I did call, the maximum hold time was six minutes. So that wasn't terribly stressful. And I was able to move something from next week to tomorrow, so that was fine.
That did mean I had to forage, so I put on snow booties, tons of layers and trundled out. I ran lots of errands and enjoyed the snow falling. So I was not inconvenienced in any way and got about fine (remember, if you are on foot, shoveling is a much bigger deal than plowing). But I did get to see conditions on the streets.
Now at around 1:00 PM, when maybe only 2-3 inches had fallen, there were 10 busses stopped on Lexington between 79th and 86th Streets, some double parked. At 79th, one bus had jackknifed at the corner, and 79th was closed. I also around then saw a bus stuck on Park (not its normal route) and 4 busses parked between 79th and 80th on Madison.
The point is that if the busses stopped moving in the Upper East Side, that shuts down those lines, which affects people all along those routes. And those people are not 1%ers and I'd hazard most 5%s take the bus only if they can't walk or get a cab. I think someone realized what a mess this was causing, because I did see the Madison Avenue busses running again (I assume Lex too but that looked like it would take more work to restore).
We can probably stratify who is affected more granularly. The really rich may grouse but puhleeze. They for the most part live in doorman buildings and have drivers or car services. They can afford and have the closet space for finely gradated outerwear (as in coats and footwear for various combinations of temperature and inclemency). Many of them arrange to be in warmer climes for substantial portions of the winter, have service people like trainers come to them, and won't lose points by turning in-person meetings into teleconferences. The same applies to many of the next tier rich (like the people who bought townhouses because the "good" co-ops on Fifth and Park would not take them).
So the people who are really inconvenienced are the working stiffs. That means professionals, Wall Street types, and even more so, the workers who commute into the Upper East Side (they have longer transit times to begin with), namely retail store employees, hospital workers, teachers. And of course potentially people in other neighborhoods to the extent the sort of bus problems I saw at 1 to 2 PM recurred.
In other words, the people at the very top of the food chain can insulate themselves from many of the downsides of the interconnectedness of urban life. The rest of us, not much or not at all.