"Well he did do that, yeah. He was a hard man. Vicious but fair." –Monty Python's Flying Circus, The Tale Of The Piranha Brothers
By Lambert Strether of Corrente
This will be a very simple post. Most of the press blew the Tom Perkins story, whose moral can be summed up in one sentence:
The rich are different. They have class interests, they know it, and they act on them.
Tom Perkins, the expensively accessorized Silicon Valley venture capitalist, in the follow-up interview on his now famous but-for-all-the-wrong reasons letter, explains:
[PERKINS:] I don't feel personally threatened, but I think a very important part of America, the creative 1 percent, are threatened. I think are threatened by higher taxes and higher regulation
So there you have it; Perkins transgressed the unwritten law: You never talk about class in America, because that would be "class warfare." You especially don't do it (for example, in the SOTU) if you're a two-term "progressive" Democratic President who is as exquisitely attuned to the rules of what can and can't be said as any shill living. From David Remnick's recent piece:
Obama bruised some feelings once or twice with remarks about "fat-cat bankers" and "reckless behavior and unchecked excess," but, in general, he dares not offend. In 2011, at an annual dinner he holds at the White House with American historians, he asked the group to help him find a language in which he could address the problem of growing inequality without being accused of class warfare.
Such genteeel pretensions aren't limited only to Presidents. Journalists share them too! As The Baffler's George Scialabba writes:
It's as though the Business Roundtable and the U.S. Chamber of Commerce, making use of both political parties, have engineered a brilliant, multifaceted, devastatingly successful campaign to roll back the New Deal.

Which, as [Alexander] Cockburn pointed out [in a A Colossal Wreck], is pretty much what happened. Indeed, so tirelessly did he persist in labeling the United States a class society that he was gently ushered to the margins of American political discussion, whose center is occupied by such intellectual titans as Thomas Friedman and George Will. Very Serious People do not make a fuss about class. It is not a Very Serious Subject.
Now it is true that Perkins has had, deservedly, his head nailed to the floor for comparing the mild mummery of the Democratic nomenkltura to Kristallnacht*, statements like "Let the rich do what the rich do, which is get richer,", the wretched excess of his personal life — his Wikipedia entry has a special section for "Homes," plural, and "Yachts," plural — and that he's "divorced from the reality that 99% of us live in." But the central story — Perkins's full-throated and explicit defense of his own class interests — goes unremarked.
And what might those interests be, and how do Perkins and the other members of his class go about defending them? As it happens, we have polling data! The Daily Beast (of all places) summarizes: "The rich really are as selfish as you think" [complete study (PDF)]:
According to [a new study by political scientists Benjamin Page, Larry Bartels, and Jason Seawright]—which surveyed a sampling of the richest 1 percent of Americans—the wealthy are almost categorically opposed to efforts to reduce inequality and improve material conditions for working- and middle-class** people.

Among these Americans, just 40 percent support an increase to the minimum wage, just 13 percent support an expansion of the Earned Income Tax Credit, just 8 percent support a government jobs program for the unemployed, just 32 percent support universal health insurance, and only 30 percent support expanded worker training programs. By contrast, the general public is more supportive of all of these positions.

What the rich do support, however, are policies that would shift burdens to individuals, or introduce some nebulous "competition" into public goods. That includes charter schools (90 percent support), vouchers (55 percent), Social Security privatization (55 percent), and merit pay for teachers (93 percent).

If this agenda looks familiar, it's because it's basically identical to the one pushed by "centrist" deficit hawks in Washington, who have devoted themselves to the consensus positions of business and other economic elites. For them, deficit reduction—through substantial cuts to the welfare state—is more vital than efforts to reduce unemployment or strengthen the social safety net.
So, I'm not seeing anything in the SOTU that goes against the class interests of Tom Perkins et al. Am I right? Yeah, $10.10 — why not, heck, round it up to the full quarter at $10.25? — minimum wage, but when labor's asking for $15, that doesn't seem like much. And Obama's pathetic proposals on unemployment fall right in line, as we would expect, as does ObamaCare, which is in no sense universal, and ensures a rental stream, for the indefinite future to Tom Perkins et al., thank you very much.
Since we're talking classes, here, we can represent the transgression of Tom Perkins in the form of a Venn Diagram:
Figure 1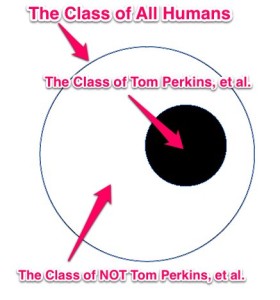 NOTE Diagram not to scale.
It's clear that "The Class of Tom Perkins et al." asserts its class interests very effectively. Suppose that the "The Class of NOT Tom Perkins et al." did so, as well? What would that take? What would that look like? Is is possible that "The Class of NOT Tom Perkins et al." could assert the class interest of "The Class of All Humans," as "The Class of Tom Perkins et al." clearly does not?***
NOTE * Perkins, of course, chooses, as a moral agent, to be rich. Hitler's Jews did not choose to be Jews; not even conversion could save them. The two classes of human are not comparable.
NOTE ** If you accept that formulation. Personally, I think the category "middle class" is pernicious, since I know so many university people hanging on by the skin of their teeth to this self-identification, even as the cultural markers they are less and less able to pay for degrade. Twenty years of schooling and they put you on the day shift. If you're lucky enough to get a shift for a full day, that is. Working class is what they are, even if it is not what they believe and perceive themselves to be.
NOTE *** To be fair, it's not entirely clear that "The Class of Tom Perkins et al." regards entities not in "The Class of Tom Perkins et al." as human, but that is a topic for another day.