So, Turns Out Crocodiles Can Climb Trees Wired (Richard Smith). That croc looks really comfortable in his tree.
College Graduate First Person In Family To Waste $160,000 Onion (Chuck L)
Kenya's first mockumentary takes on the NGO world Africa is a Country (Lambert)
Vast Study Casts Doubts on Value of Mammograms New York Times. Hahaha! How many years have I been ranting about this whenever the opportunity presented itself? Mammograms are a terrible diagnostic, lots of false positives and too many false negatives (as in mammograms are great at finding slow-growing lumps you will die with, not of, and bad at catching the fast moving growths that can kill you). MDs and the imaging industry should be ashamed of itself for pushing this test. And I've also long said that getting your boobs examined by an experienced practitioner is a better diagnostic than mammograms, but people in the US have been conditioned to think that's less scientific than films no one can interpret consistently or well.
Apparent Conflict of Interest Sullies Panel of Patient Safety Experts Patient Safety Blog. Quelle surprise!
How Colleges Flunk Mental Health Newsweek (Chuck L). Disturbing.
H.R.2957 and its proposal to limit eDiscovery of potentially admissible and material evidence in EHR-related medical disasters Health Care Renewal. "Do computers have more rights than patients?"
Mozilla To Display Ads Within Firefox Consumerist
Richard Smith finds another Google DMCA screwup, background at MYLES POWER VS HOUSE OF NUMBERS Science of Sarcasm.
The Surge In Chinese Exports Has Some Worried That Over-Invoicing Has Made A Comeback Business Insider
Chinese export data stokes wide skepticism MacroBusiness
Hatred and Buddhism don't mix Bangkok Post
How to kill an industry in Indonesia Asia Times (Jan)
OECD 'overstated' growth forecasts Guardian. This is news?
Lessons from a lost revolution: Egypt's fate still hangs in the balance Salon
Obama gives dire assessment on Syria, conceding that diplomacy is failing Washington Post
Big Brother is Watching You Watch
Obamacare Launch
The Real Illness Plaguing U.S. Healthcare Counterpunch (Carol B)

The Insiders: Obamacare creates new ways to prosecute American business Washington Post. Screechy but there is a legitimate complaint here.

Creators Still in Demand on Health Care Website New York Times
The GOP's debt ceiling surrender Politico
Governor Christie's Lawyer Trying To Talk To Witnesses In Investigation Of Governor's Office DSWright, Firedoglake (Carol B)
Yellen: Fed Will Likely Cut Bond Buys in Measured Steps Wall Street Journal. So so far, Yellen is trying to say/do nothing new.
Yellen's Debut as Chair Tim Duy
Janet Yellen to Emerging Markets: Good Luck Bloomberg
Before the Greenspan/Bernanke Put, There Was the Mellon Put Matt Stoller
Observations on the GDP Release and the CBO Outlook Menzie Chinn, Econbrowser. A good high-level analysis.
Insolvency + Tax Season = Good News? Jason Kilborn, Credit Slips. FYI a tax-savvy reader commented on this issue nearly two years ago and we hoisted his explanation (with tax code references) and featured it in posts. So close readers will have seen a version of this discussion before. But it's an important and not well understood issue, so the more reports of it, the better.
Barclays: profits down, bonuses up. Why? Robert Peston.
An FT story lets Wall Street off the hook Ryan Chittum, Columbia Journalism Review
A Walmart Worker Explains Why Walmart's Customer Service Is Horrible Gawker (wnk). OMG, you must read this!
Why My BS-O-Meter Redlined In The Minimum-Wage War Wolf Richter
Record Number of Boomers Left the Labor Force Economic Populist. Suicide futures.
Review of Tricky Issues in Labor Force Participation Idiosyncratic Whisk
Anatomy of a Hunger Crisis MSNBC
The Rise and Fall of the Failed-State Paradigm Foreign Affairs (optimader). Important
Antidote du jour (Lambert). Baby lemurs born at the Atlanta Zoo: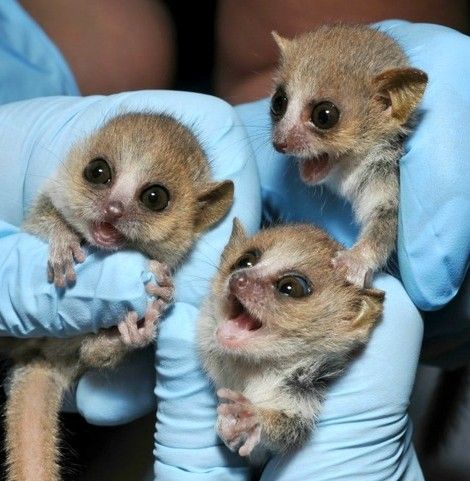 And a bonus, this from Robert M, who saw it on PopSci:
Go here to read one of my favorite stories on crow intelligence. I particularly like #4.