For the last 30 years, neoliberals have fixated on a simple program: "Get government out of the way," which meant reduce taxes and regulations. Business will invest more, which will produce a higher growth rate and greater prosperity for all. The belief was that unfettered capitalism could solve all ills.
Policymakers have dutifully followed this script. Corporations have gotten more and more tax breaks, with the result that the GAO found that their effective Federal tax rate in 2010 was 13% of worldwide income for companies with profits. Corporate income taxes represent a mere 11% of total Federal tax receipts, down from 30% in the mid-1950s. And we've also seen substantial deregulation in many sectors of the economy, particularly financial services, transportation, and telecommunications.
So have companies lived up to their half of the neoliberal bargain? Take a look at this chart from Andrew Smithers, which was published at the Financial Times. He prepared it to demonstrate how stock market prices have been driven almost entirely by corporate buying. But it serves to make an additional point: that the stock market for a very long time has not served mainly (or lately, much at all) as a vehicle for companies to raise funds to expand their business. Instead, it serves as a machine for manipulating stock prices.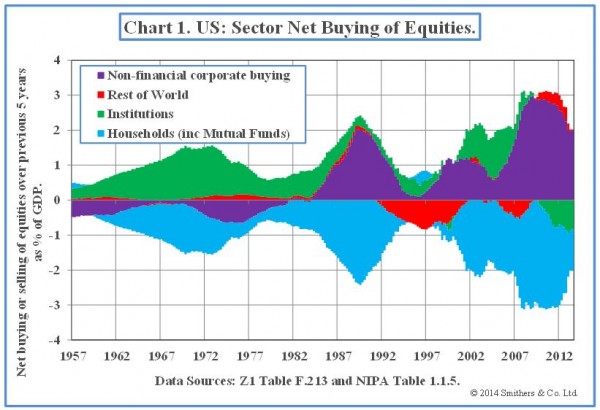 Notice that US corporations have been buyers in aggregate since 1985. Now admittedly, that does not mean they stopped investing, since the primary source of investment capital is retained earnings, and companies also typically prefer to borrow rather than issue stock. But as of the 1980s, they were already preferring buying stocks (then mainly of other companies rather than their own, as in acquisitions) to the harder work of expanding their business de novo. Deals are much sexier than building factories or sweating new product launches.
But by the mid 2000, companies had indeed shifted to being net savers rather than net borrowers, which was an unheard of behavior in an expansion. That is tantamount to disinvesting. As Rob Parenteau and I wrote in 2010:
Unbeknownst to most commentators, corporations in the US and many advanced economies have been underinvesting for some time.

The normal state of affairs is for households to save for large purchases, retirement and emergencies, and for businesses to tap those savings via borrowings or equity investments to help fund the expansion of their businesses.

But many economies have abandoned that pattern. For instance, IMF and World Bank studies found a reduced reinvestment rate of profits in many Asian nations following the 1998 crisis. Similarly, a 2005 JPMorgan report noted with concern that since 2002, US corporations on average ran a net financial surplus of 1.7 percent of GDP, which contrasted with an average deficit of 1.2 percent of GDP for the preceding forty years. Companies as a whole historically ran fiscal surpluses, meaning in aggregate they saved rather than expanded, in economic downturns, not expansion phases.

The big culprit in America is that public companies are obsessed with quarterly earnings. Investing in future growth often reduces profits short term. The enterprise has to spend money, say on additional staff or extra marketing, before any new revenues come in the door. And for bolder initiatives like developing new products, the up front costs can be considerable (marketing research, product design, prototype development, legal expenses associated with patents, lining up contractors). Thus a fall in business investment short circuits a major driver of growth in capitalist economies.

Companies, while claiming they maximize shareholder value, increasingly prefer to pay their executives exorbitant bonuses, or issue special dividends to shareholders, or engage in financial speculation. They turn their backs on the traditional role of a capitalist – to find and exploit profitable opportunities to expand his activities
And ZIRP has perversely enabled this behavior. As Smithers writes:
US top managements are receiving huge bonuses which are typically linked to earnings per share or the return on corporate equity. This means that buybacks increase their pay and investing in equipment pushes it down. The result is that companies spend less of their cash flow than ever before on capital investment and have increased their buybacks to near record levels (chart three).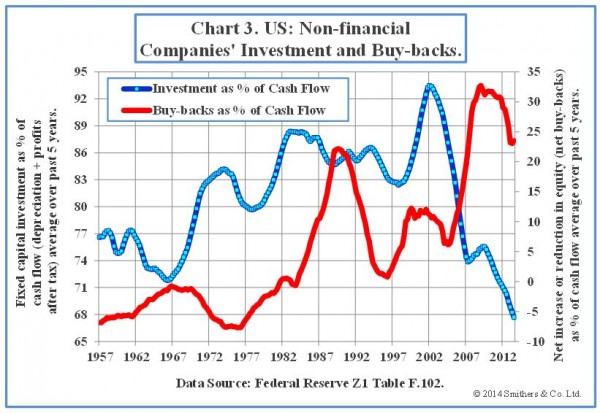 As it is in the interest of their managements, I expect companies to go on buying back shares until their cash flows fall off and I don't expect this to happen soon.
Smithers isn't the only economist who believes that companies have the ability to prop up this long-in-tooth bull market for quite some time. For instance, about ten days ago when nerves were frayed over Russia's troop movements into the Crimea, market indexes around the world fell sharply, typically in 1.5% to 2.0%. The US market was down less than 1%. The cause wasn't distance from Europe or late-breaking news that calmed rattled investors. It was corporate buying. One hedgie told me that the Morgan Stanley desk told him that corporate buyers were placing large orders that day.
So with large corporations finding it more attractive to game their stock than duke it out in the marketplace, and small companies generally gun-shy in a tepid economy, we have the foundations for the corporate elite to continue looting. Meanwhile, ordinary citizens contend with a hostile job market and have little reason to hope that their financial condition will improve. Welcome to the neoliberal paradise.