Sweden to become more stereotypical Daily Mash
The silencing of the Deaf Medium
Tamiflu: Millions wasted on flu drug, claims major report BBC
Dropbox apps to target Google and Apple Financial Times
Silicon Valley gets excited about a small news story John Gapper v. Is There a Wonk Bubble? Felix Salmon. The money being thrown at these ventures is insane. Maybe one will grow up to be a Huffington Post, but that means deviating considerably from their narrow focus to reach a broader reachership.
Weak Chinese Trade Data Cloud Growth Hopes Wall Street Journal
German Finance Minister Wolfgang Schaeuble 'can't bear hearing' austerity versus growth debate Telegraph
Fix the Banks, Fix Europe Bloomberg
Greece: debt laden, but looking to borrow again euronews
Greek `Recovery' Is Just More Agony Bloomberg
Egypt's Solvency Crisis Council on Foreign Relations
Urkaine
Big Brother is Watching You Watch
Obamacare Launch
Obamacare was a story of survival, not success Bloomberg

Mission Accomplished?––7.1 Million––Will the Obama Administration Come To Regret Today's Obamacare Enrollment Announcement? Health Care Renewal

RAND Comes Clean: Obamacare's Exchanges Enrolled Only 1.4 Million Previously Uninsured Individuals Forbes. The underlying Rand study is here.
Political Ties of Top Billers for Medicare New York Times
Medicare's Wasted Advantage Bloomberg
Report Finds a Los Angeles in Decline New York Times
An Upper East Side Ex-Investment Banker Is Now Campaigning as an Elizabeth Warren Democrat The Wire
New Offers Proposed for Art in Detroit Bankruptcy New York Times
Cliven Bundy Ranch Dispute: Nevada Gov., US Senator Slam Government Agency for Seizing Cattle Epoch Times (Deontos). Tasers play a prominent role.
J.P. Morgan's Dimon Got $11.8 Million for 2013, According to SEC Methodology; Down 37% Wall Street Journal
Understanding contagious bank runs VoxEU
Minutes show Fed struggled to agree on rate policy Associated Press
Fed minutes indicate easy-money policy may persist Los Angeles Times
IMF: Successful exit from QE balances on a knife-edge Telegraph
Have we begun a second Great Moderation? MacroBusiness
Vicious Disequilibrium, in the Los Angeles Review of Books Yanis Varoufakis
Minimum Wages and Women's Wage Inequality: They're Intimately Related Jared Bernstein
University students will be repaying loans into their 50s, say researchers Guardian
Antidote du jour. Carl P writes: "These guys are 1.5 weeks old, born to a feral in our garage. Their eyes just opened, but they'd rather sleep. Who wouldn't?"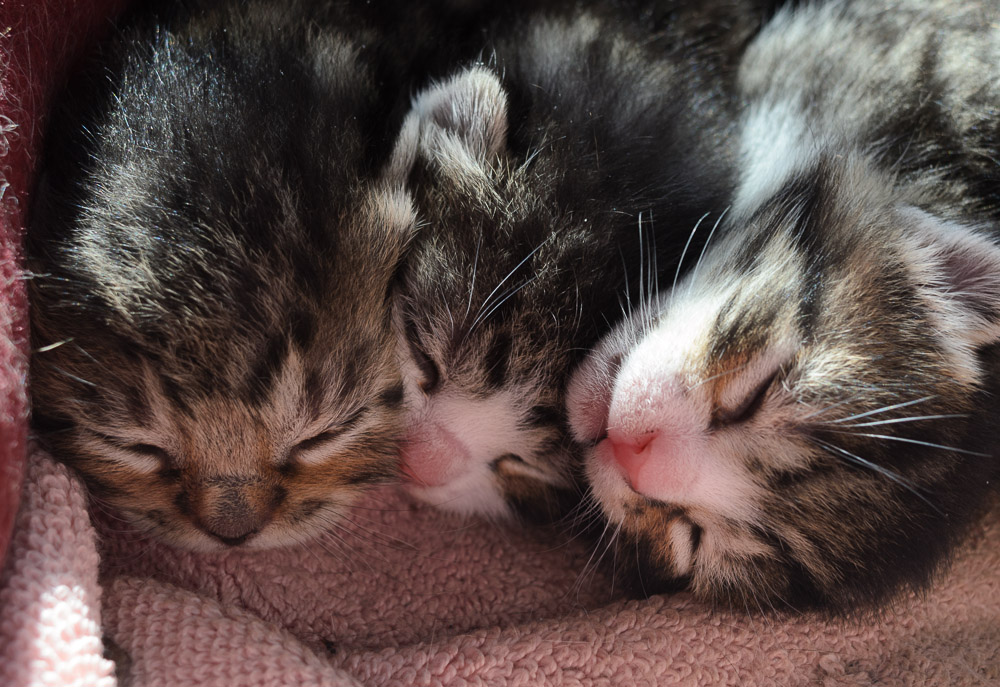 See yesterday's Links and Antidote du Jour here