Gabriel García Márquez, Nobel Prize-winning explorer of myth and reality, dies at 87 Washington Post
What Gabriel García Márquez Means to His Fellow Colombians Slate
Jesus died to give us two bank holidays Daily Mash
Crows Like My Pal George Aren't Just Smart, They're Also Jokers Scientific American
What It's Like to Spend 20 Years Listening to Psychopaths for Science Wired (furzy mouse)
Deadly Viral Disease MERS Spreads From Middle East to Southeast Asia Wall Street Journal. Death rate higher than 1/3 of those infected.
Iranian murderer saved from hangman's noose by victim's own mother Daily News
Why Are Search-and-Rescue Drones Grounded? IEEE Spectrum (JSC)
Malaysia stands firm on TPP ahead of Obama visit Nikkei
China admits widespread soil pollution Financial Times
Real estate prices beginning to drop across inland China Nikkei
Thailand charges reporters over Pulitzer-winning article Agence France-Presse
Thailand Monument Builder Looks Overseas as Unrest Damps Growth Bloomberg
ECB moving closer to unconventional policy Walter Kurtz
Uber taxi service suffers setback in Berlin Financial Times
US Anti-Tank Rockets in Syria: Did Congress Approve? TruthOut
Ukraine
Big Brother is Watching You Watch
Edward Snowden defends decision to question Vladimir Putin on surveillance Guardian

FBI drone deployment timeline includes dog fighting rings and fugitive manhunts MuckRock

Is This the Missing WikiLeaks PayPal Order? Marcy Wheeler
Obamacare Launch
Here's how we got to 8 million Obamacare signups Washington Post

Report: Oracle pushes back against Oregon officials over troubled health care site ITWorld
Privatization is a Ramp for Corruption and Insouciance is a Ramp for War Paul Craig Roberts, CounterPunch
Holder and Mueller Spent $7.8 Million Taxpayer Dollars on Personal Travel Peter Van Buren, Firedoglake
Democratic donor pleads guilty to campaign fraud Financial Times
G.O.P. Discovers Useful Voter Outreach Tool: Gun Sweepstakes New York Times
Labor Shortage Threatens to Bust the Shale Boom Bloomberg
Jobless claims edge up, but 4-week average falls to prerecession level Los Angeles Times
Ginnie Mae To Big Banks: Show Us Your Mortgages. But Can They? Abigail Field
Housing Bubble 2.0 Veers Elegantly Toward Housing Bust 2.0 Wolf Richter
The problems of HFT, Joe Stiglitz edition Felix Salmon
Why current turbulence cannot be likened to the dotcom crash of 2000 Telegraph
Animal activism is great. Why can't we get as loud on (human) workers' rights? Guardian
Antidote du jour (Steve L). A marmot at Palouse Falls: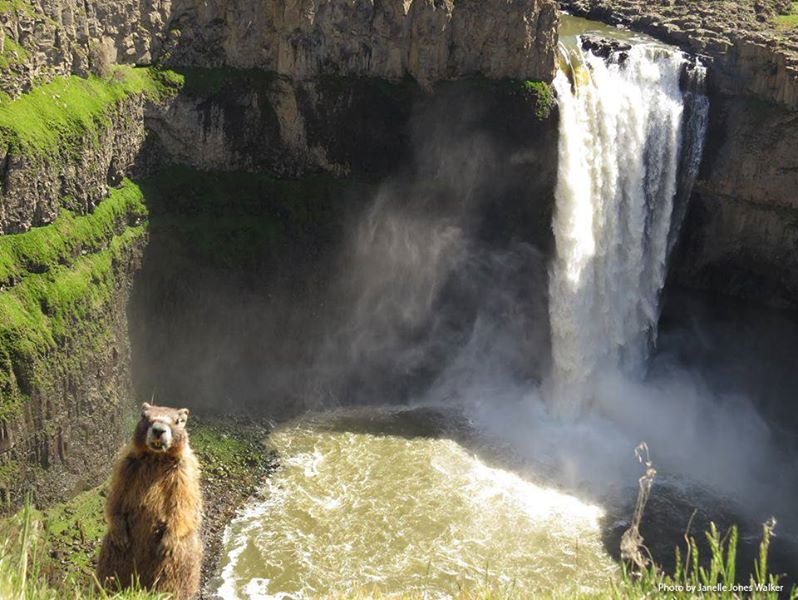 See yesterday's Links and Antidote du Jour here.