These Dogs Are Totally Amused By FedEx Guy Chasing After His Runaway Truck Consumerist
China's tiger parks under fire from conservationists, animal cruelty experts McClatchy (furzy mouse)
Cultural production of ignorance provides rich field for study Los Angeles Times. Readers discussed agnotology in comments yesterday, so this story from last month seemed germane.
Climate Deniers Intimidate Journal into Retracting Paper that Finds They Believe Conspiracy Theories Scientific American (Richard Smith)
Let's get geeks into government Gillian Tett, Financial Times. I think I'd rather stick with the enemies I know.
Here's Why Developers Keep Favoring Apple Over Android Slate
Most expensive aviation search: $53 million to find flight MH370 Sydney Morning Herald
'Headless chickens' wreak havoc on emerging markets Ian Fraser, QFinance
IP attitudes must adapt to a world without scarcity Bangkok Post. This shreds the argument for more stringent intellectual property protection, which is one of the things the Administration is determined to achieve through the pending trade deals.
US attacks Japan's stance on Trans-Pacific Partnership Financial Times. We predicted the Japanese would not just slow-walk any agriculture reforms, but also not give the US what it wanted in terms of extent of liberalization. This is their way of preventing the deal from getting done, since they regard the TPP as overreaching and aren't going to put up with the US's bullying posture. Fromon's remarks look to be designed for Congress (as in to shift blame for America's overplaying its hand) but I can't imagine it will make the Japanese more inclined to cooperate.
Worst may be over for Chinese economy Nikkei
Press Myanmar to protect the Rohingya Bangkok Post (furzy mouse)
How Europe is incubating an even bigger debt crisis by letting deflation take root Ambrose Evans-Pritchard, Telegraph
Kerry hints Middle East talks are close to collapse Guardian
US lets Boeing sell parts to Iran BBC. Now I am really confused. Is this to weaken ties between Russian and Iran?
MIAMI: 'Cuban Twitter' raises question: Is it OK for US to help Cubans? McClatchy
Freedom Rider: Obama's Imperialism Margeret Kimberly, Black Agenda Report
Ukraine
Ukraine PM says will stick to austerity despite Moscow pressure Reuters. Notice difference in emphasis on UK Reuters, as opposed to US: Russia raises gas prices for Ukraine by 80 percent

Putin's Rejection of the West, in Writing Leonid Bershidsky, Bloomberg. Mark Ames: "Bershidsky is great, and this rings true. Putin is going Nixon Red State or Alexander III. He's lost the urban youth and bourgeoisie in the main big cities, he's going to double down on the Silent Majority, which is why the Crimea crisis is at least as good for him as for the Ukraine neofascists and neoliberals."

The new Russian power bloc Open Democracy

U.S. Spy Agencies Can't Get in Putin's Head, Rogers Says Bloomberg
Big Brother is Watching You Watch
Planned NSA reforms still leave journalists reason to worry Columbia Journalism Review

Searchable Database of NSA Documents Just Security Just Security. Their headline better than the ACLU's.

Turns Out the NSA "May" Destroy Evidence of Crimes before 5 Years Elapse Marcy Wheeler
Obamacare Launch
The Legality of Delaying Key Elements of the ACA New England Journal of Medicine. Holy moley, the NEMJ says Obama acted beyond his authority.

Medicaid Enrollments Bring Obamacare Enrollment to More Than 10 Million Newsweek
Obama outpaces Bush on judges Politico. Almost certainly because his picks are conservative.
MCCUTCHEON MEETS ADELSON: WHAT A DONOR WANTS New Yorker
In Bid for Revote, Union Claims Tennessee Officials Frightened Workers New York Times
More HFT:
High Speed Trading and Slow-Witted Economic Policy Dean Baker. Note that quite a few commentators, including your humble blogger, said a small transaction tax would shut down HFT pronto.

Michael Lewis says the market's rigged. But his 'Flash Boys' rigged themselves Guardian. This suggests that Lewis (again) missed the real story.

High drama in link between ETFs and HFT Financial Times
Wall Street's Subsidy Safety Net Dave Dayen, American Prospect
Pre-paid Cards Enter the Credit Market, Thwarting the Primary Impetus for Using the Cards Credit Slips
Inequality and the Jobs Report John Cassidy, New Yorker
3 reasons to worry about March's jobs report CNN
For long-time unemployed, full-time work is elusive MarketWatch
Abused and Exploited Temp Workers May Finally Get a Break Alternet
Stop adding up the wealth of the poor Felix Salmon
Antidote du jour
(Lee S). A young geep: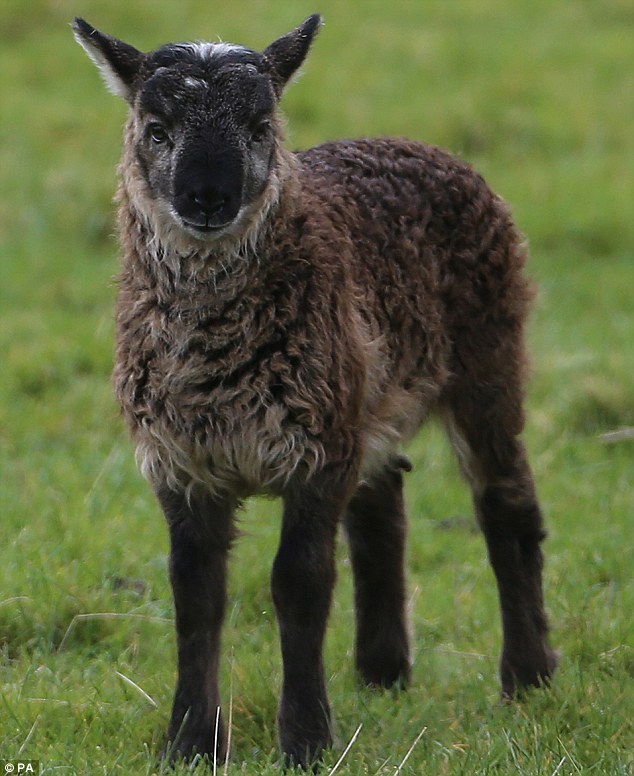 See yesterday's Links and Antidote du Jour here