Reader Greg Hill sent us a letter he wrote to the Seattle Mayor and City Council questioning its decision to triple its commitment to private equity when they've not only consistently underperformed their benchmark for that strategy, but even done less well than if they had simply invested in US equity.
That letter led us to look at a request for proposal (RFP) that the City of Seattle Retirement System issued just a few weeks ago, where it is seeking an advisor to manage its private equity program. We've embedded it at the end of this post.
On page 7, The RFP sets forth a requirement for the to-be-hired private equity advisor to achieve (emphasis ours):
The investment objective is to achieve consistent top-quartile private equity returns while providing diversification to other asset classes. Additionally, the program manager is expected to achieve, over the course of a manager's term, the following:

· An annualized dollar-weighted internal rate of return (net of fees and expenses) in excess of 3% above the Russell 3000 Index return.

· An annualized dollar-weighted internal rate of return and return on invested capital multiple (net of fees and expenses) in excess of top-quartile benchmark represented by Thompson Venture Economics, on a comparable vintage year basis.
This statement is revealing, and not in a good way. Mind you, it's not because the City of Seattle is unusual for expecting that it can consistently out-invest more than 75 percent of private equity limited partnership investors. It's the opposite. Seattle's investment objective is revealing because it's the stated goal of almost all LP investors in private equity, who almost universally believe the mathematical impossibility that all of them can assemble a portfolio of PE funds that will beat the performance of three quarters of their peers.
This is a typical graph that investment consultants use to justify the barmy goal that all private equity LP investors must achieve above-average results: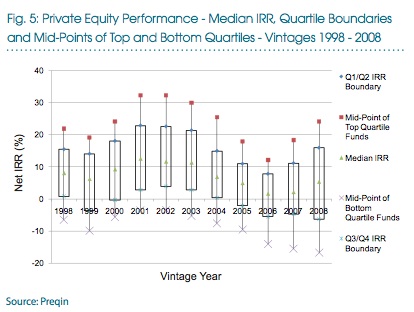 This graph is more straightforward than it might seem at first glance. It shows the dispersion of private equity fund returns (referred to as "IRR" as in "internal rate of return") by year, broken out by quartiles. The bar in the middle portion of each year's line represents the returns of funds between the 25th and 75th percentiles (the convention is that higher percentile means better returns, so if a fund is 75th percentile, it did better than 75 percent of other funds).
So the top of the bar is the 75th percentile, and the bottom is the 25th percentile. The line extending above the bar stops at a red square that is the mid-point of returns for top quartile funds in a given year, presumably 87.5th percentile of performance. Similarly, the line extending below the bar stops at the X that is the mid-point of bottom quartile performance, presumably 12.5th percentile of performance. Finally, the green triangle is the median fund performance for a given year.
The main thing you can see from this graph is that median performance (the green triangle) in private equity isn't all that hot, barely beating 10% in the three best years from 1998 to 2008, and the rest of the time hovering below that level. Moreover, if you performed moderately worse than median, say 40th percentile, your performance looked like a bond return at best, and if you only achieved 25th percentile, this chart says that you could have lost money investing in private equity over this period.
By contrast, if you achieved "in excess of top-quartile" returns, the stated goal of Seattle, and landed on the red square, private equity was very generous to you, providing annual returns approaching 20 percent or better every year but one.
When you boil it down, this graph illustrates the ugly truth of investing in private equity: it's not attractive unless you can outrun most of your peers investing in the asset class.
Rather than question the logic of investing in private equity at all, everyone in the industry has convinced themselves that it is reasonable to believe that they can be the Warren Buffett of private equity. The investment consultants go through the shooting-fish-in-a-barrel exercise of convincing their institutional clients that each of them is prettier, smarter, and more charming than average, and therefore capable of achieving sparking results. Needless to say, flattery is an easy sell. This dynamic is similar to another practice we've discussed regularly, namely, how CEO pay is set. Compensation consultants tell public company boards that all of them deserve above-average CEOs who must be paid above-average wages compared to their public company peers, thereby fueling ever-escalating CEO pay.
Fundamentally, this is an intellectually dishonest exercise, and diametrically opposed to the way many public pension funds construct other parts of their investment portfolios. With public equity in particular, it's almost certain that a significant majority of U.S. pension fund assets are invested in index funds. That's because pension funds have recognized that, collectively, they cannot do better than average, and that after paying active management fees, actively managed public equity portfolios typically perform worse than the market average.
So it's not as if these investors are so clueless that they can't grasp the point that all of them cannot achieve above average results, let alone significantly above average results. Instead, with private equity, there is a desperate desire to be in the asset class for reasons that probably reflect a combination of intellectual capture by the PE managers, political corruption in legislatures that control public fund board appointees, and the need to have a strategy that could conceivably solve the pension underfunding problem over time.
Finally, let's flag a couple of other absurdities in the Seattle RFP. First, as you can see from the excerpt above, Seattle is seeking an advisor who can generate both above top-quartile returns and do so consistently. It violates the laws of financial physics to embrace these two goals simultaneously. It is a bedrock principle of investing that higher returns comes with more risk, which means more volatility. In other words, even when high returns are achieved, they'll probably be bumpy. An intellectually honest reaction to this RFP would point out this inconsistency of goals and say: "I can aim for high returns, or I can aim for consistent returns. Neither I nor anyone else can plausibly promise to aim for both simultaneously." Now, dear readers, how likely do you think it is that the City of Seattle will hear this sort of thing from the consultants competing for this gig?
Finally, the RFP requires that the advisor must have been in business for at least five years and have at least three other clients. There's a clear logical inconsistency between, on the one hand, a stated goal of becoming an outlier in terms of returns compared to one's peers and, on the other hand, hiring an advisor to achieve this who has a significant business giving the same advice to one's peers. The largest firms who are likely to respond to this RFP, firms like Cambridge Associates or Hamilton Lane, each advise a meaningful percentage of private equity investors. If Cambridge Associates advises 20 percent of PE investors, a reasonable guess, that's presumably 20 percent of investors whom Seattle presumably won't outperform. Put another way, a mainstream advisor means mainstream returns, by definition.
It just can't add up.
Seattle Retirement System Request for Proposal for Private Equity Consultant