Mickey Rooney, child actor who went on to lifetime of stardom, dies at 93 Washington Post
Photos: With Little Snow and Little Work, a Musher Worries New York Times (furzy mouse)
Another If/Then Review of Hospital Safety Ratings Patient Safety Blog
Eight (No, Nine!) Problems With Big Data New York Times (furzy mouse)
Malaysia Airlines Flight 370: Australian Ship Picks Up Signals Wall Street Journal
Inflation Watch: Global Food Disruptions, Commodity Prices Soar Testosterone Pit. Food inflation with no corresponding wage growth caused political instability, particularly in countries with a large proportion of the population at the edge of survival (think Arab Spring uprisings).
Will inequality rise in this recovery? BBC. Do we really need to ask? Of course, notice this question presumes that what we are experiencing now qualifies as a real recovery, as opposed to a technical one.
How much bad debt can China handle? MacroBusiness
It's All Circle Jerks All The Way Down Ilargi
"Huge preferential offers" bust Chinese property MacroBusiness. An eye-opener on the state of Chinese real estate.
The real reasons why Draghi flirts with QE Telegraph
French Socialists Revolt Against Prime Minister, Threaten Vote of No Confidence Michael Shedlock
Death knell for Brazil's economic strategy Financial Times
The Tower of David – Venezuela's "vertical slum" Reuters
Universities from industrial nations putting down stakes in Islamic countries Nikkei
Israel may take 'unilateral action' over Palestinians' UN move, says PM Guardian
Ukraine
Ukrainian Officer Killed by Russian Soldier in Crimea, Says Ukraine Wall Street Journal

The First Real Russian Retaliation for American Sanctions Ian Welsh (Chuck L). I buy only half of his position. I don't see denominating crude in rubles as significant, since the only trade at issue is Iranian crude, which is heavy, sour crude, which is economical to refine only when for light sweet crude are over $100 a barrel. But Russia breaking the sanctions against Iran is significant, and they are basically setting themselves to assist others who face US economic sanctions. And the West can't really cut off Russia because the UK, with its enormous banking system (last I checked, banking assets over 6 times GDP) has gotten too dependent on Russian oligarchs. So the UK will remain a financial center for Russians.

Stand-off over $2.2bn Ukraine gas bill Financial Times

Ukraine fears gas war with Russia Guardian

Pro-Russia protests in eastern Ukraine DW

The Red Line and the Rat Line Seymour Hersh, London Review of Books (Synopticist). Today's must read.
Big Brother is Watching You Watch
Snowden, Greenwald urge caution of wider govt monitoring at Amnesty event Reuters (furzy mouse)

Snowden to Receive Truth-Telling Prize New York Times. Poitras included but not Greenwald. Hhhm.

U.S. Attempts Candor to Assure China on Cyberattacks New York Times. Trust me, it's all about the tech sales, otherwise we wouldn't bother. Plus you gotta love the headline. Is this a bit of subversion at the Grey Lady? "Attempts candor" raises the question of whether the US is capable of it, or more likely, that both sides recognize that this attempt is fake, but the US might actually serve up a tad more information than usual.

How Many Watch Lists Fit on the Head of a Pin, Post-Constitutional America, Where Innocence Is a Poor Defense Peter Van Buren, TomDispatch
Obamacare Launch
Political offers pour in for Canadian MD who defended medicare in U.S. Senate Vancouver Sun (John L)

How should Democrats deal with Obamacare in 2014? CBS News

Leaders of Teaching Hospitals Have Close Ties to Drug Companies, Study Shows TruthOut (furzy mouse)
Obama Administration Committed to U.S. Nuclear Energy Exports OilPrice
Shale Gas Boom Leaves Wind Companies Seeking More Subsidy Bloomberg. One might point out that shale gas operators are getting a massive de facto subsidy by not paying for their externalities.
US State Department Lost Track of $6 Bln Under Hillary Clinton RIA Novosti (furzy mouse)
Oligarchs and Money Paul Krugman. It is now officially OK to use the "o" word in polite company. Note the Simon Johnson bravely used it the Atlantic in May 2009, but Serious People wouldn't touch it with a ten foot pole back then.
More Deportations Follow Minor Crimes, Records Show New York Times
Two Yale law professors think they know what, exactly, the APPEARANCE of quid pro quo corruption looks like. They don't. But I do. Angry Bear (furzy mouse)
Credit Suisse Is Said to Be Facing Double-Barreled Inquiries New York Times. New York's Benjamin Lawsky strikes again.
Why labour markets don't clear Frances Coppola
Global value chains in the current trade slowdown VoxEU
Bondholders don't get mad, they get even John Dizard, Financial Times
Antidote du jour. Another before and after pet photo: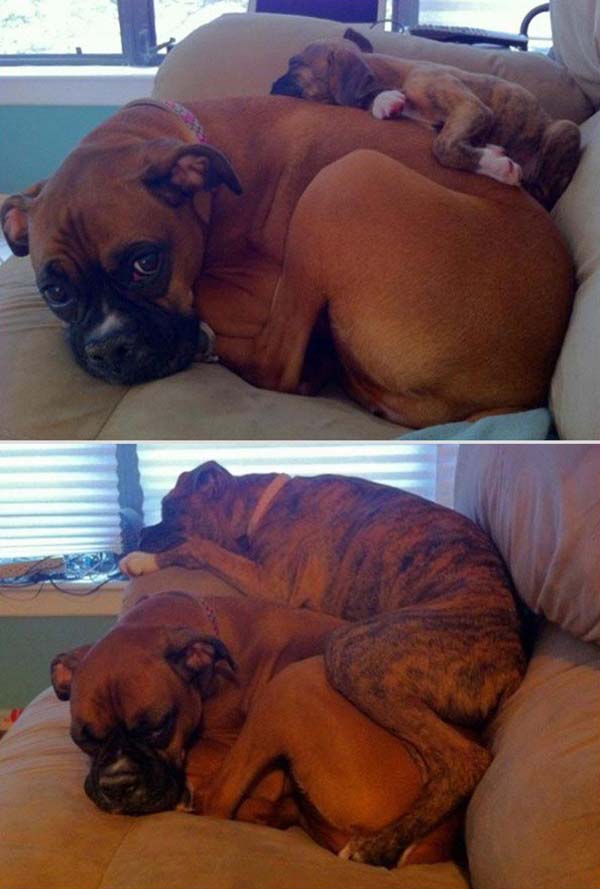 And a bonus antidote, courtesy Harry Shearer (e-mail subscribers need to go to the NC site to see this video):
See yesterday's Links and Antidote du Jour here