We will not have a copy of the formal ruling on our case against CalPERS until the court issues one, but based on a verbal report, my understanding is that Judge Marla Miller ruled from the bench that our case was premature.
If her written order confirms that understanding, this is the least adverse outcome we could have experienced. It does not preclude us filing again at a later date. We will review the written order to see whether it would make sense to file a motion for reconsideration or an appeal.
The ruling is nevertheless puzzling, and may have been the result of our having been concerned with getting evidence into the record so as to have a good factual foundation in case CalPERS appealed, which we thought was likely had we prevailed. But that may have had obscured the most salient facts.
By way of background, we had asked CalPERS to give us data about their private equity fund performance that they provided to two scholars at Oxford University, Tim Jenkinson and Ruediger Stucke. Their paper, written with an additional co-author, Miguel Sousa, was published in 2013. It stressed that they had the entire performance of all of CalPERS' 761 private equity investments, from CalPERS' first participation in that strategy in 1990 through the first quarter of 2012. The article also stated repeatedly that substantial portions of their data had never been previously made public.
The notion that our suit was premature was based on CalPERS' claim that they were cooperating with us, hence the suit was not ripe. But the standard under the Public Records Act (California's version of FOIA) is whether it took litigation to compel the production of records.
CalPERS had in fact deemed our records request closed as of January 27, 2014, as a letter from CalPERS that we included as an exhibit in our original filing clearly showed. That is also confirmed on CalPERS' website (see the final entry on the page):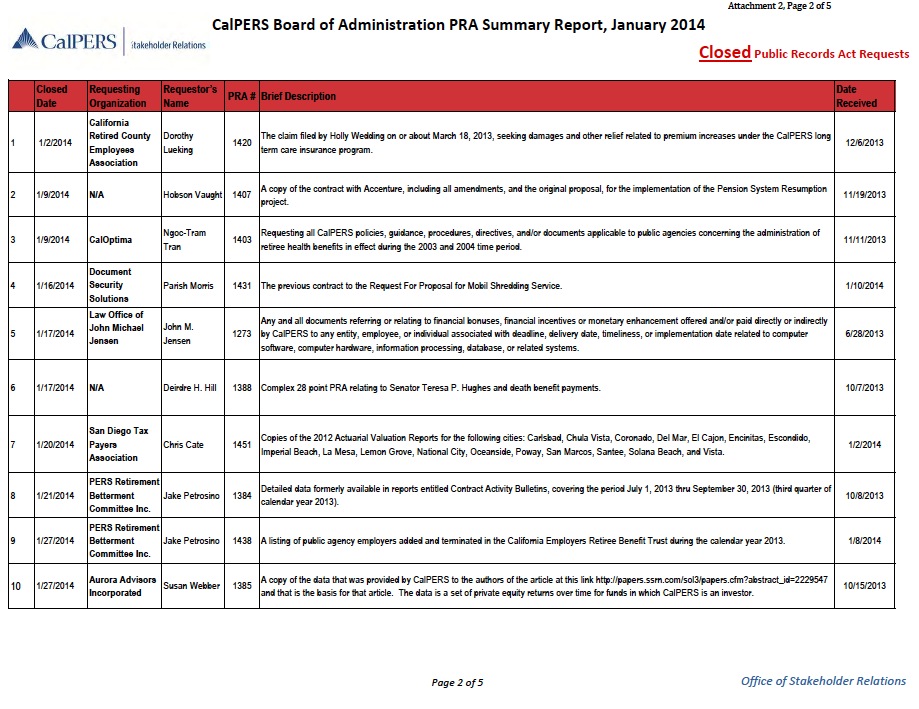 My attorney Timothy Y. Fong sent a letter on February 1, 2014 objecting strenuously to CalPERS' decision. A CalPERS in-house attorney responded, saying that they had no record of having given the academics the data which is effectively accusing them of either not getting it through legitimate channels, raising questions about their conduct and the accuracy of the work. But CalPERS nevertheless told us on February 4 to tell them what we wanted. We sent a letter based on our reading of the description of the data in the paper, and also asked for more of one type of data (effectively asking that it be brought up to date).
On February 12, 2014, they sent a letter which excepted the language relating only to the request for an update and sent that data only. So CalPERS had effectively refused to produce any data related to the academics' paper. Moreover, they assigned the response a new Public Records Act (PRA) number, effectively saying they regarded the part they responded to as a separate PRA. And they declared that one to be closed too.
We filed suit on February 28, 2014. Only after we filed suit did CalPERS contact the academics, who told them who at CalPERS had provided the records and even e-mailed a copy back.
So until we filed suit, CalPERS' position was that the original PRA was closed, they never heard of the academics, and they had nothing but unrelated material to give us. The filings from CalPERS don't dispute that; in fact, they provided evidence that supports that view.
We have continued to have back and forth with CalPERS because the information they did send (the PDF that the academics' received plus less than complete versions of that data in spreadsheet format) was not responsive under the PRA. Even though the academics only got a PDF, the PRA stipulates that machine-readable documents must be provided in the manner they were kept. A PDF was clearly generated from an Excel spreadsheet or other data source. They have yet to produce the same information information in the stipulated format. They have provided other information, but they have yet to fill that request. And even one of the affidavits they submitted effectively admits they have no idea whether things stand: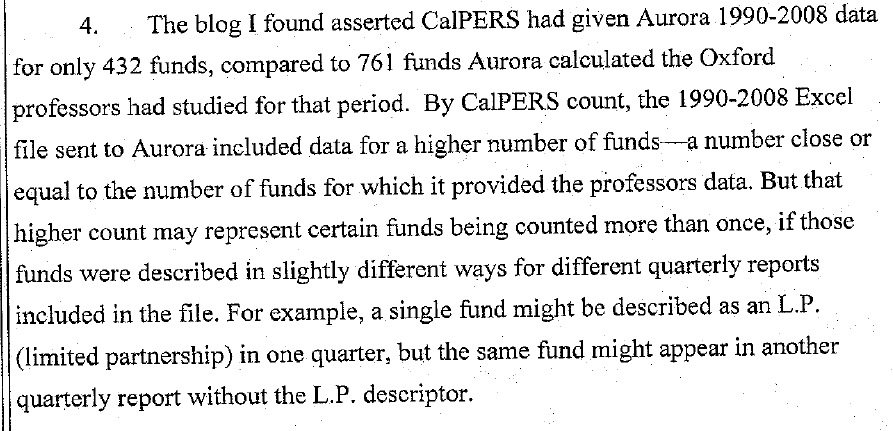 Note that our count was based on having omitted the duplicates due to inconsistent entry of the same funds that CalPERS admits is a problem rife with its data. We submitted an second expert affidavit addressing that issue at some length. It appears the judge accepted CalPERS' framing as opposed to ours, and that would render closer inspection of the details moot.
The judge apparently also took issue with our position that the items we had asked for on February 8, 2014 should be incorporated into the original PRA. Our view was that precedents allow for PRAs to have related information requests incorporated into them (largely due to the idea that filing separate cases for PRAs that were closely related to an original PRA was unduly burdensome). The judge apparently thought that that notion was too expansive and could be used to allow PRAs to be pushed well beyond their initial scope.
As indicated, we'll need to look at the actual ruling to determine what if any additional legal steps to take and when. Stay tuned.