Growl From Ipanema Lures Purina to Largest Dog Population Bloomberg
The world's spookiest underground cities – in pictures Guardian
Throwback Thursday: The 95th Anniversary of Relativity's Confirmation Medium
'Why did God make me like this?': Parents share incredibly moving film about having a transgender son and why they decided to let her change gender and become a boy at age five Daily Mail
China's property bust deepens MacroBusiness
Stumbling Thai economy lends urgency to junta's revival efforts Reuters
Realty Investors Flock to Spain New York Times (furzy mouse). I said in passing last year I'd buy in Barcelona in a heartbeat if I had the dough.
Tsipras Calls Farage Monstrosity Created by Austerity Bloomberg
Egypt Vote Is More a Warning Than a Victory Bloomberg
Abbas Seeks a New Government That Would Seal Alliance With Hamas New York Times
Ukraine
Big Brother is Watching You Watch
NSA releases email in Snowden dispute Guardian. This is remarkably defensive.

Google bows to EU privacy ruling Financial Times
Big Money, the Koch Brothers and Me Politico. Take with a grain of salt. Prominently features the Obama canard that his 2008 election depended on small donors. Wrong wrong wrong. The overwhelming majority of his funding came from the usual suspects.
Former Counterterrorism Czar Richard Clarke: Bush, Cheney Committed War Crimes Huffington Post. This should not be news…but I gather it is.
Doctor Shortage Is Cited in Delays at V.A. Hospitals New York Times. Lambert points out that a critical part of this story is being badly underplayed. The VA allowed for outsiders (I assume non-vetrans) to buy into the system. That put more demands on resources when no more funding was provided. So no surprise more queuing and service degradation would result. So was this problem by accident or design?
Ford recalls nearly 1.4m US vehicles Financial Times
HOW ELECTRICITY AUCTIONS ARE RIGGED TO FAVOR INDUSTRY David Cay Johnston, Aljazeera
U.S. Said to Seek More Than $10 Billion Penalty From BNP Bloomberg. Notice the US gets tough only 1. When the target is a foreign bank and 2. The big crime is defying the security state (evading sanctions on Iran, among others).
How huge banks are born (Richard Smith)
Big investors top banks in repo market Financial Times
The New Normal is Negative Ilargi
Tranquil markets are enjoying too much of a good thing Gillian Tett, Financial Times
Is a College Education Worth a Skinned Eel? Bloomberg. One of the best courses I took in college (mainly because the prof was great and handed out a tough reading list to keep the class size small) was The Politics of Popular Education. I was naive enough then to think it would not be relevant to the US, that all these questions of the value of education and what sort of society we wanted to create were well settled. Silly me.
Bloomberg tells Harvard grads to "embrace a free exchange of ideas"… like he didn't David Sirota, Pando
FT v. Piketty
Why Green Capitalism Will Fail CounterPunch
Antidote du jour: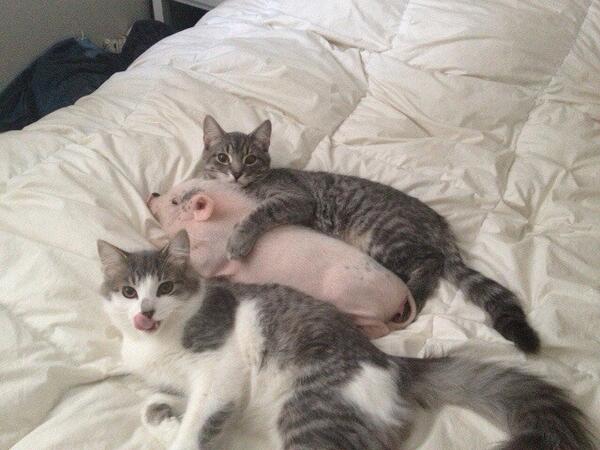 See yesterday's Links and Antidote du Jour here.