Help! Elephant ate my iphone. LiveLeak. Furzy mouse: "Video on link….hysterical!!​"
Sheepdogs condemn glass ceiling in the workplace Daily Mash
Semelparous videos, news and facts BBC (Richard Smith)
Appeals Court Doesn't Understand The Difference Between Software And An API; Declares APIs Copyrightable techdirt (Chuck L). Aieee.
Router company that threatened a reviewer loses Amazon selling license ars technica (bob)
Pope Francis urges governments to redistribute wealth to the poor — maybe even half of it Raw Story (furzy mouse)
South Sudan government, rebels agree to cease-fire DW
Obama resets the 'pivot' to Asia Asia Times
Goldman probed over Asia hiring practices Financial Times. Oh, and HFT too.
Anti-government protesters take over Thai television stations Sydney Morning Herald
Draghi performs euro conjuring trick Financial Times
Another proof for the fact that Greece has been sold to banksters unbalanced evolution of homo sapiens
London black taxis plan congestion chaos to block Uber BBC (bob). Interestingly, readers at Slashdot, which skews libertarian, are pretty supportive. If this succeeds, it might mark a turn of the tide from when Thatcher broke the coal miners' union in the early 1980s.
A Brief History of the Bank of England's Endogenous Money Policies: An Ode to Roy Harrod Phillip Pilkington
Please Don't Cry For Bottomfeeding Barclays Bank 21st Century Wire
Ukraine
Big Brother is Watching You Watch
The NSA's Corporate Collaborators CounterPunch

The NSA and Snowden: Securing the All-Seeing Eye Communications of the ACM
Obamacare Launch
Employers Eye Moving Sickest Workers To Insurance Exchanges Kaiser Health News
Axing Obamacare's employer mandate would do little harm, study says CNBC. Would love to see how they arrived at this conclusion.
Why the FCC Is Ditching Net Neutrality Mother Jones (Jeff)
FCC's Tom Wheeler Says He'll Ask For Public Comment On Whether It's Appropriate To Reclassify Broadband techdirt (Chuck L)
Comcast offers Internet access for $10 a month — sort of Washington Post
First Million-Dollar Drug Near After Prices Double on Dozens of Treatments Bloomberg (Francois T)
US politicians step up Pfizer scrutiny over deal for AstraZeneca Financial Times
Schumer, Warren, other key Democrats will not support Johnson-Crapo Housing Wire. As predicted.
EXCLUSIVE: Christie officials gave millions in public funds to VC firm, despite "pay to play" rules David Sirota, Pando
FBI investigating death threats, intimidation, and weapons violations at Bundy ranch Raw Story
Protesters quietly take a stand at meeting Alburquerque Journal. Ken G: "Here is a video of one of the most beautiful peacful protests I've seen recently."
Chicago Teachers Union passes resolution opposing Common Core Washington Post
Protestant Church Faces New Sex-Abuse Scandal as Victims Defy Threats, Censorship to Speak Out Democracy Now (Chuck L)
Tennessee Deputies Arrested Student for Video Recording on Night Choking Photos went Viral Photography is Not a Crime (furzy mouse)
Fed Homes in On 'Shadow Banking' Wall Street Journal
Goldman bets on gang members keeping out of jail Bloomberg (David P). I don't have time to shred this, but astute readers can tell this article is stenography. Short form debunking: there's no reason to launder either charity or government support though financial services firms. All it does is add costs. Housing finance is a bigger illustration of this problem. The subsidies often go to the wrong people and it's even more difficult to measure their effectiveness than if they were direct.
The Average Stock Is In A Bear Market Business Insider
American dynamism dimmed Economist
The Six Principles of the New Populism (and the Establishment's Nightmare) Common Dreams (Lawrence R)
Obama's Top Economist Has Some Problems With Piketty's Book New York Times. How about the one Doug Smith pointed out: 700 pages on a problem and only one solution.
Antidote du jour: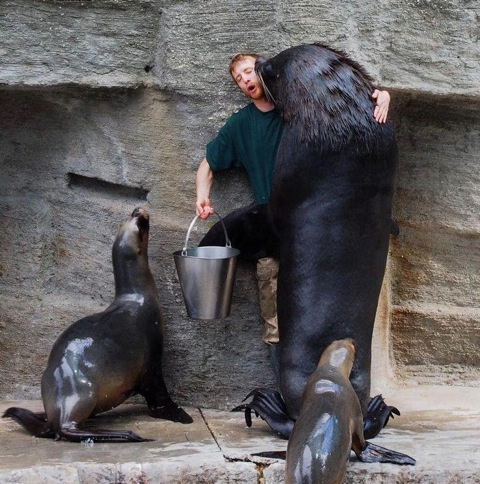 See yesterday's Links and Antidote du Jour here.