While it is refreshing to see the authorities man up a bit in dealing with a miscreant bank, it's also critical to recognize that the US show of spine with BNP is all about the US tightening control over international payments. In other words, the harsh settlement is all about the US projecting its power overseas via financial services. It is not a precedent for how the authorities will deal with other types of bank abuses.
Key elements of the deal, as told by the Wall Street Journal:
BNP Paribas SA BNP.FR -1.92% and U.S. prosecutors have agreed to broad terms of a deal in which the bank would pay $8 billion to $9 billion and accept other punishment based on what investigators say is evidence the bank intentionally hid $30 billion of financial transactions that violated U.S. sanctions, according to people close to the probe.

The two sides in recent days reached a general outline of a deal that also would include a guilty plea to a criminal charge of conspiring to violate the International Emergency Economic Powers Act and a temporary ban—likely lasting a period of months—on the company's ability to transact in U.S. dollars, according to several people familiar with the discussions.
This chart illustrates that these settlements don't appear to have much logic: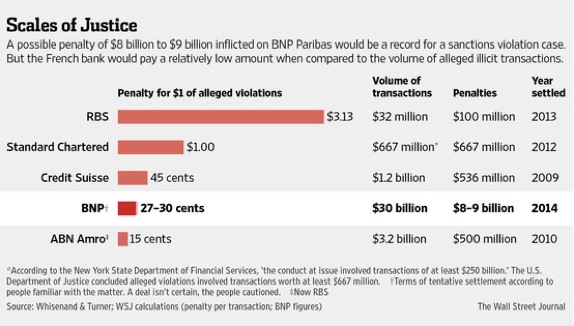 Now one might contend that the Standard Chartered fine was proportionately worse because (as we wrote at the time) the bank was a defiant, recidivist breaker of anti-money-laundering rules, where records were doctored to fool regulators and in-house counsel blew off "cut it out" advice of outside counsel. One might also argue that the dollar amount of the fine doesn't tell the whole story, since losing access to dollar clearing services will be very costly to BNP. It won't just be the additional expense of having to conduct transactions through correspondent banks; BNP is also at risk of having clients that engage in a lot of dollar-related business picked off by competitors.
But notice how these are all foreign banks? Why don't we contrast those fines with the slap on the wrist that Wachovia received in 2011? As we wrote then in Wachovia Paid Trivial Fine for Nearly $400 Billion of Drug Related Money Laundering:
If this news story does not prove that banks are effectively above the law, I don't know what does. The Guardian, in an account yet to be picked up anywhere in the US media (per Google News as of this posting, hat tip readers May S and Swedish Lex) reports that Wachovia was at the heart of one of the world's biggest money laundering operations, moving $378.4 billion into dollar-based accounts from Mexican casas de cambio, which are currency exchange firms. While these transfers took place over a period of years, the article notes that it equals 1/3 of Mexican GDP. And the resolution?

Criminal proceedings were brought against Wachovia, though not against any individual, but the case never came to court. In March 2010, Wachovia settled the biggest action brought under the US bank secrecy act, through the US district court in Miami. Now that the year's "deferred prosecution" has expired, the bank is in effect in the clear. It paid federal authorities $110m in forfeiture, for allowing transactions later proved to be connected to drug smuggling, and incurred a $50m fine for failing to monitor cash used to ship 22 tons of cocaine.

The operation may have started sooner, but the Wachovia admitted in the settlement that as of 2004 it had reason to address the procedures used for these transfers and chose not to.
Back to the current post. That itty-bitty fine, even if you throw in the forfeiture and call it $160 million, is 0.42%, or cents, using the denomination of the Wall Street Journal chart. It wouldn't register on the scale they used. So foreign critics are correct when they contend that they are treated more harshly than domestic players.
But the overseas firms do benefit in one respect from the US tendency to go easy on banks. No individuals were charged:
As part of the deal, officials plan to announce the departures of more than 30 bank employees, acceding to demands by the New York Department of Financial Services that individuals also be punished, according to people close to the talks. The majority of those people have already left the bank, they said.
Can't break the well established pattern of at most foot soldiers being put under the hot lights, now can we? Clearly, former prosecutor, now New York Superintendent of Financial Services Benjamin Lawsky wanted more, but having people forced out was apparently all the the other regulators involved in the settlement were willing to extract.
The Journal points out that this settlement came despite vociferous objections from the French, including Prime Minister François Hollande. It looks like that had no impact. But lobbying dollars in DC, or the prospect of cushy revolving door post-regulatory employment? That clearly is much more valuable negotiating currency.