By Lambert Strether of Corrente.
"We lived, as usual, by ignoring. Ignoring isn't the same as ignorance, you have to work at it." –Margaret Atwood, The Handmaid's Tale
And no question: Hillary Clinton is a hard worker. What's most striking about how Clinton plays handmaid to the empire — after, during, and before her tenure as Secretary of State — is not what she says, but what she doesn't say. Willful ignorance is especially evident in her discussion of Edward Snowden and his contribution to restoring the Fourth Amendment to some degree of function, but to put her views on Snowden in context, I first have to look at her views on Iraq, and then her views on how Obama whacks U.S. citizens without due process Anwar al-Awlaki. In all cases her views show her fitness for the office of the Presidency in the minds of the political class, which is to say her unfitness, exactly as Obama was unfit in 2008. And so to Iraq:
Here, I'm going to rely heavily on Clinton's new book, Hard Choices. I only regret that I have but one door to prop open, and Piketty's Capital is doing that already, so I don't need another 700-page book. Fortunately we have Amazon, so I went in there (★★) and did screen dumps. Here's what everybody seems to consider the money quote. WaPo:
"[CLINTON:] I thought I had acted in good faith and made the best decision I could with the information I had. And I wasn't alone in getting it wrong. But I still got it wrong. Plain and simple."
So what is Clinton not saying? No, no, not the missing apology; an expression of "regret" isn't even a non-apology, as any diplomat must surely know. No, Clinton doesn't say why the Iraq War was a mistake. Isn't that rather remarkable, given that we spent a squillion dollars losing it, and many thousands of lives, even if most of them were far away brown people? (Please, no "Halliburton made a ton of money" arguments or "yes, but oil" arguments; states win or lose wars, not corporations. And if we won Iraq, where are the parades, and where are the politicians claiming credit for victory?) Just to confirm, let's zoom out to make sure we've got context. Hard Choices, p. 137: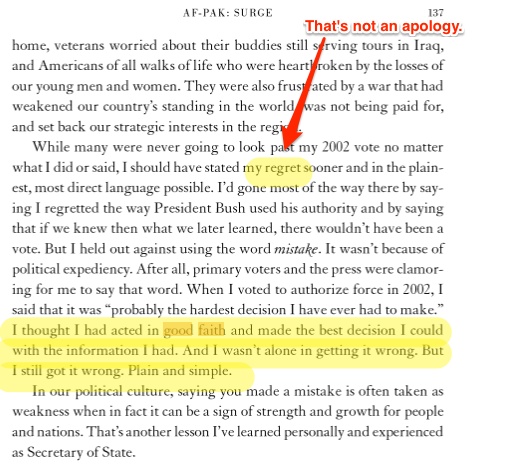 Do you see Clinton explain what she got wrong? I don't. So I searched the book for Iraq, and came up with this:

So Iraq is a "quagmire," like Vietnam. But there's no explanation of why Iraq was a quagmire, or how we got into it. And then there's this:

So in Iraq there was a "power vacuum." Well and good, but again, why? Or this:

Gee, how'd that happen? Liberal interventionism is still in full swing, seemingly;  but again, and remarkably, or not, Clinton doesn't say is what, exactly, she "got" "wrong."
Let's circle back to Clinton's original claim: That she acted "in good faith." Peter Beinart, unsurprisingly, agrees with her:
"I had acted in good faith," she writes. That's likely true. During her race against Barack Obama, Clinton suffered mightily from the perception that she only supported the war because she feared looking weak on national security. As a character playing her on Saturday Night Live quipped in 2007, "I think most Democrats know me. They understand that my support for the war was always insincere."

That charge , however, is probably unfair. As Michael Crowley has reported, most of Clinton's top foreign-policy advisors—Richard Holbrooke, Madeleine Albright, James Steinberg, William Perry, Jamie Rubin, Kenneth Pollack—were sympathetic to giving George W. Bush the authority to use force. Like them, Hillary had grown increasingly comfortable with military action during the 1990s, when Bill successfully went to war in Bosnia and Kosovo (in the latter case, without United Nations approval). And like them, she had grown increasingly militant on the subject of Saddam Hussein, whose ouster Bill had called for in 1998, and whom he had bombed for four straight days that same year in Operation Desert Fox.

Although many liberals assumed that in her heart Clinton was as dovish as them—and thus must have been insincere in her vote to authorize war—the evidence suggests that her experience during her husband's presidency made her more hawkish. For better or worse, her behavior as secretary of state—where she championed the Afghan surge, aid to Syria's rebels, and the war in Libya—suggests that she still is.
But how could Clinton possibly have acted "in good faith"? We know that the Bush administration was lying on Iraq WMDs, that there was no "intelligence failure," but a massive and successulf disinformation campaign:
The narrative that there was an "intelligence failure" leading up to the U.S. invasion of Iraq on March 19, 2003 cannot withstand the slightest scrutiny. The simple fact of the matter is that there was no evidence that Iraq still possessed WMD. The fact of the matter is that top experts in their respective fields within the U.S. intelligence community had correctly assessed that Iraq did not have WMD or ongoing WMD programs. The CIA's judgments to the contrary were not the result of a "failure" within the intelligence community to correctly analyze and assess the evidence, but of a systematic effort to control information in order to limit "dissent" and stovepipe products to administration officials that would support the government's official policy of regime change. In other words, the policy was not based on the intelligence, but the CIA's intelligence products were rather based on the policy.

Understood in these terms, it becomes apparent that far from a "failure", the government's disinformation campaign designed to manufacture consent for war was a resounding success. The narrative of an "intelligence failure" attempts to pin responsibility on analysts within the intelligence community rather than on senior administration officials such as President George W. Bush, National Security Adviser Condoleezza Rice, Secretary of Defense Donald Rumsfeld, and Secretary of State Colin Powell. It attempts to shift the blame for the lies of senior policymakers onto analysts who supposedly didn't do their jobs correctly. But the truth of the matter is that analysts who did do their job were sidelined and silenced, while assessments from analysts like "Joe" who dishonestly touted the official line were stovepiped to policymakers in "intelligence" products containing judgments completely unsupported by the available evidence.
I remember these events vividly, because I started blogging at Eschaton that summer. It was like playing whack-a-mole: The aluminum tubes! The white powder! "British intelligence has learned!" The yellowcake! They were one and all lies, debunked within days, and then — collective #facepalm by the much more united left of that day, which the Democrats had not yet succeeded in wrecking — we got to hear Colin [genuflects] Powell retail what we knew to be lies at the UN! Except it wasn't like whack-a-mole; it was whack-a-mole; Col. Sam Gardner's research suggested at least 50 stories[1] were planted in the press. The operation had a $200 million budget, and was run by the White House Iraq Group (WHIG):
The group met weekly in the Situation Room. Among the regular participants (many have since left or changed jobs) were Karl Rove, the president's senior political adviser; communications strategists Karen Hughes, and James R. Wilkinson; legislative liaison Nicholas E. Calio; and policy aides led by national security adviser Condoleezza Rice and her deputy, Stephen J. Hadley, as well as I. Lewis "Scooter" Libby, Cheney's chief of staff.
Mary Matalin, eh? Conducts pillow talk with James Carville, the Democratic operative who won the Presidency for Clinton with "The economy, stupid." Are we really to believe that the famously networked Clinton machine couldn't have reached out to somebody in official Washington to find out that Bush was selling a crock of shit on Iraq? Or pick one of the Clinton advisors Beinart lists at random, Madeleine Albright. Here are her connections: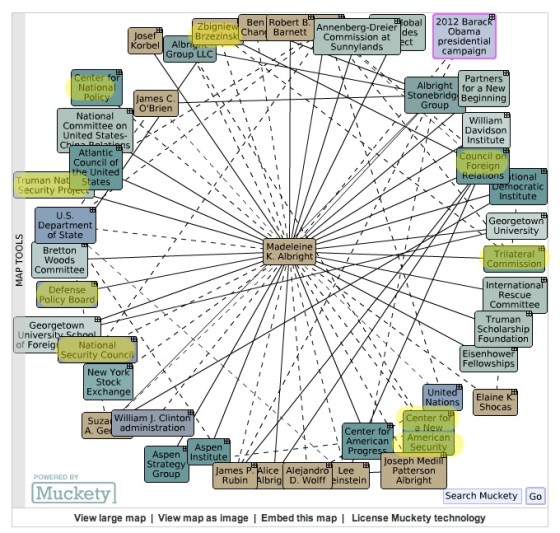 Are we really to believe that Clinton couldn't have leveraged a network like Albright's, as a matter of due diligence, and gotten a good reading on Bush's WMD intelligence?
Clinton, of course, ignores this. She ignores Bush's WMD deceptions, ignores of WHIG, and presents herself as having had to rely on the Bush administration ("fully briefed") for everything. I just don't think that's plausible, especially when you remember that a ragtag group of "vituperative, foul-mouthed bloggers on the left" were able to dope out WHIG's bullshit stories, generally in less than one news cycle, with no more than open sources for intel. I suggest a far simpler explanation: Clinton knew exactly what Bush was up to, because her own Beltway network would have told her, but because she's a classic liberal interventionist — it's not a matter of "she has to say that"; she believes it — she didn't care; she had no problem with "fixing the intelligence and the facts around the policy," because she supported the policy, as Beinart points out. Needless to say, however, Clinton couldn't have voted for a war based on lies "in good faith."[2] Good faith — not to mention good sense — would have led her to undertake due diligence and expose the lies. QED.
Now that we've dealt with the issue of Clinton's good faith on Iraq, let's go on to Obama's "kill list." You remember the kill list, right? Which Obama prefers to call a "disposition matrix"? The Times:
Mr. Obama has placed himself at the helm of a top secret "nominations" process to designate terrorists for kill or capture, of which the capture part has become largely theoretical. He had vowed to align the fight against Al Qaeda with American values; the chart, introducing people whose deaths he might soon be asked to order, underscored just what a moral and legal conundrum this could be.

Mr. Obama is the liberal law professor who campaigned against the Iraq war and torture, and then insisted on approving every new name on an expanding "kill list," poring over terrorist suspects' biographies on what one official calls the macabre "baseball cards" of an unconventional war. When a rare opportunity for a drone strike at a top terrorist arises — but his family is with him — it is the president who has reserved to himself the final moral calculation.
Which sure sounds keen, especially when you've got a Preznit who's as moral as Obama, except when you realize that Obama's "a secret interpretation of the law under the supervision of a secret, non-adversarial court and occasional secret congressional hearings" is uncomfortably close to Madison's "very definition of tyranny" in Federalist 51. You might get even more uncomfortable when you realize that Obama's using his amazing secret powers to whack American citizens:
Up until now, the Obama administration's policy of sanctioning the assassination of U.S. citizens has been more theoretical than real. Not any longer:

A missile fired from an American drone aircraft in Yemen on Friday killed Anwar al-Awlaki, the radical American-born cleric who was a leading figure in Al Qaeda's affiliate in this country, according to an official in Washington.

….Yemen's official news agency, Saba, reported that the attack also killed Samir Khan, an American citizen of Pakistani origin and the editor of Inspire, Al Qaeda's English-language Internet magazine. Mr. Khan proclaimed in the magazine last year that he was "proud to be a traitor to America."

Is this the first targeted assassination of a U.S. citizen as part of the war on terror? Probably.
So what does Hillary have to say on this? I searched Hard Choices again, and — hold onto your hats, folks — the answer that she has nothing to say:
Again, isn't this remarkable? We have a President who's done away with the separation of powers entirely, and is executing US citizens with a 21st Century equivalent of a lettre de cachet — and on foreign soil, too, which you'd think would call for comment from a Secretary of State[3]. Apparently not! So, having established that Clinton cares for Constitutional governance exactly as much as she cares for going to war in good faith — that is to say, not at all — let's at last turn our attention to Edward Snowden, who exists exactly at the uneasy junction of governance and war. As it turns out, the issues Clinton has ignored have a great deal to do with her views on Snowden. I'm going to take as my text the following YouTube, from a Q&A that Clinton did after a speech at the University of Connecticut on April 23, 2014. Here it is:
And here, in relevant part, is a partial transcript of the Q&A session. I've interspersed commentary:
* * *
"[CLINTON:] So it was a debate that needs to happen, so that we make sure that we're not infringing on Americans' privacy, which is a valued, cherished personal belief that we have. But we also had to figure out how to get the right amount of security.
Clinton ignores the Fourth Amendment, our Constitutional protection against search without a warrant, which is not a "cherished, personal belief." Clinton has nothing to say about the restoration of Constitutional governance here, any more than she has anything to say about it in the context of Obama's execution of U.S. citizens without due process.
Moreover, Clinton ignores the media context in which "the debate" (most Democrats prefer the more mealy-mouthed "conversation") must take place. As Clinton must know from the Iraq WMDs/WHIG debacle, the media context is completely corrupt, being riddled with disinformation; for example, the NSA has consistently said that Snowden could not have gotten "primary documents" we only now learn he got. How is a debate to be had except on the basis of trustworthy evidence?
"[CLINTON:] When [Snowden] emerged and when he absconded with all that material, I was puzzled because we have all these protections for whistle-blowers."
First, Clinton ignores that Snowden was a contractor and has no whlstleblower protection. Second, Clinton ignores that Snowden is charged under the Espionage Act, and that means he'll be gagged in court if he tries to make a whistleblowing case. Third, Clinton ignores the fates of Drake, Kiriakou, and Manning. As Kiriakou said before the Obama administration locked him up:
"The conviction of Bradley Manning under the 1917 Espionage Act and the US Justice Department's decision to file espionage charges against NSA whistleblower Edward Snowden under the same act are yet further examples of the Obama administration's policy of using an iron fist against human rights and civil liberties activists. President Obama has been unprecedented in his use of the Espionage Act to prosecute those whose whistleblowing he wants to curtail.
Fourth, and again, what Clinton ignores that the executive branch's disinformation capabilities, as shown in the Iraq WMD campaign, make it very hard for whistleblowers to get the word out; and ignores the proven capabilities of the US government to execute US citizens without trial, as shown by Obama's "kill list," which make whistleblowing dangerous (as if an Espionage Act conviction weren't dangerous). Back to Clinton:
"[CLINTON:] If he were concerned and wanted to be part of the American debate, he could have been.
No, he could not have been; for the four reasons given above. In addition, Clinton ignores that Snowden did contact NSA oversight with his concerns, via email. The only way to spark the debate was to release the documents, as Snowden did[4].  (That "the American debate" is very deft; it suggests that Snowden is involved in some other debate. Perhaps an UnAmerican one?) More:
"[CLINTON:] But it struck me as—I just have to be honest with you [look out!]—as sort of odd that he would flee to China, because Hong Kong is controlled by China, and that he would then go to Russia—two countries with which we have very difficult cyberrelationships, to put it mildly."
On Hong Kong: Naked Capitalism readers know why Hong Kong was a perfectly reasonable place for Snowden to flee; Clinton, again, ignores something a Secretary of state should know. On Russia: Clinton ignores why Snowden was trapped in Russia: The United States took his passport away! Not only that, Clinton ignores what happened when the United States thought Snowden was leaving Russia: They forced down the plane of a sovereign nation and searched it! And back to Clinton:
"[CLINTON:] And then he calls in to a Putin talk show and says, 'President Putin, do you spy on people?' And President Putin says, 'Well, from one intelligence professional to another, of course not.' 'Oh, thank you so much!' I mean really. I don't know, I have a hard time following it."
Clinton ignores the actual transcript of Snowden's question and Putin's answer, which her staff could surely have provided to her:
[SNOWDEN: "Does Russia intercept, store or analyze, in any way, the communications of millions of individuals?"

Putin, who identified Snowden as a "former agent" and "spy," acknowledged that he too used to work in intelligence and said, "we are going to talk one professional language" and continued to say Russia does not have a mass data-collection program.

"Our intelligence efforts are strictly regulated by our law, so how special forces can use this kind of special equipment to intercept phone calls or follow someone online, and you have to get court permission to stalk a particular person," Putin said, according to an English translation by Russia Today.
Hilariously, that's exactly the policy that John Roberts supports, at least of cellphones — "Get a warrant!" — and which the Obama administration fought tooth and nail. Here's Snowden on the exchange:
Putin's response appears to be the strongest denial of involvement in mass surveillance ever given by a Russian leader – a denial that is, generously speaking, likely to be revisited by journalists. 

In fact, Putin's response was remarkably similar to Barack Obama's initial, sweeping denials of the scope of the NSA's domestic surveillance programs, before that position was later shown to be both untrue and indefensible.
I don't see why Clinton would have "a hard time following it." In fact, if Putin's denials are shown to be false, an American administration, no matter of which party, will be the first to pick up the cudgels Snowden so helpfully left for them!
The Democratic reaction to Clinton's appearance at UConn: "Hillary Cracks the Authenticity Code." (If you listen to the tone and not the meaning of the words — the YouTube is above — Beinart is right. But I think she's been an authentic liberal interventionist all along, so there's no code to crack.) Conor Freidersdorf, perhaps surprisingly, has a more measured take:
What I do know: Any Democrat who is averse to misinformation from their standard bearer, or who wants a president committed to protecting whistleblowers, rather than dissembling about how well they're treated already, ought to find an alternative to Hillary Clinton.
* * *
From the 30,000 foot view, Hillary Clinton's book, Hard Choices, ignores the machinery of imperial disinformation ("we create our own reality") that Bush used to get us into the Iraq war, on the false premise that Saddam had WMDs. Clinton could use this machinery as President.
From 10,000 feet, Hard Choices ignores the machinery of imperial governance, which has thrown aside the Constitution in favor of a system James Madison would call tyrannical, and under which a President can assassinate U.S. citizens with impunity. This too is machinery Clinton could use as President.
From ground level, Clinton — to put this generously — gets Snowden all wrong on the detail, and she gets Snowden all wrong on the Constitutional issues he raises. She ignores how imperial disinformation systems and lethal, unaccountable powers structure Snowden's incentives, and she seems to think that Obama's treatment of whistleblowers is something other than unconscionable. These too are all attitudes we would expect Clinton to maintain as President.
I don't know if there is a candidate out there who is not a servant of empire. What I do know is that Hillary Clinton is clearly Empire's Handmaid.
NOTE [1] Sorry about the formatting; link rot is fast overcoming digital sources only a decade old, as part of our society's continuing embrace of agnotology.
NOTE [2] Assuming she's not a Straussian.
NOTE [3] To be fair, there's no reason to think Obama or any future President — for example, Clinton — would whack US citizens without due process on US soil. Because that would be bad.
NOTE [4] Yes, there's a debate between the Guardian/Greenwald/Post model, which involves gatekeepers and government vetting, and the Wikileaks (and Cryptome) model, which does not. For the purposes of discussing Clinton vs. Snowden, these distinctions do not matter, since Clinton is clearly against both.
NOTE There seems to be rather a lot of oppo on Hillary Clinton floating to the surface these days, much of it churn: Regnery Publishing, Obots looking for the Next Big Thing, snooty Villagers, random h8terz. Takes me back to the days of Richard Mellon Scaife, God rest his soul, if any, and that Arkansas bait shop. For those who came in late, Bob Somerby's Daily Howler is the goto source on media jihads, and he's now showing, in nauseating detail, how our famously free press is doing to Hillary Clinton in 2014 exactly what they did to Al Gore in 2000, which Somerby documented, as it happened, in near real time. Do you believe that Al Gore claimed to have invented the Internet? If you do, you've been p0wned! So, if anybody's got any well-sourced information on what the incipient Clinton dynasty's got going for it that's more than business as usual for our highly corrupt political class, do feel free to drop me a line. I'd be demented to put my email out, so your first test is getting in touch!