The Curse of Smart People apenwarr
Tiny Angry Seahorses Growl When Grabbed io9
Raju The Elephant Cries After Being Rescued Following 50 Years Of Abuse, Chains Huffington Post (furzy mouse). More detail on this story + video.
Dr. Jeff Masters' WunderBlog : Super Typhoon Neoguri Lashing Okinawa, Headed for Japan Weather Underground
Salvadoran Farmers Successfully Oppose the Use of Monsanto Seeds TruthOut (furzy mouse)
Introducing the Citizen Evidence Lab Citizen Evidence. Lambert : "Way cool".
What you need to know about DARPA, the Pentagon's mad science division engadget
GE Device Measures the Calories on Your Plate MIT Technology Review (David L)
Ohio man raises thousands of dollars in crowdfunding for potato salad Globe and Mail. EM: "To be fair, the business proposition here is significantly clearer than 'A company for carrying on an undertaking of great advantage, but nobody to know what it is.'"
Uber Kindly Agrees to Stop Price Gouging During Emergencies Gawker
French police smash illegal Bitcoin exchange France24 (Nikki)
Currency Reserves Swell in Asia Wall Street Journal
Thai navy opens submarine center, but lacks subs Associated Press
Credit default swap spreads show heightened political risk in Thailand caused by Suthep and his mob since October @zenjournalist
Russia's Grip Over EU Energy Unlikely to Change Soon OilPrice
France lacks the moral authority to depose the dollar Barry Eichengren, Financial Times (David L)
Israel and Hamas Trade Attacks as Tension Rises New York Times
Netanyahu government knew teens were dead as it whipped up racist frenzy Max Blumenthal, Electronic Intifada (Karen P)
Israel does not want peace Gideon Levy, Haaretz (Nikki)
Iraq
Iraq loses control of chemical weapons depot to ISIS militants RT

Floodgates open as ISIS takes over swaths of both Syria and Iraq CNN
Big Brother is Watching You Watch
Senate committee passes CISA cybersecurity bill that could broaden NSA powers RT (Nikki)
Security Theater for Fun and Profit
Banks Dreading Computer Hacks Call for Cyber War Council Bloomberg (MS)

Big Banks Want Power to Declare Cyber War George Washington

I was a TSA agent, and the new airport cellphone rules wouldn't stop an iBomb Guardian
Imperial Collapse Watch
Exclusive: CIA had role in Germany spy affair Reuters. EM: "'The relationship that the United States has with Germany is incredibly important' — The 'earnest WH spokesman' forgot to add 'which is why we treat them like lapdogs, and expect them to behave as such.'"

Washington's Arrogance Will Destroy Its Empire Paul Craig Roberts. A bit screechy, but NC readers can presumably tune that out.
Mitt Romney will run for the White House in 2016 and will WIN, claims Utah congressman as former presidential hopeful enjoys a resurgence of support Daily Mail (Lee)
Hillary Rodham Clinton Supports GMOs Liberty Voice (furzy mouse)
Let's Nationalize Amazon and Google: Publicly Funded Technology Built Big Tech Alternet
Pretend Manufacturing In The Tax System Forbes. Worse than the headline leads you to believe.
Rapid Price Increases for Some Generic Drugs Catch Users by Surprise New York Times. Only in America.
Nearly 80% of California now under 'extreme' drought conditions  Los Angeles Times
Principals Given Just 24 Hours to Make Way for New Success Academy Schools DNAInfo. Lambert: "Andrew Cuomo is a horrible human being."
America's Dairyland Turning to Petrostate: Wisconsin Oil-By-Rail Routes Published for First Time DeSmogBlog
Bankers warn over US business loans rise Financial Times. Quelle surprise, they are all for speculation of sorts.
Who Owns the U.S. Stock Market? Pam Martens (George E)
Why trading volume is tumbling, explained in 5 charts MarketWatch (furzy mouse)
Short selling at lowest level since Lehman Financial Times
U.S., Citi Near Multi-Billion Dollar Deal to Resolve Mortgage Probe Wall Street Journal. Josh R: "Used Republic for sale, cheap."
'Trust me, I am a financial adviser' is not good enough John Kay, Financial Times (David L)
Big Press on Bank of America Treatment of Whistleblower Michael Winston — But, You'll Have to Read German! Huffington Post
Class Warfare
Luxury Rolls-Royce car sales soar worldwide The Economic Times, Mumbai (Tim F)

This is what happened when I drove my Mercedes to pick up food stamps Washington Post (OIFVet)

The best of capitalism is over for rich countries – and for the poor ones it will be over by 2060 Guardian (Howard Beale IV)
Antidote du jour (Moon of Alabama, the same squirrel paid longer visit when the MoA site was up).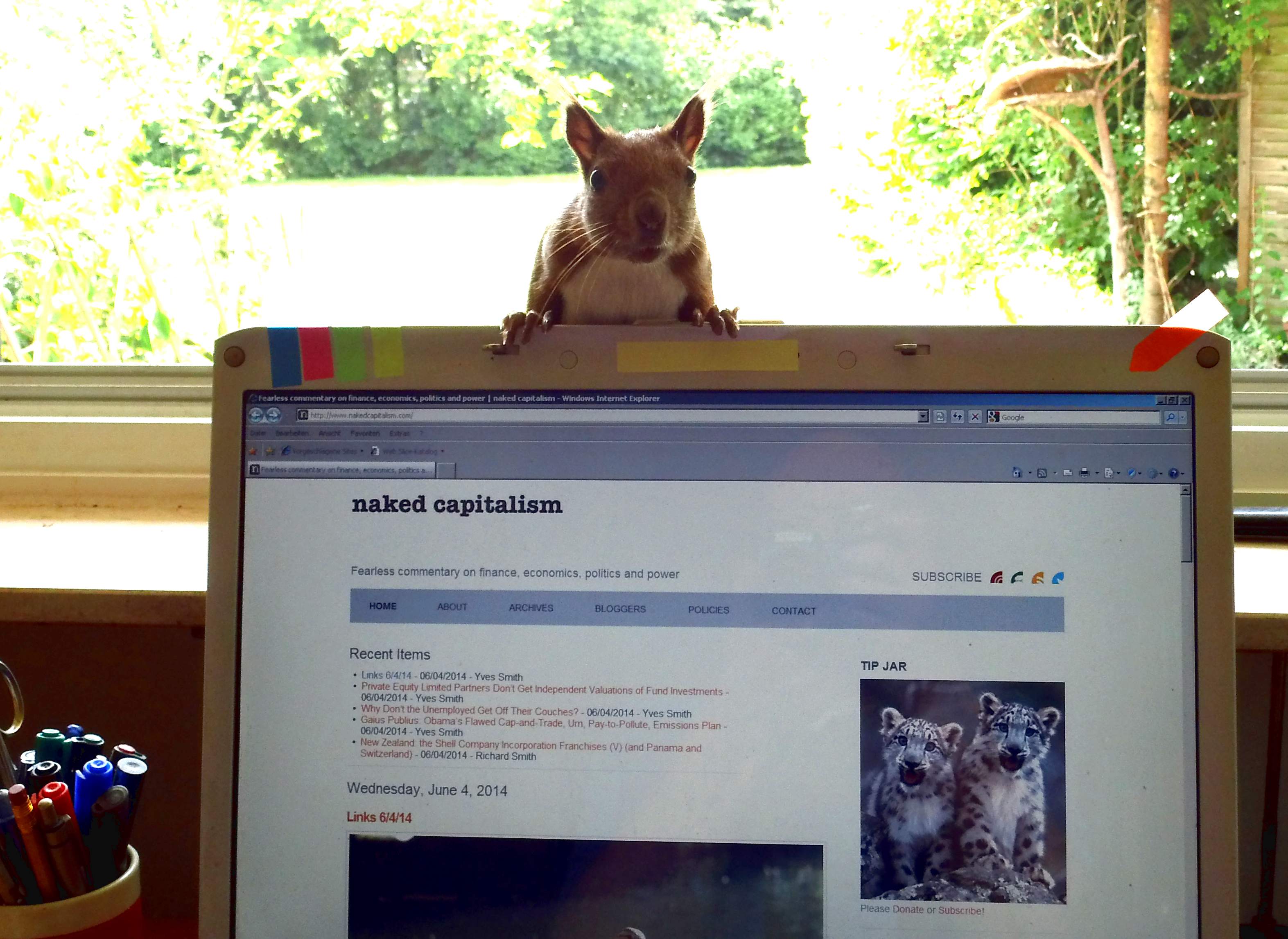 See yesterday's Links and Antidote du Jour here.