The New Rockstar Life Of Kama The Surfing Pig Huffington Post (David L)
Toxoplasma gondii can stop cancer in its tracks as a vaccine MedicalXpress (Chuck L). Badly written but interesting.
Meet the electric life forms that live on pure energy – life New Scientist
Protect Society from Our Inventions, Say Genome-Editing Scientists MIT Technology Review (Chuck L)
Homophobia, racism and the Kochs: San Francisco's tech-libertarian "Reboot" conference is a cesspool Mark Ames, Pando
A peek into the IMF machine Gillian Tett, Financial Times
China vs. Japan Debt Capacity; Impact of Debt on Chinese Growth; Chinese Recovery On Paper Michael Shedlock
Taking Back America: Here, Finally, Is A Chinese Mega-Blooper — And A Chance For The U.S. To Turn The Tables Forbes (Bob H). The headline is awful and jingoistic, but the story nevertheless flags a Chinese infiltration of sorts.
Will Indonesia's presidential election be stolen? Washington Post
Lost US extraordinary rendition files have 'dried out', Foreign Office says Telegraph (YY). The dog threw up the homework?
Needing Skilled Workers, a Booming Germany Woos Immigrants New York Times
The NHS is being taken over by Wall Street. And Cameron won't stop it Guardian (Harry Shearer)
U.S. sanctions on Russia are financial warfare Frances Coppola
Putin's Approval in Russia Soars to Record, America's Plunges to Near Zero Wolf Richter
Iran, West Agree to Extend Nuclear Talks Until November Wall Street Journal
China lends Argentina $7.5 billion for power, rail projects Reuters
Gaza
Ukraine
Iraq
Islamic State overwhelms Iraqi forces at Tikrit in major defeat McClatchy (furzy mouse)

Iran balks at Kurdish statehood threats Asia Times
Big Brother is Watching You Watch
Edward Snowden urges professionals to encrypt client communications Guardian. Aargh, due to Gaza and Ukraine, a day late on this. Watch the interview here.

The Growing Threat Of Network-Based Steganography MIT Technology Review
BNSF, labor union reach tentative deal to allow train operations with 1 employee McClatchy. Chuck L: "As Lambert would put it, 'What could go wrong?'"
Study shows state legislators in favor of voter ID laws are motivated by racial bias PhysOrg (Chuck L). Quelle surprise!
Thousands March in Detroit Against 'Heartless' Water Shut-Offs Common Dream (Nikki)
Americans feeling more confident about finding better-paying jobs Los Angeles Times
CFPB: Let Consumers Make Their Complaints Public; All Rejoice Dalié Jiménez, Credit Slips
CalPERS Private Equity Returns: Good, But Not Good Enough CEPR. So much for private equity's great returns. PE returns lagged public equity by nearly 5% at CalPERS.
Yuba jury awards $16 million in mortgage case Sacramento Bee (Deontos)
Class Warfare
Market Basket Employees Rally for CEO's Reinstatement Boston Globe
Part-Time Schedules, Full-Time Headaches New York Times
Antidote du jour. Lance N: "Dog not quite understanding a hammock":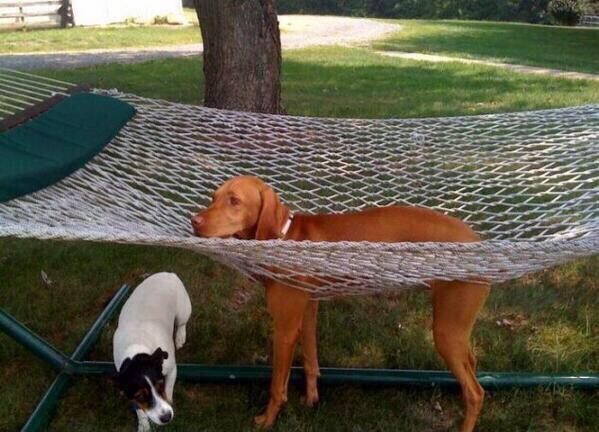 And a bonus antidote, albeit not of the usual sort:
See yesterday's Links and Antidote du Jour here.