Yesterday, we wrote about a major loss by the electronic mortgage registry, MERS, in a major Federal court case in Pennsylvania. MERS suffered an additional blow via an important adverse decision in the Maine Supreme Court, against Tom Cox, the attorney who first made robosigning a national issue.
Because mortgage abuses have faded from national headlines, some readers may not be familiar with MERS. MERS was created to replace the system of local recording of mortgages. While such an idea could have had merit (for instance, Australia has a national mortgage registry that by all accounts works well), MERS was designed for the convenience of banks and mortgage securitizers, with no review of how it would work with well-established real estate law in 50 states. MERS is a classic example of what Lambert calls "code as law" where computer systems are put in place and contracts and legal precedents are expected to conform to the dictates of often-not-well-enough-designed "innovations". And even worse, in the case of MERS, the database protocols fall shockingly short of well-established norms for information integrity and security.
It is important to remember that with over 60 million mortgages in MERS, the records that show ownership and liens against many Americans' biggest asset are in serious doubt. Yet astonishingly, MERS has been able to maintain a facade of legitimacy, mainly by settling cases that looked to pose a threat to its operations. However, a few important challenges have crept through. One was a case filed on behalf of all Pennsylvania county recorders. If it survives appeal, it will deal a fatal blow to the use of MERS in that state, will almost certainly result in large damages, and will have serious ramifications in other so-called "title theory" states.
The Maine victory by Thomas Cox is more decisive, in that MERS has no where to go in Maine after losing in the Supreme Court. Its full ramifications are not fully clear, however. We've embedded the ruling below.
As the justices explain, the initial filing in Bank of America v. Greenleaf was a mess, leading the court to sanction the attorney. Nevertheless, BofA was able to muster enough of an argument to win a judgment against the borrower. Greenleaf appealed. The case made its way to the Supreme Court, with the argument focused on standing, as in whether Bank of America had the right to foreclose in the first place. The Supreme Court agreed that the bank had established that it was the holder of the note (the borrower IOU) in that it had possession of a note endorsed in blank. But the court stated that that was insufficient, and it also had to establish that it had "requisite interest" in the mortgage. Bank of America tried to show that through documents that showed that the Greenleafs had signed a mortgage with RMS, a lender, and MERS as the lender's nominee. Another record showed that, as the court put it, "MERS purports to assign the mortgage to BAC" in 2011. The Supreme Court found that this did not pass muster. The key section: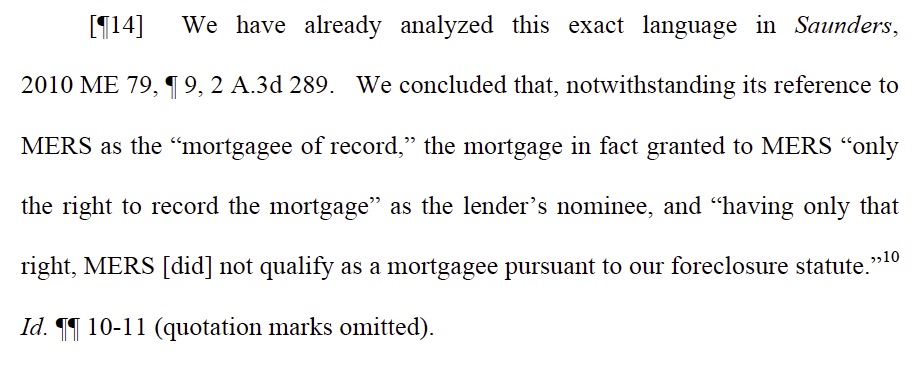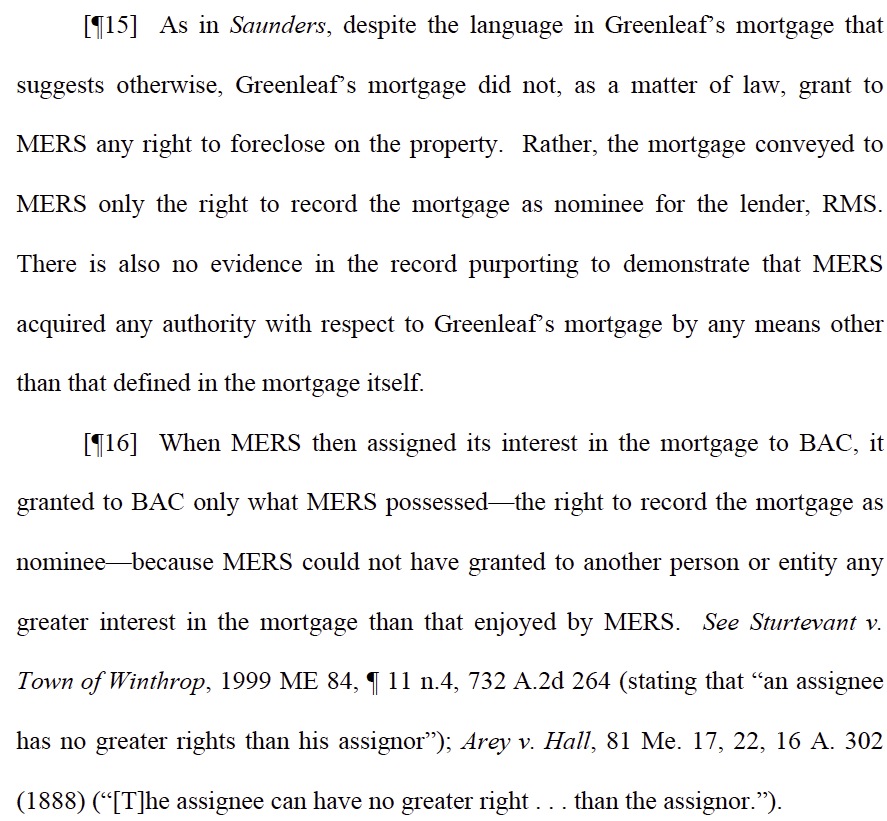 Tom Cox explained what this means for MERS via e-mail:
The Maine Supreme Court has held that a MERS mortgage assignment, by itself, is not sufficient to prove an assignment of a mortgage. There are two solutions: one is for the forclosing party to obtain an assignment from the originating lender, but many of them are long out of business so this may not be a viable solution. The alternative is for the servicer for the forclosing party to prove up the MERS membership agreement of the foreclosing party, the MERS Membership Rules, the MERS Procedures Manual and related documents to prove that the MERS really does have the capacity to assign a mortgage. I don't think that the evidence rules will allow the servicers to do this. Thus, this decision starts to raise a serious question as to whether MERS continues to be a viable operation in Maine. Maine is the first state supreme court with such a decision. If other states go this way, MERS is in trouble.
Hats off to Tom Cox for his continued good work. And let's hope that these ruling against MERS force fundamental changes to a heretofore unaccountable and recklessly run operation.