Bear in distress saved by Wisconsin logger Star Tribune (Chuck L)
Tiny Flying Robots Are Being Built To Pollinate Crops Instead Of Real Bees Business Insider (David L). I find this sad. Instead of saving bees, we will find a way to live without them.
Twitter Shuts Up When Penalty Kicks Are Taken Regressing (Chuck L)
For Taylor Swift, the Future of Music Is a Love Story Wall Street Journal (David L)
Earthquakes Linked To Fracking OilPrice
High earners in a stock market game have brain patterns that can predict market bubbles MedicalXpress (Chuck L)
Ritalin May Be Sabotaging Your Kids Bloomberg EM: "This piece is truly bizarre – despite their own findings clearly showing that these by-now-epidemic-level chemical experiments on the most vulnerable subjects possible being worse than useless in terms of efficacy, the authors use wording worthy of paid shills for Big Pharma."
The Transpacific Partnership and "Free Trade" Economix Comix. Pat: 'An illustrated explanation of free trade and TPP, connects the dots in a way that this non-economist can understand. Long but worth the read."
China Developers Slow to Pay Realtors Amid Rout, Centaline Says Bloomberg. EM: "LOL@'the government's four-year effort to rein in prices.'"
Problems are being sorted with bewildering speed Bangkok Post. Furzy mouse: "​Indicting the police contingent."
Swiss threaten to freeze US accounts Financial Times
Europe's Debt Wish Kenneth Rogoff, Project Syndicate (David L). More important than anodyne headline suggests. Rogoff argues that debt restructuring is necessary, at least if Europe ever wants to have growth.
ECB under pressure to rein in 'crazy' euro Financial Times
German exports and imports fall more than expected in May Reuters
Italy should lead the way out of the euro-zone Bill Mitchell. Ambrose Evans-Pritchard predicted this some time ago.
The Beveridge report revisited: where now for the welfare state? Guardian (Bob V). Important.
Scottish independence could be 'more damaging for UK than 2008 banking crisis' Telegraph
Israel launches new strikes on Gaza BBC
Iraq
ISIL destroying Shiite mosques, holy sites in seized territory Washington Times (Chuck L)

Obama's 'unity government' plan in Iraq is just a mirage Washington Post
Big Brother is Watching You Watch
Time Magazine shows just how creepy smart homes really are Pando

In The NSA Archive: 800 Pages Of Doomed Lovers' Emails, Facebook Messages Forbes

Senators Clueless About NSA Bombshell Daily Beast
Imperial Collapse Watch
Who is considered ostensible ally by the US? failed evolution

White House on the back foot over CIA role in German spying scandal Guardian
In addition to "Big Brother is Watching You Watch," we may need to inaugurate "Security Theater for Fun and Profit. CFS and FBI Announce Public / Private Cyber Security Partnership Center for Financial Stability. MS:
Former NSA Director Keith Alexander is now working for SIFMA for $1M a month to coordinate a new cyberwar council of government (NSA/DHS/FBI/Treas) and banks, and the administration is handing out clearances to bank personnel.

Then, a few weeks, defense contractor BAE announced that a hedge fund had been 'hacked' in a cyberattack. Last week BAE said that it had been a mistake, and that no hack had occurred.

After the initial announcement of the attack, the Center for Financial Stability and the FBI announced a partnership on cyber-security.
REVEALED: Court docs show role of Pixar and Dreamworks Animation in Silicon Valley wage-fixing cartel Mark Ames, Pando. Note Obama's biggest fundraiser's role in this scheme.
Wall Street Offers Clinton a Thorny Embrace New York Times. Huh? As if she and Bill ever let go?
#HobbyLobbyLove is a thing, but it's not going well Daily Kos
Industry Data Show Oil-By-Rail in North America at Record Levels DeSmogBlog
Who Stole the Water? Mens Journal. Jason: "It used to be 'as California goes, so goes the nation' but in our neoliberal near-future it's going to be 'as Texas goes, so goes the nation' and down here in the Lone Star State the rentiers have taken complete charge."
Detroit: My Complication Had A Little Complication Melissa Jacoby, Credit Slips
Fed Defends Its Approach to Punishing Banks for Improper Foreclosures Wall Street Journal. This is pathetic and embarrassing. The idea that $3.1 billion in payments for abuse of millions of borrowers is remotely adequate beggars belief, particularly when contrasted with the $8.9 billion fine at one bank, BNP Paribas. No one, and I mean no one, even the OCC, attempted to defend the wind-up of the botched Independent Foreclosure Review at the time. So the Fed is trying to rewrite history now that memories have presumably faded?
A Potential Foreclosure Crisis Looms Over America Alternet
Welcome to the Everything Boom, or Maybe the Everything Bubble New York Times
Milton Friedman's economics and political economy: an old Keynesian critique Thomas Palley
Class Warfare
Antidote du jour. Bob: "Still trying to identify what the hell it is. Flash kills the color, but he was mostly dark green with some blue/purple hue. HUGE. I believe it's some sort of silk moth."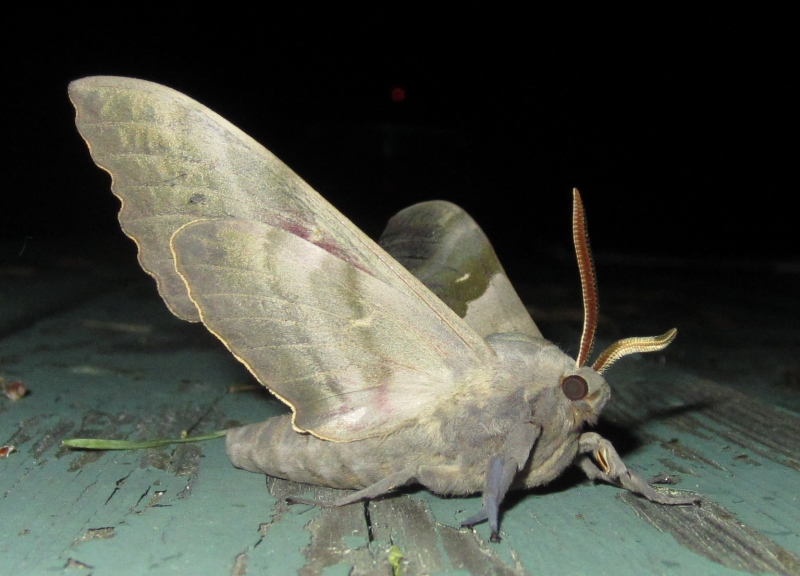 See yesterday's Links and Antidote du Jour here.