By Lambert Strether of Corrente.
I'm fascinated to see the Stare Kiejkuty story come alive, because I did some posting on it, back in my salad days, eight years or so ago, back when we were fresh and new and thought electing more and better Democrats was important because they opposed stuff like extraordinary rendition and torture because such things were wrong, not because their guy wasn't the one doing it (leaving aside the occasional honorable outlier like Ron Wyden). Anyhow, the Stare Kiejkuty story came alive again last week. Reuters:
The CIA ran a secret jail on Polish soil, the European Court of Human Rights ruled on Thursday, piling pressure on Poland, one of Washington's closest allies, to break its long silence about the global programme for detaining al Qaeda suspects.

The court said it had been established that the CIA used a facility in a northern Polish forest, code named "Quartz", as a hub in its network for interrogating suspected al Qaeda operatives rounded up after the Sept. 11, 2001 attacks. …..

Thursday's ruling was the first time that a court in Europe had said that the CIA operated one of the secret jails – often referred to as "black sites" -on the continent.

The court case was brought by lawyers for two men, Saudi-born Abu Zubaydah, and Saudi national Abd al-Rahim al-Nashiri, who are now both inmates at Guantanamo Bay, the U.S. military's prison on Cuba.

They alleged they were flown in secret to a remote Polish airfield, then transferred to the CIA-facility near the village of Stare Kiejkuty where they were subject to treatment they said amounted to [was] torture. …

The court found Poland violated its obligations under the European Convention on Human Rights to prevent torture, ensure the right to liberty, and properly investigate allegations a crime had been committed on its territory.

The ruling from Strasbourg may have implications for other European states alleged to have hosted CIA prisons: similar cases have been lodged with the court in Strasbourg against Romania and Lithuania. …
Let's not worry about the other torture camps we apparently littered the European landscape with, and focus only on Stare Kiejkuty. Here is the press release from European Court of Human Rights (ECHR), and here are the two decisions: Al Nashiri v. Poland [PDF] and Abu Zubaydah v. Poland [PDF]. They are lengthy and very detailed. Kevin Gosztola has good background here. (Note that Poland may appeal.) 
Now, presumably Ron Wyden is, at some point in the not too distant future, going to manage to get the Senate Select Committee on Intelligence's 6300-page report on CIA torture released, either by declassifying it after White House censorship, or, as Mike Gravel suggests, by simply publishing it, uncensored, using the speech and debate clause of the Constitution everybody tells me we still operate under. And although that report will surely include material on Stare Kiejkuty, I don't see a need to speculate about what's in it, assuming it's going to be released anyhow. However, there are two very obvious questions raised by the European Court of Human Rights decision, and I'd like to raise them now, because when the report does come out, they are the questions I'd like to look into first. They're in the headline:
How many people were processed through Stare Kiejkuty?
Where are they now?
Because, when you think about it: (1) Surely more than two[1] people, Zubaydah and al-Nashiri, were processed, so how many? And if more than two, (2) surely it's a more than a little remarkable that nobody talked? So where are they?
Again, I don't want to speculate, too freely, at least. But I think we can at least try for some "back of the envelope" calculations that will give us the parameters to the first question, and see how far that gets us with the second question. What do we mean by a "back of the envelope" calculation? From Jon Bentley's wonderful Programming Pearls: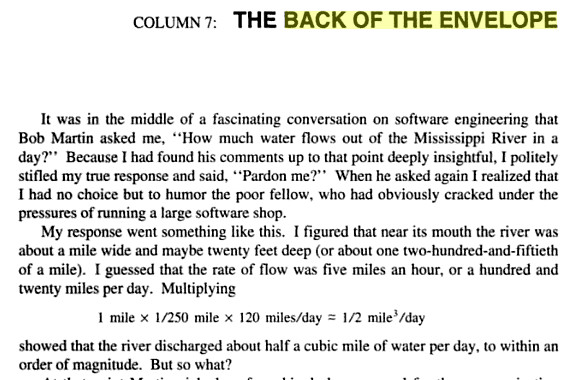 So, if we're looking at people processed through a torture camp instead of water flowing through the Mississippi, what do we need to know? Inputs, throughput, and output. (Correct me if I am wrong, here, readers; I never did become a programmer!) Input: how many flights per day * average prisoner count per plane; throughput: how many cells * average length of stay; output a function of the first two.  I imagine people in the hotel business make much the same kind of calculation when deciding where and what to build. Funny to think of a degree in hotel management qualifying you plan a torture camp, but it's a funny old world. Of course, the whole process is secret, so we'll be missing huge chunks of data. Maybe the Senate report, in whatever form it comes out, will fill in the blanks.
Input: How many flights, how many passengers?
It's hard to know how many flights there were; Boeing subsidiary Jeppeson, for example, filed the flight plans for 70 flights, but the ECHR's decisions (see PDFs above) say their flight plans were fake, as indeed we would expect them to be. The European Parliament's "Draft Report on the alleged use of European countries by the CIA for the transportation and illegal detention of prisoners" gives a total of 1245 flights for Europe as a whole, some of which have multiple stops, based on the "Contribution of the Rapporteur." WaPo (2014-01-23) says that "The CIA prison in Poland [Stare Kiejkuty] was arguably the most important of all the black sites created by the agency," and so it's hard to believe that a substantial portion of the 1245 flights — that is, more than 70 — didn't end up there. (For something more than the back of an envelope, I'd go through the "Contribution of the Rapporteur" and take subtotals. Maybe soon, if there's enough reader interest.)
So how many passengers? Again, hard to know. We tend to think of the torture planes as executive jets (like the one the CIA charted from Phillip H. Morse, a minority partner of the Boston Red Sox), and sometimes they were. From Al Nashiri v. Poland:
On 4 December 2002 a CIA contracted aircraft, a Gulfstream jet (capacity for 12 passengers) registered as N63MU with the US Federal Aviation Authority and operated by First Flight Management/Airborne Inc., flew the applicant and Mr Abu Zubaydah from Thailand to the Szymany military airbase in Poland.
However, the CIA fleet included at least one Boeing 737. Also from Al Nashiri v. Poland:
Specifically, we have collected information that CIA airplanes travelling from Afghanistan in 2003 and 2004 made direct flights to remote airfields in Poland and Romania. Human Rights Watch has viewed flight records showing that a Boeing 737, registration number N313P – a plane that the CIA used to move several prisoners to and from Europe, Afghanistan, and the Middle East in 2003 and 2004 – landed in Poland and Romania on direct flights from Afghanistan on two occasions in 2003 and 2004. Human Rights Watch has independently confirmed several parts of the flight records, and supplemented the records with independent research.
So, one executive jet we know of has a capacity of 12; and the Boeing 737 has a minimum capacity of 85 and a maximum of 215. And the planes aren't necessarily full. Flights can be two ways, so let's be generous and throw out half of 1245, and be generous again, and figure only half the remaining flights went to Stare Kiejkuty, even though it's the most important site; that's 311 flights. Let's be more generous still, and assume that there were 300 Gulfstream flights and only 11 737 flights. Let's assume an average prisoner count of 2 on the Gulfstreams, leaving 10 empty seats: that's 2 * 300 = 600 prisoners. Let's assume an average prisoner count of 20 on the smallest 737, leaving 65 empty seats. (Presumably, even with an unlimited black budget and no oversight, the CIA wouldn't use a 737 for onesies and twosies. Although you never know!) 11 flights times 20 prisoners = 220. 220 + 600 = 820 prisoners. Any errors due to rounding! (For comparison purposes, the military prison system held 14,000, according to AP.) Assume 820, then. Gitmo seems to have a capacity of 500, tops. Assume Gitmo was solely populated by prisoners from  Stare Kiejkuty. Where are the other 320? OK, too many assumptions! Let's go at this another way.
Throughput: How many prisoners, what length of stay?
How many prisoners? One way to guesstimate the number of prisoners is to check the size of the facility, just as you would for a hotel by counting the windows. And here WaPo was a very interesting statement in its story of 2014-01-23: 
The Polish intelligence service, known as Agencja Wywiadu, had a training base with a villa that the CIA could use in Stare Kiejkuty, a three-hour drive north of Warsaw. The accommodations were not spacious. The two-story villa could hold up to a handful of detainees. A large shed behind the house also was converted into a cell.

"It was pretty spartan," the agency official recalled.
A "villa" and a "shed," huh? Oh-kaaay. We're relying on CIA sourcing here, and only that sourcing, and the clear implication is that only a small number of prisoners were processed. ("Move along people, move along. There's no story here.") Far be it from me to suggest that the CIA source is completely self-serving, or that WaPo's single-sourced reporting is at best sloppy, but contemporary reporting from Stare Kiejkuty differs substantially. From the UK's Sunday Mirror (in a story that's rapidly succumbing to bit rot):
Sunday Mirror investigators last week breached the one-mile security cordon around the complex in the muddy village of Stare Kiejkuty, 100 miles from the Polish capital of Warsaw. Many of the 250 locals have family working as army conscripts on the other side of a new Iron Curtain – a three-mile long, two-metre high fence.

Posing as tourists visiting the village in Poland's equivalent of the Lake District, we rented a chalet 400 metres from the main entrance of the base.

Despite claims the site has high-tech surveillance – including infra-red thermal sensors to detect body heat – it seems little has changed from its 1970s Communist-era role as a base to train Soviet agents and assassins. British traitor Kim Philby taught at the base.

The car park contained at least 25 vehicles. At least three watch-towers had been left abandoned, and 150metres away was a green hangar the size of a football pitch. Locals say this was built last year to house newly-arrived inmates. Other buildings in the complex consist of three fortified bunkers above ground and a firing range.
And here's the back-of-the-envelope calculation for that:
A football pitch is 100-130 yards deep, and 100-50 yards wide. Let's assume the largest possible size for the hangar, since  Halliburton (say) got the contract. 130 x 100 is 13,000 square yards. Assume a three-story hangar: 13,000 x 3 = 39,000 sq yds. Assume only 2/3 of the space is used for prisoners: Call it 25,000 square yards. Assume a cell is 3 x 3 yards, or 9 sq yds. 25,000 / 9 = 2777, call it 2500 cells.
So, 2500 cells in Stare Kiejkuty at the high end or, assuming one story, one third of that, or 833. Sadly, however, we don't know when the "guests" "checked in" or "checked out" so we don't know throughput even if we can guess at the number of "rooms." And I swear, by whatever you choose to name, that I didn't know how similar the one-story figgerin' of 833 would be to 820. Probably means I'm underestimating by an order of magnitude. Because I'm never cynical enough!
Output: How did the prisoners leave, and where did they go?
As for how the prisoners left, and where they went, unless they went to Gitmo, we just don't know. If I'm anywhere near right on the back-of-the-envelope calculations, then there are a minimum of several hundred prisoners unaccounted for. I hope the CIA got them to sign nondisclosure agreements, as opposed to (say) following the example of the Argentian services in the days of their military dictatorship. Because that would be bad. Of course, the complete release of the Senate Select Committee's report may lay this issue to rest. What we do know is that a censored or incomplete release will not. 
NOTES
[1] We know of a third case, Khaled El-Masri, a German citizen who was mistakenly grabbed by the Macedonian police and handed over to the CIA, who tortured him. Here too the European Court of Human Rights did the work of civilization.
* * *
Readers, I'd be very grateful if you checked my work carefully. And since I'm just getting my head round this story again, and I have the feeling it could be big — Versailles is a sack of pus waiting to burst — I'd also be grateful for any original (not aggregated) sourcing on this, as close to primary as you can get — plane spotters are great. The European (non-English speaking) press would also be very useful, especially contemporary accounts. For example, Richard Smith points out in mail via the IICJ:
Surprisingly, or not, the CIA, and both the official and unofficial Russian arms export industry, and investment scammers as well, all use shell companies that have the same nominee director, possibly a sign that just one company formation agent, an Irish chap called Burwell, is acting for all of these outfits.
Bottom feeders, all of 'em. But please, no "Just watch this YouTube!" and no hairballs. Thank you!