Reader Deontos sent a link to a provocative article on SSRN, The Lawyer-Rent Seeker Myth, by Teresa Schmid. Schmid focuses explicitly on the impact of economic theory on how legal services are delivered. Using county-level data in Oregon, Schmid make a persuasive case that lack of access to legal representation isn't just a social justice issue but is also an economic problem, since it exacerbates poverty and inequality.
Since the Carter Administration, pundits and citizens accept the notion that America is overlawyered and that legal action constitutes a deadweight cost on economic activity. However, the public does not realize that this point of view was promoted aggressively and is even tacitly accepted in the legal profession despite a lack of evidence. As Schmid describes, the result of this line of thinking going mainstream is the implementation of policies to reduce the access of lower and middle income people to free or affordable legal services. The inability to obtain legal representation has much greater economic costs than the anti-lawyer consensus recognizes.
Indeed , given that the Carter era also saw the first Administration push towards deregulation, it would be logical to expect the number of lawyers per capita to rise, not decline. After all, the "free markets" fantasy of a thin-form government rests critically on individuals being able to enter into contracts and enforce them. That in turn means that the hollowing out of the executive branch and regulations as the main bulwark of consumer protection should lead to an increase in the use of attorneys to defend individual rights. The fact that litigators in particular are depicted as at best a necessary evil and at worse parasites, reveals yet again the true aim of the neoliberal project: not to create a "freer" as in better, society, but to create a tooth-and-claw version of capitalism where the rich and powerful have the "freedom," meaning the scope of operation, to prey on the lower orders and consolidate their advantaged position.
One of the most revealing sections of Schmid's paper is her review of the evidence used to promote the idea that the US was suffering from a locust-like plague of too many lawyers. The concern is founded on anti-trust, that any monopoly or cartel arrangement is an exercise in rent seeking. However, it's worth noting that the intensity of the focus on the idea that there might be too many lawyers isn't matched with similar worries that there are too many accountants or doctors, which are both professions that use educational attainment and licensing to limit entry. Indeed, the charge that the legal profession has created too many rent-seeking (as in overpaid) lawyers is contradictory. A cartel that allows too much product, in this case attorneys, to be put on the market is a pretty crappy cartel, since an oversupply will depress prices.
It's also worth noting that the efforts to depict the number of attorneys as a drag on commerce started around the time another initiative to turn the legal system into a vehicle for promoting commerce was starting to get traction: the law and economics movement. Led by Henry Manne, this effort used legal education to inculcate notions that turned long-established foundations of the law on their head. As we wrote in ECONNED:
The law and economics promoters sought to colonize legal minds. And, to a large extent they succeeded. For centuries (literally), jurisprudence had been a multifaceted subject aimed at ordering human affairs. The law and economics advocates wanted none of that. They wanted their narrow construct to play as prominent a role as possible.

For instance, a notion that predates that of the legal practice is equity, that is, fairness. The law in its various forms including legislative, constitutional, private (i.e., contract), judicial, and administrative, is supposed to operate within broad, inherited concepts of equity. Another fundamental premise is the importance of "due process," meaning adherence to procedures set by the state. By contrast, the "free markets" ideology focuses on efficiency and seeks aggressively to minimize the role of government. The two sets of assumptions are diametrically opposed.
The studies that depicted America as suffering from a plague of lawyers are few and are embarrassing examples of ideology with numbers pretending to be research. For instance, an influential 1984 broadside, The Invisible Foot and the Waste of Nations, by Stephen Magee, William Brock, and Leslie Young, gained traction through the use of an "invisible foot" metaphor to attack attorneys. It also contained such bold formulations as, "By definitinon, rent seeking is just a legalized, white collar version of ordinary criminal activity." Schmid summarizes some of what Magee et al. tried to pass off as analysis: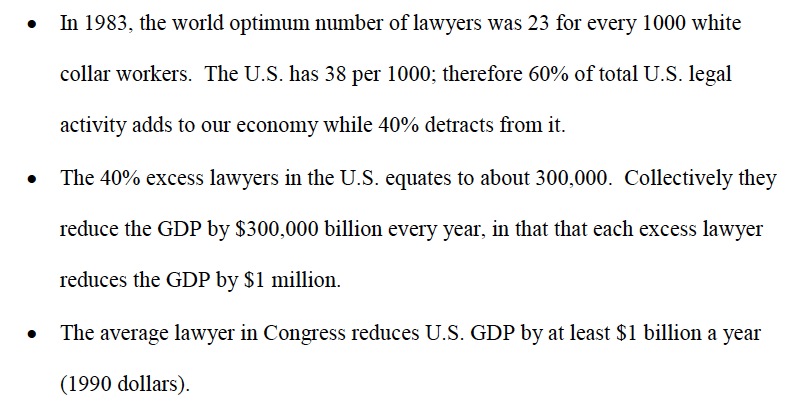 The entire analysis hinges off the "world optimum number" which is a huge tell that the "analysis" was the sort of fabrication that in my big firm consulting days would be called "McKinsey intuition." But it's worse than that, because the idea that there is a one-size-fits-all number of attorneys across disparate legal systems is obviously a crock.
For instance, Japan when I worked there (the 1980s) was not a contractual society. Everything (and I mean everything) was done on the basis of understandings and relationships and would be argued as events played out. It was extremely difficult to get Japanese clients doing business abroad to understand that an acquisition contract was the deal and that the verbal representations made by the other side meant nothing, and the Japanese client would no recourse except what was in the contract once they signed the agreement. Similarly, one simply did not litigate in Japan. It was worse than getting divorced in the US circa 1955. It meant something was seriously wrong with the party filing the suit. And criminal defense? Fuggedaboudit. Conviction rates in Japan were 99%, largely due to police beating confessions out of suspects. But by contrast, Japanese government officials were feared and respected in Japan, and so Japanese companies didn't buck their directives. And Japanese executives still take personal responsibility for corporate scandals, as periodic resignations indicate. So the entire social structure of well agreed upon norms, the importance of maintaining good relationships (as in not screwing people and maintaining a good image) and regulators with clout reduces the need for courts as a check and balance to well below the norms in other advanced economies.
Similarly, as John Hempton has pointed out, the US relies more than any other advanced economy on private insurance, such as disability insurance, in place of social safety nets. That means that one would expect more litigation as a result of the resulting greater number of disputes.
And the "optimal" or expected number of lawyer would even vary by state, since some states have much tougher state-level consumer regulation (for instance, in New York, the state insurance regulator has long been aggressive about intervening when consumers file complaints) while other states such as Alabama instead have laws that contemplate that wronged consumers will turn to the courts.
Admittedly, the Magee study did extend some of the thinking of earlier work by Mancur Olson and Gordon Tullock raised doubts about the role of attorneys. However, some of these studies were more nuanced and equivocal in their conclusions. Olson was opposed to guild-like organization, particularly state bar associations. But at the same time, he saw access to courts as a public good:
Olson uncovered, but did not fully explore, the dichotomy arising when access to a public good (the courts) depends on the availability of a private good (legal services) to individuals who are not members of the collective (the organized bar.) Nevertheless, Olson's logic of collective action demonstrated that government and associations can be subject to similar demands for public and collective goods, and that each may have to rely on taxation models to meet those demands. To that extent, he opened a discussion as to how collective action serves a variety of public interests as well as private interests in the policy arena.
And if the topic is rent-seeking, why are attorneys as a whole targeted? What about the financial services industry, or oligopolists like local broadband providers?
Schid shows how Magee's "lawyers as parasites" model had a detrimental impact on the funding of legal services for the poor, created as part of Lyndon Johnson's War on Poverty, first as OEO's Legal Services Program, later as the Legal Services Corporation. Even at its peak, funding was meager relative to need:
Between 1959 and 1971, the total number of lawyers in the United States exclusively employed in serving the poor grew from 292 to 2,534, and the government's total investment in legal services grew from $2,084,125 to $77,272,710. Even at 1919 poverty levels, however, that represented a distribution of 13,812 poor people per legal aid lawyer31 and a per capita investment of only $2.21, the gap presumably to be filled by private donations and pro bono services to be provided by 355,242 practicing lawyers nation-wide. The scope of this assumption is mind-boggling: in addition to maintaining a practice sufficient for his or her own support, under this model every attorney in the United States would be expected to volunteer enough hours to meet the legal needs of approximately 100 poor people.
Nevertheless, the OEO Legal Services Program learned how to punch above its weight:
[T]he Legal Services Program …adopted a policy of advancing impact litigation, especially cases that protected entitlements to the new programs created as part of the War On Poverty…This activity resulted in decisions such as Shapiro v. Thompson, 394 U.S. 638 (1969) [prohibiting arbitrary denial of welfare benefits to legitimate recipients]; Goldberg v. Kelley, 397 U.S. 254 (1970) [requiring government to provide due process before denying benefits]; and Edwards v. Habib, 397 F. 2d (D.C. Cir. 1968) [prohibiting retaliatory eviction from residential housing.]
Both the funding and scope of this representation has been curtailed considerably. Not only was LSC's funding cut well below the level of "minimum access" (two lawyers for every 10,000 poor people) but its scope was narrowed as well:
The funding cuts of 1996 were accompanied by the restrictions on LSC activities, the bulk of which that are still in force today:36 Section 504(a) prohibits the use of LSC funds for 19 specific activities, many of which had previously been central to the legal aid mission. These restrictions included prohibitions on lobbying; participating in class actions; representing any aliens not lawfully present in the United States (later overruled by the Supreme Court so as to permit representation of victims of domestic violence); defending a person subject to an eviction proceeding from public housing if the person has been charged (not convicted) of drug activity; participating in any litigation with respect to abortion; participating in any litigation on behalf of a person incarcerated in a federal, state or local prison (whether or not convicted of a crime); and claiming attorneys' fees from litigation, even if such fees are permitted or even required to be paid under federal or state law. In sum, federal funding for legal aid was effectively limited to serving individual clients on a case-by-case basis rather than pursuing systemic legal reform. As a result, enforcement of consumer protection laws and public safety regulations through private litigation has become increasingly important as a vehicle for compensating consumers injured by major corporations.
Scmid relies on detailed county-level work in Oregon to demonstrate that limited access to legal counsel worsens poverty. For instance, in the case of domestic disputes, while police can intervene, the most they can do is stabilize a bad situation. In family court, it takes effective representation to assure that the unwinding of a marriage results in two households that have decent odds of making it from an economic perspective. Similarly, in California and New York, between 70% and 90% of borrowers fighting foreclosure were pro se. If a much larger proportion had had good attorneys, it's hard to imagine that the authorities would have been able to paper over servicing and chain of title abuses.
Schmid's analysis of detailed information in four Oregon counties on population growth, changes in poverty rates, domestic violence, nights in shelters (and unmet demand for shelter beds) and divorce rates indicates that sufficient access to representation to allow for dissolution of marriages is an anti-poverty measure. And intuitively, there are many other ways that having a lawyer can make a big difference in the financial standing of low-income people, including foreclosure cases, landlord-tenant disputes, employment cases, and consumer fraud.
Schmid points out that the Fed's low interest rate policies are hurting poor people through reducing support for legal aid. Banks pay interest on lawyers' escrow accounts, and programs implemented on a state level called Interest on Lawyers' Client Trust Accounts allow for the interest paid to help fund legal services. As Schmid notes:
In light of the results yielded by this study on how increased access to legal
services is associated with declines in both domestic violence and poverty, it is likely that the precipitous drop in IOLTA revenues resulting from the drop in the Federal Funds rate provides a partial explanation. A significant decrease in the availability of legal services would deprive low-income Oregonians of legal protections for jobs, consumer protection, even entitlements such as welfare and Medicare benefits. Predictably, that would magnify the effects of an economic recession, making poverty more intractable and
recovery more elusive.
Schnid proposes a variety of remedies, including having bank lending under IOLTA count towards their Community Reinvestment Act requirements, as well as restoring tax-preferred prepaid legal services as an employee benefit. But it is not clear how to remedy the bigger issue that she flags as the premise of her paper: the belief that reducing the number of lawyers is pro-growth, particularly when other advanced economies are reaching the opposite conclusion. But here, fewer lawyers means unequal access to the court system, an outcome that serves the interest of the rich and powerful well. Thus it's unlikely that we'll see any change on this front soon.