The Wall Street Journal reports that banks have become much less active participants in the repo market, which is a critical source of short-term liquidity for big investors.
Repo was a major focus of concern during the crisis. The Fed halted a run on the repo market when it provided guarantees to money market funds in September 2008 after the Reserve Fund "broke the buck," leading customers to pull funds out of other money market funds.
For newbies, large investors use repo rather than park funds with banks. Deposits are guaranteed only up to $250,000 per account, and even though there are services that will break up deposits and distribute them among small banks, those can handle wealthy individuals, not major institutional players.
With "repo," which is short for "sale with agreement to repurchase," an investor with securities can turn them into cash on a short-term basis by selling them (say overnight or for a week) with the said agreement to buy them back at a higher price, which amounts to getting a short-term loan, with the bonds pledged as collateral. The reason this arrangements appeals to lenders like money market funds is that they see the loan with collateral (a high quality bond, ideally Treasuries) as more secure than an deposit at a bank in excess of the guaranteed level. The graphic from the Wall Street Journal gives a simplified idea of how this arrangement normally works: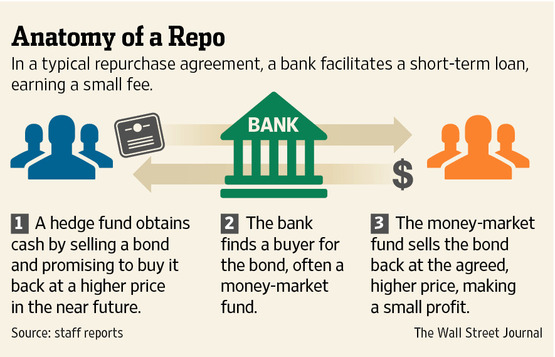 Even before the Reserve Fund blowup, the repo market was under great stress during the crisis. There was so much concern about counterparty risk that tenors collapsed to overnight. And during the very worst periods, as Wall Street denizen put it, the sixth seal had been opened, and you couldn't even repo Treasuries.
However, despite the troubling historical significance of lower liquidity in the repo market, the Wall Street Journal story presents evidence that shows that this outcome was a predictable outcome of moves taken by the Fed. And it also serves to illustrate one of the key warnings of Richard Bookstaber, a former Wall Street risk manager and author of the book The Demon of Our Own Design: that in tightly coupled (as in overly interconnected) systems, the most important risk reduction measure is to reduce the interconnectedness first. Taking steps to reduce specific exposures without reducing the tight coupling first is almost certain to make matters worse.
Here, the Fed has been "experimenting" with intervening directly in the repo market directly, as both a way to drain liquidity from the market and to allow it to step in and stabilize the market as needed in a crisis.
The wee problem is that even in good times, there is counterparty risk in the repo market. The Fed is the best counterparty imaginable. So given the choice between doing a repo with a bank versus doing a repo with the Fed on the same terms, anyone with an operating brain cell will go to the central bank. And the Fed was willing to experiment in size, so it's now become a big part of the repo market. This comes from the end of the Journal article (emphasis ours):
The Fed has expanded its role in the repo market as it tests out a new monetary-policy tool aimed at controlling short-term interest rates.

The central bank is sitting on more than $4 trillion in bonds as part of a program to stimulate the economy and has been testing borrowing against some of those bonds in return for cash to drain money from the economy.

The New York Fed's repo-trading desk accepted a daily average of $121.3 billion of repurchase agreements in July, up from $73 billion in January. Money-market mutual funds have been especially big players in this "reverse repo" pilot program, giving funds a safe place to park cash.

Large market participants like money-market funds are increasingly trading from the Fed, rather than with banks—a move Fitch Ratings attributes to comfort with the central bank, better terms and regulatory changes that are altering how financial firms participate in the market.

There are signs the Fed is growing uncomfortable with its repo market presence.

At a Senate hearing last month, Fed Chairwoman Janet Yellen voiced concerns that the Fed could "become too large or play too prominent a role" and could provide "a safe haven that could cause flight from lending to other participants in the money markets."
Now keep in mind that the article prior to this section was presenting the bank pullback from the repo market as Seriously Not Good as well as a possible result of Evil New Regulations. There admittedly was some concern about repo market failures, which also was not an uncommon occurrence in the runup to the crisis:
Goldman Sachs Group Inc. reduced its repo activity by about $42 billion in the first six months of this year, citing capital requirements. Barclays cut back lending through repos and similar agreements by roughly $25 billion, to $289 billion in the first half of the year.

Bank of America Corp. and Citigroup Inc. made first-half reductions in repo lending of about $11.4 billion and about $8 billion, respectively. J.P. Morgan Chase & Co.'s repo lending stayed roughly flat….

Banks said privately they don't intend to abandon clients in repo markets. But there are signs their reluctance to facilitate huge amounts of repo activity is contributing to increased volatility.

In June, a relatively high number of repo transactions tied to U.S. Treasurys "failed," or didn't close because one of the parties didn't provide the bond, according to research firm Wrightson ICAP.
Cynically, your humble blogger wonders whether the Fed's presence in the market is allowing banks to pull back from a product that was not a big money-maker for them. Indeed, the Fed offering better terms is a sign that crowding out the bank was a feature, not a bug:
Regulators say the changes are positive. Before the crisis, many Wall Street firms relied heavily on repos for cash. But they lost access to those funds when investors panicked about the value of mortgage bonds and the solvency of firms like Lehman Brothers Holdings Inc. that relied on repos for cash.

New rules are "a constraint, but one that facilitates financial stability in the long run," said Federal Deposit Insurance Corp. Vice Chairman Thomas Hoenig.
The Wall Street Journal also points out that some investors have been scrambling to find enough "good collateral". We've always been bothered by this construction, since the big use of collateral is to secure derivatives positions. Derivative experts like Satyajit Das attest that the main uses of derivatives aren't for socially productive hedging (and related trading to make enough in the way of markets) but speculation, and accounting, tax, and regulatory arbitrage. It would be preferable for the authorities to have addressed the issue of derivatives directly. But making collateral less available (or more costly) is another way to crimp derivatives activity. So the inability to find enough collateral, assuming the squeeze is gradual rather than sudden, could also have salutary effects. From the Journal:
Bank pullbacks have shrunk the pool of securities available for repo trades with U.S. Treasurys as collateral, leading to smaller transactions. "There is a shortage of collateral," said Joe Lynagh, who oversees $18 billion in money-market funds at T. Rowe Price. "Because that trend is continuing, you could see more funds rely more on the Fed" for investing their cash.

Investors said there is such high demand for certain types of bonds that some firms are accepting negative interest rates on the cash they are lending in exchange for the in-demand collateral. As of Tuesday, the rate to borrow five-year Treasury notes maturing in 2019 in the repo market was minus 0.25 percentage points—in other words, financial firms were willing to pay bondholders for the privilege of lending them cash.
In other words, the central bank appears, whether by accident or design, to have shoved the banks to the side in the repo market, and have also contributed to the scarcity of collateral. They'd pretend this was intentional whether or not they'd goofed. So I'd be curious to get insider readings as to whether the Fed is being clever or has outsmarted itself.