Yves here. I might step down the headline claim to "Ebola could be an economic black swan" but otherwise the depressing point is well taken.
By David Llewellyn-Smith, founding publisher and former editor-in-chief of The Diplomat magazine, now the Asia Pacific's leading geo-politics website. Originally posted at MacroBusiness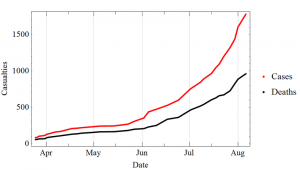 Ebola is inflicting an accumulating economic toll of West Africa. More and more miners are curtailing operations, one of them Australian:
Australian mining firm Tawana Resources has suspended all non-essential field activities at its iron ore project in Liberia because of the risk from the Ebola virus outbreak.

The company's Mofe Creek project, with first phase output of 2mn t of iron ore, will suspend its drilling programme temporarily but continue all other activities associated with its pre-feasibility study not requiring direct field work.
Steel and mining company ArcelorMittal on Friday announced force majeure on a project that is planned to triple its iron ore production in Liberia because of the Ebola epidemic sweeping West Africa.
Toronto-based Aureus Mining Inc granted leave to non-essential staff at its New Liberty gold deposit in Liberia.

…Canadian Overseas Petroleum Ltd, ExxonMobil Corp's partner in a venture to explore the Block LB-13 project off the coast of Liberia, has said that drilling will be delayed due to the "reduced presence of expatriates".
Here is what is happening to the Liberian economy, from France 24:
The economic impact of Ebola on Liberia will be truly one of the most devastating and, I predict, lasting consequences of the virus. Over a decade since the end of conflict, Liberia and the government have made great strides towards renewing their image. The government has renewed many concessions, driving foreign direct investment into the country's most abundant resource sectors. Additionally, a variety of very strong organizations, such as the BSC (Business Start-up Center), have made large investments to develop human capital capacity and to support small businesses and entrepreneurs.

But now, the momentum and growth which had been achieved across the Liberian economy is virtually driving to a halt. Large concessions will continue to operate, but the prospect of attracting new investments in natural resources will be slim as long as Ebola ravages the country. More damaging will be the effects on people already living at the bottom of the income scale. The suspension of small business support services and entrepreneurial development will drastically reduce the earning potential and employment generation which occurs at that level of society.
The incremental approach that is being taken by all concerned to address the virus is a losing battle for people and economies alike. Companies and authorities are behind the curve and it's near enough to certain that Ebola is going to spread to other nations, some outside of Africa. For instance, Nigeria now has 139 suspected cases up from zero one week ago. Samaratin's Purse, the aid group several infected Americans work for, has declared that in a few weeks Nigeria will see a large spike in cases owing to the three week incubation period. Ghana and Canada are also investigating new possible cases.
Lagos, Africa's largest city, is going to grind to a halt in the net month. Nigeria is going to grind to a halt as well. It will be the oil companies of Nigeria that will pull out non-essential personnel and declare force majeur next.
It doesn't bare thinking about but consider what happens next. What if Ebola gets loose in India or China? The latter will be able to control it. China can shut-in geographic areas and rally health resources in a way that democracies can't. We saw it in SARS. But it's costly, in early 2003 China and Hong Kong activity basically froze for several months. India would be worse with its crowded poor, as well as dreadful infrastructure and it's huge diaspora's around the world.
The fact is, each time Ebola skips a border it's going to freeze that economy. When that happens, more incremental steps will be taken but, as a species, we're chasing a faster moving organism.
As such, the world is facing a series of localised human calamities. A drug-based solution will come but not yet, from VOX:
Researchers have devoted lots of time to building a vaccine that could stop the disease altogether — and according to Daniel Bausch, a Tulane professor who researches Ebola and other infectious diseases, they're making really significant progress.

Bausch says that the obstacle to developing an Ebola vaccine isn't the science; researchers have actually made really great strides in figuring out how to fight back against Ebola and the Marburg virus, a similar disease.

"We now have a couple of different vaccine platforms that have shown to be protective with non-human primates," says Bausch, who has received awards for his work containing disease outbreaks in Uganda. He is currently stationed in Lima, Peru, as the director of the emerging infections department of Naval Medical Research Unit 6.

The problem, instead, is the economics of drug development. Pharmaceutical companies have little incentive to pour research and development dollars into curing a disease that surfaces sporadically in low-income, African countries. They aren't likely to see a large pay-off at the end — and could stand to lose money.

Bausch and I spoke Wednesday afternoon about where things stand with developing an Ebola vaccine, what hurdles remain, and how you test a drug that only shows up in infrequent outbreaks. What follows is a transcript of our conversation, lightly edited for clarity and length.

Sarah Kliff: Can we start with where things are on the science of Ebola vaccines, and how much we know about the best way to prevent the disease?

Daniel Bausch: There have been some significant developments for both vaccines and treatments for Ebola and its sister virus, Marburg virus. We now have a couple of different vaccine platforms that have shown to be protective with non-human primates. The most notable development are monoclonal antibodies that are engineered to bind with the ebola virus. There have been breakthroughs in the past few years and, not only are they protective when given right after exposure, but they also work a few days after the illness starts.

That's the good news, but we've had a real break in trying to move forward to get these into human trials and get them out there as a real tool we can use for people infected with these viruses.

SK: So what stands between that science and getting these drugs to Ebola patients?

DB: Part of that is economics. These outbreaks affect the poorest communities on the planet. Although they do create incredible upheaval, they are relatively rare events. So if you look at the interest of pharmaceutical companies, there is not huge enthusiasm to take an Ebola drug through phase one, two, and three of a trial and make an Ebola vaccine that maybe a few tens of thousands or hundreds of thousands of people will use.

There's not a huge demand for this, but there could be other ways to move forward. There are concerns, for example, about Ebola being used as bioterrorism, and that drives a lot of the funding for this. The Department of Defense might be interested in a vaccine if they thought the disease could be used as a weapon.

We need to find the mechanism to get to the next step, and get them out there for actual use.

SK: As you mention there are multiple phases of drug testing, starting with phase one tests for safety and then moving into later phases to test if the drug actually works. How far have the Ebola vaccine candidates you mention made it in that process?

DB: There is one vaccine that has gone through phase one testing [where the drug is tested on a small number of humans for safety]. Now the challenge is how do we get into phase two trials, which test efficacy. How do you plan a prospective trial of something that we don't know where it will be seen next, in outbreak form?

The drugs are out there. It's much more of a situation with economic and logistical challenges.

SK: Where does most the funding for research on the Ebola vaccine come from now?

DB: The research has been almost exclusively through the National Institutes of Health. I think a lot of that has been driven by our country's concern over bioterrorism, and the use of some viruses as weapons. I'm not saying that's not one legitimate reason to do research, but just that its a different driving force.

The way our whole medical-industrial research system works, and this is not unique to Ebola, is the basic research gets done with NIH funding and, after that, research and development happens through private investment. For many different diseases, they get stalled and prevented from going beyond the basic research side, before they can be a real world treatment.

SK: How would you envision an Ebola vaccine working in practice? Is this something you would give to everybody, or try and provide to people at high risk?

DB: There could be a case for limited widespread use, if that doesn't sound too contradictory. I wouldn't anticipate it would be cost-effective or really practical to take the approach of widespread vaccination. It would work more like how we currently handle Yellow Fever: when you have an outbreak, you go in and really rapidly vaccinate the 100,000 or so people who are in the area that is at risk. I would see it more like that, but with an Ebola vaccine. We would go in right away and say, the next day, we have 100,000 doses with our teams and start protecting people.

SK: Have any humans ever used any of the Ebola vaccines that aren't yet approved for market? I've seen a bit of chatter about the idea of giving patients experimental treatments, which might be better than nothing.

DB: So far its been more tossed around but not really acted on yet. There is one exception, but it wasn't an outbreak. There was a needle-stick injury in a lab, and that person was able to get a post-exposure Ebola vaccine. The person didn't get sick, but we don't know if the vaccine was what protected him. We can't even be sure the accident infected him. The only conclusion we can make is that, with this sample size of one, is that person did not have severe side effects from taking it.

Some concern, about using these non-approved drugs, is that we would be giving the impression of experimenting on people. That creates a lot of reticence — if someone is treated and dies — that you could have causality attributed.

That being said, they do seem to be safe in non-human primates and we don't see adverse effects in the ones that have gone through limited phase-one trials. Most of us in the field, if we were laying in bed with Ebola and asked whether to take it, I think all of us would say, "Bring it on." Safety trials be damned; I would want to give it a shot.
According to CNN, we are several months away at least from any mass production of a workable treatment (and that is highly experimental), let alone a vaccine. The World Health Organisation (WHO) agrees:
"A coordinated international response is deemed essential to stop and reverse the international spread of Ebola," the WHO said in a statement after a two-day meeting of its emergency committee on Ebola.

The declaration of an international emergency will have the effect of raising the level of vigilance on the virus.

"The outbreak is moving faster than we can control it," the WHO's director-general Margaret Chan told reporters on a telephone briefing from the WHO's Geneva headquarters.

"The declaration … will galvanize the attention of leaders of all countries at the top level. It cannot be done by the ministries of health alone."
It's still far from hopeless. This is a huge opportunity for the US to steal back some of its lost ground in African soft-power. An opportunity I expect it to take. The US Centre for Disease Control (CDC) has ramped up to 200 people in an Atlanta lab aimed at fighting Ebola and is deploying people throughout affected countries. Something of a mini-Philadelphia project appears to be in the making.
However, the step by step approach is still going to end in chasing Ebola around the world and the damage will be far more expensive in lives and dollars than if a strategic plan of swift international action is implemented to get on front of the disease. Zambia closed its borders to all Ebola effected nations over the weekend. Other nations should follow suit, rally behind the US effort, and contribute whatever resources are necessary to contain and beat the disease back in West Africa.