By Lambert Strether of Corrente.
I haven't rambled on about gardening for some time, and it's a Sunday morning in August, so why not? But before I do, I want to put in a plug for sheet mulch, permaculture's gateway drug: The idea (oversimplifying badly) is to mimic the accumulation of organic matter on the forest floor by covering one's beds with at least a layer of newspaper or cardboard, and then layering straw on top of that. (Gurus do a lot more layering than that.) You can see at once how the paper would act as a weedblocker, and I like that, because weeding is work, and I don't like work, but what's less evident is how good sheet mulch is at capturing and retaining water. I walked over the straw at the edge of a bed just now, on my way out to, er, mark my territory to scare off the deer, those pests, and I could feel the dew against my feet, quite wet, all captured by the time the sun has risen. Quite remarkable. I only water the garden while the plants are establishing themselves, in early June, and then I don't water at all for the rest of the season, and I like that, because watering the garden is work. Did I mention that I don't like work? Sheet mulch is the reason I don't have to water.
This year I have been coming to the conclusion, or understanding, that what I really want from the garden is not the vegetables — though I love to eat vegetables, at least the ones I choose to grow, and even more to give them away — but what Ursula LeGuin in The Left Hand of Darkness describes as one goal of her fictional interplanetary polity, the Ekumen:
The augmentation of the complexity and intensity of the field of intelligent life.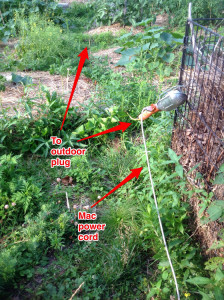 My own intelligence, primarily, so I can sit in the garden and work at my laptop pleasurably through the summer and into the fall, but I suppose also other intelligences, like birds, or bees, especially if we consider the idea that living intelligence goes all the way down into the earth, immanent in the vegetables and flowers, the pollinators, the soil, the mycelial mat, the groundwater, and the rock, all the way to the magnetic core, rock being intelligent, just not very intelligent.
Anyhow, it would take a better photographer (and a better camera than the iPad) to really do my experience of my office garden justice; suffice to say that I'd like very square inch to be beautifully alive, and that bark mulch doesn't figure largely in my view of proper gardening, as opposed to sheet mulch.
It's very nice to work and sit in the midst of a blooming, buzzing complex system, and last year I thought of taking an inventory, and tried to count the varieties of flowers in my field of vision, and got up to nine (9) before I lost track. The annotated photograph below shows 15 (fifteen) but that doesn't count the orange lilies which are on the other side of the property line, some tomatoes, some little frondy-like self-seeded wildflowers, and several kinds of weeds. And I forgot to label the clover, which appear as small white blobs close to the lungwort.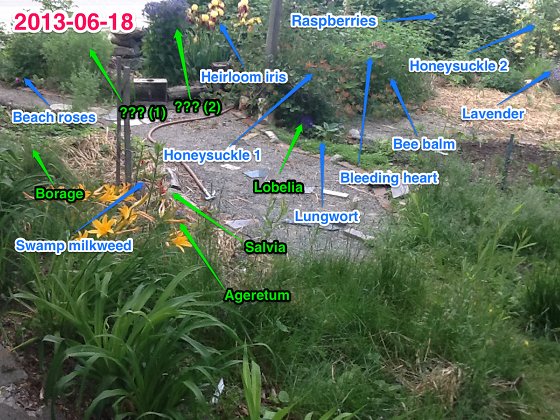 The photograph is also a little distorted, or completely realistic, in that from where I sit, none of the invading weeds and uncut grass at the bottom of the photo, are in my field of vision as, sadly, they are in the shot of my power source! So I see only a panorama of flowers, and smell the iris, roses, and honeysuckle, and watch and listen to the pollinators on their rounds, and flee for the porch when a shower passes overhead. So, immense pleasure from not much money ($200 tops over three or four years) and not much work (a day to get the stone dust path in, and minutes here and there for the flowers.
Anyhow, for want of a better term, we might call LeGuin's goal aesthetic; certainly systems that achieve such augmentation are beautiful and are not ugly.
To add another layer: My garden is a way of maintaining diplomatic relations with the town; people passing by like to look and share their views. ("I never saw a squash plant die so fast.") One also wishes to show progress, to improve, to not be the eccentric, or, if eccentric, not be the recluse with the property full of weeds. ("He's bringing down our property values, Fred!") So I've been thinking of adding a water feature. Preferably the water feature would be (a) made from a stack of stone, and recirculate the water from (b) a buried tank covered by mesh, and (c) be powered by solar. (Since I don't like work, I don't want to be filling the water feature all the time, or cleaning leaves out of whatever source feeds it. Also, I hate garden gnomes, resin, wishing wells, puppies, bowls, wooden barrels, tiers, accents, and fantasies of all kinds, LED lighting, the word "rustic," and anything from Tuscany. All these are kitsch, and kitsch is about death, not life. I really do want just a pile of rocks with water cascading over it.) Unfortunately, all the water features I came up with on my small budget have had two of (a), (b), and (c), and not three. Perhaps I will have better luck next year! Oh, and the water feature has to survive the winter, maybe if I mulch it; I'm not dismantling it and putting it into the garage or anything like that. That's work, and I know myself well enough to know that I will postpone the dismantling effort until after it snows, and then it will be too late.
However. As it turns out my real reason for wanting a water feature has nothing to do with the town or the property; my subconscious was forcing a card on me: The water feature, besides attracting dragonflies and damsel flies (but not mosquito hatchlings, since the water will be in motion) will attract birds, and bird will eat the hated and icky Japanese beetles, currently copulating orgiastically all over my raspberries and roses, and possibly other bugs, like squash bugs and cucumber bugs. They will augment. My garden will be, not only more beautiful, but more complexiful. (I'm inspired to this vision by a friend who pointed out that I had successfully achieved a virtuous cycle: Two years ago I had planted self-seeding annuals from a wildflower mix, like Tansy and Borage, that attracted pollinators and then birds who propagated their seeds around the garden, and now I have not only more of these annuals but more beneficial critters, too.) I have plenty of bloom. I want more buzz, and then more blooms.
I'm happy with "complexiful" — it doesn't seem to have been a word! And also happy to give aesthetics their due when designing a system. People should be able to augment their intelligence with beautiful, complexiful things much more easily than they can today; and we see the human impulse to do so all around. Perhaps LeGuin's goal should be a goal of an enlightened political economy; it's certainly one way to think about handling common pool resources.
Is the complexiful necessarily beautiful? A question for another day….