Giant panda 'faked pregnancy for extra treats and nicer accommodation' The Telegraph
CEO Desmond Hague caught on camera kicking Doberman puppy in lift of luxury condos Sidney Morning Herald (skippy). Hague's firm is Centerplate, owned by private equity firm Olympus Partners. So that explains the puppy-kicking part, but why was Hague dumb enough to do it on camera?
Reality show plans to send winners to live on Mars The Scotsman. Can we send Desmond Hague, too?
The Matterhorn Interview – Video interview with Ambrose Evan-Pritchard Matterhorn Asset Management. Pritchard: "We're stuck in some kind of bad equilibrium…. It may ultimately require some from of debt [pause] jubilee down the road. A lot of people are going to lose a lot of money, but that's not necessarily damaging for the economy." Also endorses "the Chicago Plan."
Rosenberg: the Next Recession Could be 4 Years Away Pragmatic Capitalist
Central bankers face 'confidence bubble' FT
What did quantitative easing accomplish? Econbrowser
US ECONOMY FORECAST TO GROW BY 1.5 PERCENT IN 2014 AP
How the Fed's Regional Structure Affects Monetary Policy Federal Reserve Bank of St. Louis. "The structure of the Fed promotes a diversity of views and helps to avoid a groupthink mentality."
MBS Settlements–Following the Money Credit Slips
IMF's Christine Lagarde placed under formal investigation FT "[S]uspicion of negligence in a political scandal."
PBOC Resolve Tested as $6 Trillion Shadow Banking Industry Sours Bloomberg. Also, hmmm.
State Dept. Overseers of Contentious Enbridge Tar Sands Pipeline Workaround Have Industry, Torture Ties DeSmogBlog
TPP: Expansive Rights for Big Pharma, Expensive Medicines for U.S. Consumers Eyes on Trade
Google Wanted Autonomous Vehicle Driver Interventions Kept Quiet The Truth About Cars
Code Club cofounder resigns after being ordered not to criticize Google Pando Daily
Big Brother Is Watching You Watch
Fusion Investigates: How did America's police departments lose loads of military-issued weapons? Fusion

'I Could Have Stopped Them': Ex-CIA Lawyer Defends Waterboarding Decision Der Spiegel. "The CIA reports directly to the president and responds to his wishes. It does what it does in secret, with no messy political debates." Indeed. And we know how Obama hates "messy political debates." Might interfere with new slush funds fundraising for El Presidential Library.
Michael Brown's Mom Laid Flowers Where He Was Shot—and Police Crushed Them Mother Jones. Stay classy, St. Louis PD!
Sign at TX School: 'Teachers Armed, Can Use Any Force Necessary' FOX. State-sanctioned ammosexuals.
The Expanding World of Poverty Capitalism Times
Obamacare Enrollment 2015: How Many People Will Sign Up Next Year? (Public Support for Obamacare Is About to Turn a Corner) Part 1 Health Beat
Timothy Wu for Lieutenant Governor Editors, Times
Iraq
Ukraine
Class Warfare
Market Basket Revolt Ends as Arthur T. Demoulas Wins Bid Bloomberg

This time is not that different, long-term unemployment edition FT

Employers Aren't Just Whining – the "Skills Gap" Is Real HBR. Pay higher wages because markets. Problem solved.
Where Are the Brazilian Introverts? Times
Argentina Set for National Strike as Economic Woes Deepen Bloomberg
Tykhe's Nonexistent Urn and Senate Election Probabilities: Over at Equitable Growth: Philosophy of Probability III: the Philosophizing Brad DeLong. Good thing that "important private information sets" are randomly distributed among the populace. Oh, wait… 
38 maps that explain the global economy Vox. Headline overeggs the pudding, but we really are entering a golden age of data visualization.
Garry Winogrand at the Met: The Genius of His Reviled Late Works Artnet (gallery).
The News Summer From Hell and the End of Optimism Moyers & Company
Antidote du jour, the Coastal Maine Botanical Gardens: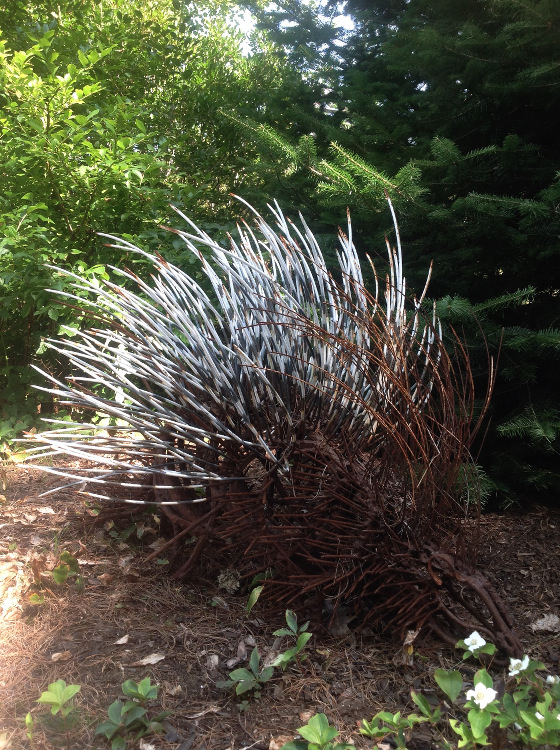 See yesterday's Links and Antidote du Jour here.