By Lambert Strether of Corrente.
Believe it or not, it's only one hundred days until ObamaCare's 2015 open enrollment period begins, so this is as good a time as any for 30,000-foot view of ObamaCare and governance. Barney Frank, with the seeming candor that so well becomes him, did just that in HuffPo the other day:
"The rollout was so bad, and I was appalled — I don't understand how the president could have sat there and not been checking on that on a weekly basis," Frank told HuffPost during a July interview. "But frankly, he should never have said as much as he did, that if you like your current health care plan, you can keep it. That wasn't true. And you shouldn't lie to people. And they just lied to people."
And Frank is right about Obama's lying, but in directing attention to Obama's lies Frank distracts us from a larger concern: The apparent impunity for organizational dysfunction and misconduct during the rollout. This latter is far more serious; we expect, even enjoy, a certain amount of lying from elected officials; but we don't expect a broad spectrum of executive misbehavior, from routine rules violations to epic and bizarre levels of incompetence, to come to light with nobody held to account. British politicians resign in disgrace; Japanese gangsters lose a finger or two; and in America, generals resign after boinking their biographers, but if you're in America's executive branch — at least under Obama — you've got it made[1]. You've got impunity, just as surely as if you lived in a country run by generals wearing sunglasses. Katherine Sibelius, for example, was allowed to go quietly after Obama was elected. They don't even care enough any more to find scapegoats!
Rather than rehearse the debacle of the ObamaCare rollout once again, I'd like to present one image: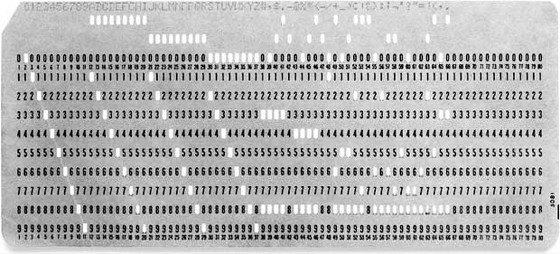 For those who came in late, yes, this is a "punch card," the storage medium in 1966, when the Social Security Administration rolled out Medicare on July 1, after less than one year's implementation. (Yes, back then data was actually saved, not on hard drives or flash storage or USB sticks or even in The Cloud, but on thin sheets of card stock with holes punched in for the bits and bytes. It's like steam punk! For those interested in a time when government actually could be expected to function, not least by those themselves in government, see here on Frances Perkins.)
So here's how the Medicare rollout went, back in the day when mammoth-slaying programmers used crude stone tools:
Back in 1966, Medicare started paying bills for 18.9 million seniors ( for coverage) just after Pres. Johnson signed it into law. … Despite predictions of chaos, and worries that the newly-insured seniors would flood the health care system, there were . Hospitals continued to operate smoothly and no waiting lists materialized.
The contrast to the ObamaCare rollout couldn't be greater. If you take the 1966 Medicare rollout as the standard, the ObamaCare rollout isn't even in the ballpark. Heck, it's not even on the road to the ballpark! And has anyone been held to account for that? For the difference between a roaring success and a ginormous failure? Any firings? Any resignations? Even to spend more time with the family? Any heads rolling? Is the feckless indifference ("What we're also discovering is that insurance is complicated to buy") of Obama's presser on the "rough rollout" really enough? Apparently so. I feel like I'm living in Alice in Wonderland, that's so crazy pants, but yes, it's apparently so.
Anyhow, having not been distracted by Barney's focus on Obama's lying, I'd like to focus on four continuing running sores aspects of ObamaCare. The first three concern apparent impunity for past failings; the fourth, impunity for future ones. They are:
Back End Fails on Data
Back End Fails for Insurers
Contract Violations
The Expectations Game
Back End Fails on Data
Here's what the back end does (the HHS jargon for the back end is the "data hub"). From the recent GAO report, "Ineffective Planning and Oversight Practices Underscore the Need for Improved Contract Management":
The data hub routes and information among the [Federal Marketplace] and external data sources, including other federal and state sources of information and issuers. For example, the data hub confirms an applicant's Social Security number with the Social Security Administration and connects to the Department of Homeland Security to assess the applicant's citizenship or immigration status.
In other words, it's the back end's job to make sure that data submitted by the "consumer" is consistent with the data available electronically from other sources, like the Federal government and the states. From a report by the Inspector General of HHS:
A marketplace uses the Data Hub to that the applicant's information is consistent with Federal data sources, such as tax filings and Social Security data.
So, if when the back end stores data that is inconsistent, we are in Garbage In, Garbage Out mode: The impact for the "consumer" could range from a bad mailing address to not getting expected coverage at the hospital. It's not even clear how the "consumer" finds out their data is bad, or how they correct it. An example for Florida:
[Luis Martinez of Hialeah], who has stents implanted in his coronary arteries, said he has tried repeatedly for more than a month to comply with the government's requests for additional documentation to resolve inconsistencies in his personal information — or risk losing his $457 monthly subsidy, and health insurance for him and his wife, Rocio Balbin, 46.

Martinez has receipts showing that he mailed at least five identical packages — containing, he said, copies of his U.S. passport, his wife's residency card, their 2013 income tax statement and his Florida driver license — by certified mail to the HHS-designated address in London, Kentucky.
Why the inconsistencies that people like Martinez suffered? Problems in the back end:
Attempts to verify an applicant's information were often stymied, she said, by early problems accessing the so-called Data Hub, an electronic information clearinghouse that connects multiple government agencies, including the Internal Revenue Service, the Department of Homeland Security, the Department of Labor and the Social Security Administration.
So is the back end producing and verifying consistent data yet? It's not clear:
The insurance exchanges use the Data Hub to verify a consumer's information against federal records, such as tax filings and Social Security data. However, which would expedite the process, or manually, which would take much longer.
Well, the back end ("data hub") is electronic, so if they're doing manual verification, they're not using the data hub, right? So incredible as it may seem, the back end could still be broken. How big is the problem? Here's what HHS says:
1.2 million consumers had inconsistencies in their income information. About 461,000 consumers needed to verify citizenship, and about 505,000 were asked to prove their immigration status.
(The HHS Inspector General's report has many other examples that will curl your hair if you're a data person.) Sibelius said the back end was "built and paid for" back in April 2013, if she wasn't lying, the Feds paid for a broken system. That's a lot of "consumers" to clean up, especially since there are only 100 days 'til a new wave of enrollments. And if the back end still isn't fixed, 100 days is not very much time to complete the work and do the testing. Heads should roll for this. Are they?
Back End Fails For Insurers
Back in October 2013, we wrote that if the backend failures were intermittent, they would be very hard to solve. In December 2013, we noted that the tech wizards Obama called in to fix healthcare.gov had not fixed the backend, even though that was their number one priority. And when Stephen Brill wrote his hagiography in Time about the tech dude "trauma team" that fixed healthcare.gov he never mentioned that they focused solely on the "consumer-facing" front end, and never mentioned the back end at all. Of course, nobody was held accountable for the backend debacle, any more than anybody was held accountable for anything, and the back end still hasn't been fixed. Politico:
While an all hands' "tech surge" repair project got HealthCare.gov working for consumers by December, not all the problems are solved. The automated back-end systems that insurers need to help balance their books and get paid properly are being rolled out in phases. It won't be finished until sometime next year.

[Andy Slavitt, once of UnitedHealth, now at CMS] also acknowledged that the site's back end, the portion that insurers rely on, is still not complete. Health plans are being paid, but based on enrollment estimates. Completing the business end will go into next year, he said.
Paying insurers on the basis of guesstimates, and settling up later–What could go wrong? This, again, is the back end Sibelius said was "built and paid for." Heads should roll for this, too. Seen any?
Contract Violations
The contract violations are a lot simpler. The Times reports:
In an effort to meet the October deadline, [William T. Woods, a senior official at the Government Accountability Office] said, "changes were being made in contract requirements at the direction of people who did not have the authority to do that."

Moreover, he said, federal health officials ordered contractors to perform additional work, at additional cost to the government, without the knowledge of the contracting officer, the only person who was authorized to change the terms of contracts for the federal exchange.
So, these "people" and these "officials": If statutes, rules, and regulations for Federal contracts mean anything, their heads should be rolling, too. What are the odds, I wonder?
The Expectations Game
The new word seems to be "bumps." Let's watch for it! From a report by Kaiser Health News on the House hearing focused on the GAO's report, Melissa Attias comments on Andy Slavitt's testimony:
[ATTIAS:] By bumps, he's saying there are things in place to make the process smoother but that it won't be perfect. For example, he said, it's now very clear who can give work to the contractor and how that work gets approved, which was an issue identified in the report. He also said the new contractor has skin in the game to make sure it delivers.
Oh, OK. Let me know how that works out, Andy. Any heads rolling at an agency that didn't make it "very clear who can give work to the contractor and how that work gets approved"? No?
Conclusion
We've identified four major failures for which nobody in government has been held responsible.
1) There are millions of inconsistencies in ObamaCare's data, it's not clear how the data can be rectified, and it's not even clear that the systems that produced the inconsistent data are on track to being fixed by the time ObamaCare enrollment opens again, in just 100 days. The back end system that is producing these outcomes was pronounced to be "built and paid for" by HHS Secretary Sebelius in April, 2013. No heads rolled.
2) The insurance companies are being paid on based on estimates, and that will continue for some unknown length of time, at which point (presumably) the books will be cleaned up. Again, the back end system that is producing these outcomes was pronounced to be "built and paid for" by HHS Secretary Sebelius in April, 2013. No heads rolled.
3) There are many contracting violations in the course of building the Federal Marketplace, and its back end. No heads rolled.
4) The new CMS head, Andy Slavitt, is playing the expectations game on the coming enrollment cycle, presumably to ensure that no heads roll in future.
#FAIL, #FAIL, #FAIL, #FAIL, and no heads rolling.
I don't know what you call that but impunity.
Notes
[1] Unless you're a whistleblower, in which case Obama will come after you with everything he's got.