The spectacle of banks wring their hands about how low volatility is leading them as well as investors to take on too much risk bears an awfully strong resemblance to a child who has killed his parents asking for sympathy for being an orphan. Do they honestly think their audience has managed to forget why the Fed and other central banks drove interest rates super low and started intervening massively in financial markets, and now are having trouble figuring out how to undo their handiwork? It was to rescue them from their risk binge that produced the financial crisis. It's no secret that the aim of the central bank ministrations was to to goose asset values and more specifically to drive investors into risky financial products, both to engineer the appearance of healthy bank balance sheets, and out of a misguided belief that the combination of cheap borrowing costs and the confidence fairy effect would produce a solid real economy recovery.
The Financial Times summarized a presentation on volatility, or more accurately, the lack thereof, to the Treasury Borrowing Advisory Committee:
The concern now is that large investors may have grown too complacent following years of one-way markets that encourage them to take on ever greater amounts of risk to hit their return targets.

Sales of riskier investments – such as the junk bonds sold by low-rated companies – have subsequently soared thanks to demand from yield-hungry investors.

"Against [an] environment of low vol[atility] and low returns, the only way to achieve the same return targets is to take on more risk," TBAC said in its presentation.

Assets invested into hedge funds, which typically undertake riskier strategies, have ballooned to $2.8tn in the second quarter of this year, up from about $1.75tn just before the financial crisis, TBAC said. Meanwhile conservative investors such as pension funds are still trying to reach an average return target of a little less than 8 per cent, at a time when yields on benchmark US Treasuries are at 2.45 per cent.
For data fans, there are lots of impressive charts in the presentation proper, all of which show that not only has volatility declined since the crisis, it's gone down even more in 2014, despite the taper tantrum of last year. Of course, cynics might note that the Fed bent over backwards to reassure markets that it would do everything in its power not to make them so upset when it did wind down QE, and would keep short rates low for a really long time (to investors, anything further out than a year is a really long time).
But here is the priceless part, again from the Financial Times recap:
Because banks and investors incorporate volatility into their internal risk management models, there is a chance that suppressed markets are creating a feedback loop that amplifies further risk-taking, TBAC noted.

The "value-at-risk" models used by most large Wall Street banks and investors typically incorporate volatility data to try to calculate how much a trading portfolio might be expected to lose in a given day with a given probability.

With volatility drifting lower and lower in recent years, these models are spitting out extremely small chances of investors sustaining large losses, allowing Wall Street to assume additional risk without violating its own internal risk management standards.

"VaR-based analysis leads to self-reinforcing loops as low volatility causes models to recommend scaling up risk," TBAC said in its presentation. "An unexpected increase in volatility might come from broad-based selling of assets wanting to de-risk in front of a turn of policy."
Translation: banks know full well that VaR understates risk, but they are still relying heavily on it, particularly since regulators aren't savvy enough to understand more complex and nuanced risk measures, so it's really easy to snooker them with VaR.
So I'm left scratching my head. Anyone with an operating brain cell who has been reading the business press knows investors have been reaching for return for years, and that process only gets worse the longer it persists, particularly in the absence of robust growth. And the bank blaming VaR models for what they are depicting as their own excesses is beyond cute. These firms all have ginormous risk control departments. If their models are inadequate or are producing perverse outcomes, the solution is to use different models. But there's a weird lack of agency in the presentation, as if defaulting to the dictates was required by the Market Gods, and the poor obedient banks have no choice but to follow along. Geraldine was much more convincing than they are:
One also has to wonder as to the timing. The Fed, most importantly Janet Yellen, is starting to make hawkish noises, and Mr. Market is getting a bit worried that the central bank might actually mean it this time. So this presentation also looks like an exercise in blame deflection: "We told you to save us from ourselves, and you didn't." The presenters at least had the courtesy to tell the officialdom who they consider to be most at risk in the last bullet point: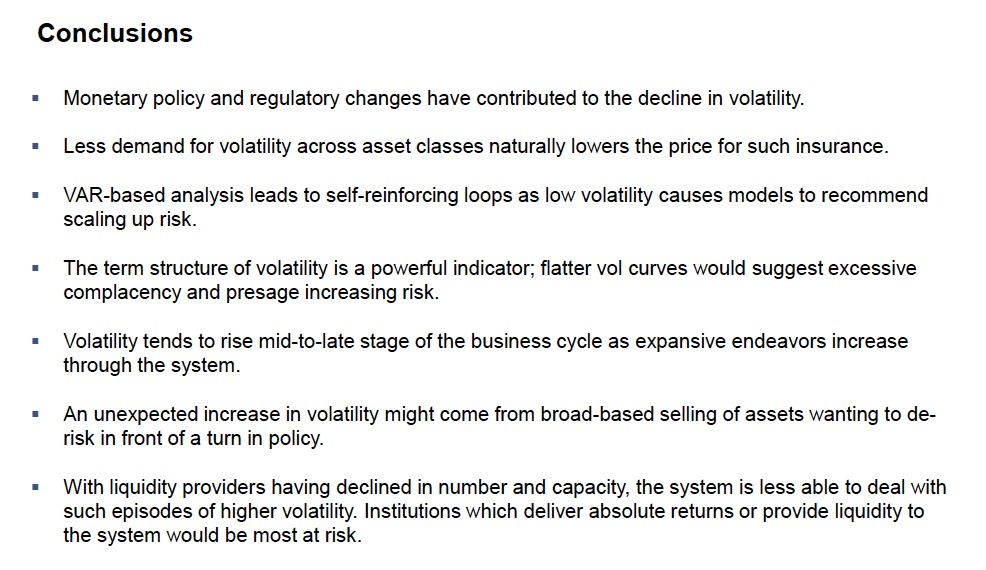 Or put this another way: the financial services industry is reminding the authorities that it still resembles a man with 15 pounds of Semtex strapped to its waist. It trusts that the people in its vicinity will be duly attentive to its desires.