Nobel Committee Regrets Obama Peace Prize ScribD
Robot could load up dishwasher BBC (David L)
In a Study, Text Messages Add Up to a Balance Sheet of Everyday Morality New York Times
Ebola outbreak: Sierra Leone volunteers to visit every home to track down virus cases, remove bodies ABC News (Australian Broadcasting Corporation)
What We're Afraid to Say About Ebola New York Times (furzy mouse)
BP and the Three Stooges Defense Greg Palast, Truthdig
'Sorry about the bomb': Aussie police apologize for 'training device' left in Sydney airport RT (YY)
Offer highlights tuna plight NZFarmer. A sea grab rather than a land grab. Richard Smith: "Deutsche Bank and offshore shell companies hiding Chinese flight capital implicated in forthcoming South Pacific environmental disaster."
Chinese bank on hook for 4 billion yuan shadow banking default: paper Reuters
Ex-Officials Tell of Free Trade Union's Demise Cambodia Daily
Is the ECB doing QE? VoxEU
Pushing E.U. Governments to Spend, Draghi Appears to Change Course New York Times
JPMorgan tells clearers to build bigger buffers Financial Times
Preventing the Next Argentina Foreign Policy
Scotland
Scots warned over decade of doubt Financial Times. More TARP treatment

RBS, 4 Other Banks Warn of Relocation to England if Scots Vote Yes; Catalans Stage Mass Protest for Independence Michael Shedlock

Brown and Major Urge Scots to Vote "No" Based on Nostalgia for the Army and World War I Bill Black, New Economic Perspectives
Ukraine
`
ISIS
Big Brother is Watching You Watch
US gov't threatened Yahoo with $250K daily fine if it didn't use PRISM ars technica (EM). More detail on the spat: Yahoo Faced Big U.S. Fines Over User Data Wall Street Journal

Is ISIS Stalling NSA Spying Reform? National Journal
The Pentagon's $800-Billion Real Estate Problem Medium (1 SK). Gee, they were sure fast to sell off parts of the airbase in Brunswick, Maine.
Switching Sides East Bay Express (SG)
Bubble forming in US middle market leveraged finance Walter Kurtz
Skills Gap Bumps Up Against Vocational Taboo Wall Street Journal
Conspicuous Consumption Watch
Dictatorships: Seduced by Promise of 24-carat Glamour Young Britons Signing on to Superyacht Crew Daily Mail (JB)

Superyacht spats sail into rougher legal waters Financial Times
Antidote du jour (furzy mouse). I hope you don't mind animal artwork for a change: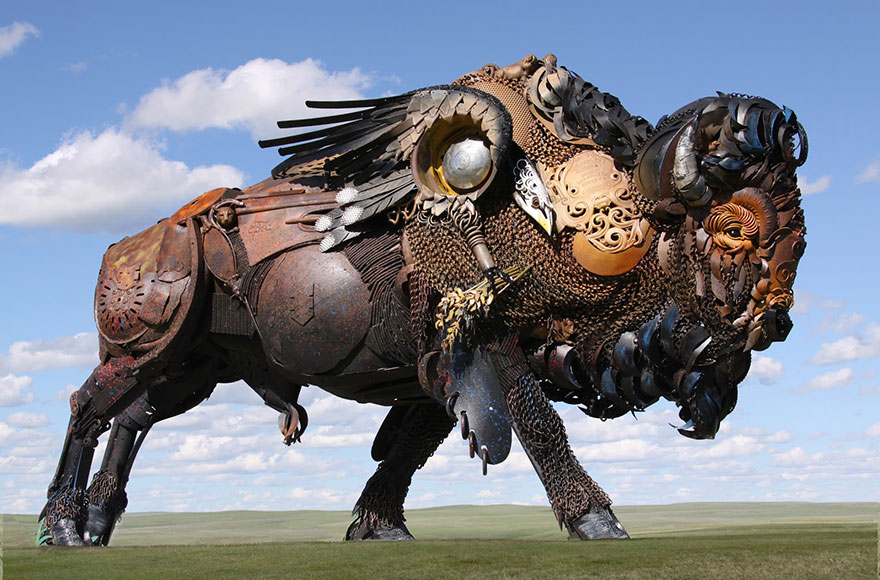 South Dakotan sculptor John Lopez creates life-sized scrap metal sculptures with a uniquely Western American twist. In his hands, old discarded farm equipment is recycled into sculptures of iconic creatures from the American West like a bison, a horse plowing a field, or a Texas Longhorn. Lopez already had a career as a bronze sculptor, but after creating a family grave for his deceased aunt using scrap metal, he began creating recycled metal sculptures out of found or donated pieces of metal as well.
See yesterday's Links and Antidote du Jour here.