It was a particularly lively weekend in New Zealand politics, already in ferment as a result of the facts and claims documented in Nicky Hager's new book about dirty tricks in New Zealand politics. Everyone's paying a great deal of attention to the workings of the political/media sausage machine and the leaks are flowing.
It turns out not to be a machine, as such, more a tangled writhing heap of politicians on the make, spin merchants on commission, CEOs of massively bust companies, journalists looking for copy, chattering policemen, and bloggers on a sort of nihilistic spree. As you might expect, the resulting display is not at all pretty, or simple. Still, the same sort of thing goes on everywhere else too, and normally one doesn't get to inspect the workings. One should take the opportunity to look and learn. This will be a brisk, longish walk through a tremendous mess, dear reader. I'll do my best to get the story straight and highlight my favourite bits.
There was another leak on Friday. That leak promptly claimed the already-vulnerable scalp of Justice Minister Judith Collins:
Prime Minister John Key has tried to distance himself from claims Mark Hotchin was paying bloggers to undermine the Serious Fraud Office, saying he does not know about the arrangement and it is not a matter for the National Party.

Former Justice Minister Judith Collins resigned as minister yesterday after Mr Key's office was given an email from Whaleoil blogger Cam Slater in which he talked about sharing information on former SFO director Adam Feeley with Ms Collins.

At the time, the SFO was investigating Mr Hotchin's company Hanover.

Mr Key is expected to announce further details on an inquiry into Ms Collins' involvement after Cabinet meets tomorrow. She has denied the claims made by Mr Slater in the email.
Hanover was a GFC-era bust, a big one, by New Zealand standards, at any rate: NZD500million, or so, with 10,000-plus private investors taking losses. The SFO have packed in their investigation without bringing charges, but FMA are bringing a civil case to court next year, maybe. I must therefore emphasize that the "crook" in my headline is not Mark Hotchin: his proper designation is still to be established.
Yet more newly-leaked emails in two pieces by Matt Nippert, published on Sunday, here and here, add some details to the Collins resignation story. Nippert's back story identifies the source of the Friday leak that felled Justice Minister Collins:
Justice Minister Judith Collins' resignation was sparked by a Fairfax investigation into a smear campaign by bloggers apparently backed by controversial financier Mark Hotchin.

…

Knowing Fairfax was investigating the hacked emails, it is believed Odgers (known by the blog name Cactus Kate) went through her own emails and found some that could be seen as implicating Collins. This correspondence then found its way to a Beehive staffer on Friday.
An aside: Ms Odgers is the baleful blogger, NZ Herald newspaper columnist, wannabe M.P.,  diminutive ninja, tax lawyer, and serial major fraud bystander who appeared in a leading role in a recent NC post about apparent Russian mafia connections in New Zealand. She has since left her job in Hong Kong, "by mutual consent". That departure might sound like a blogging coup worthy of Odgers herself, but in fact both her former company and Ms Odgers should be quite impervious to any embarrassment arising from our blog post; they've heard most of it before. One suspects the job change is motivated instead by the multiple massive breaches of offshore lawyers' omertà that Odgers is seen to perpetrate in the Hager book.
From Nippert's weekend email cache it appears that the smear campaign against the SFO really was paid for by SFO investigation subject Hotchin. Here's an email dated 28 August 2011, just before the smear campaign started. Click the picture if it's hard to read.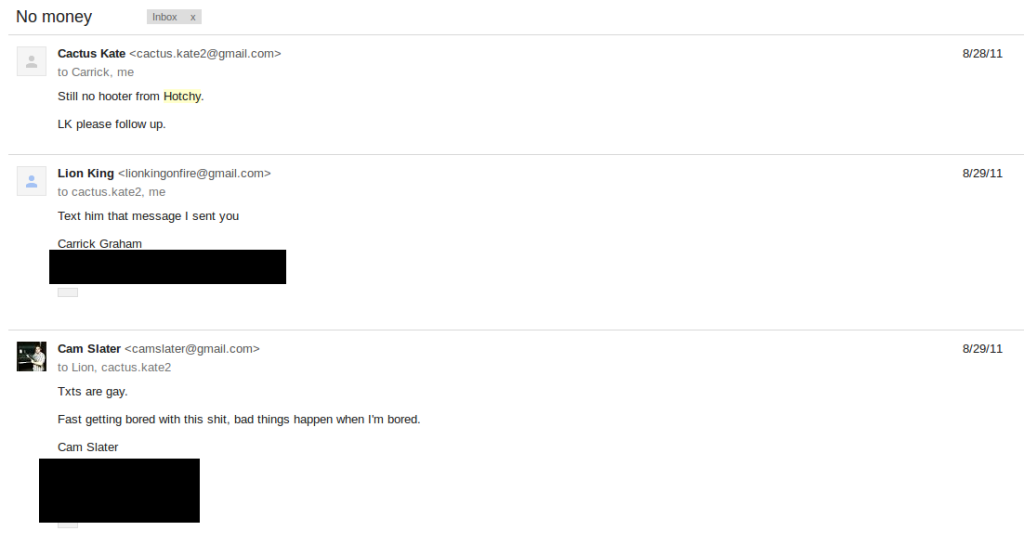 Since a picture is worth a thousand words, and Twitter, in the form of one @DebsHancock, is infinitely obliging, here's one reasonable pictorial summary of how the undermining of the SFO worked; if, note well, it was really happening at all, which ex-Minister Collins, for one, denies.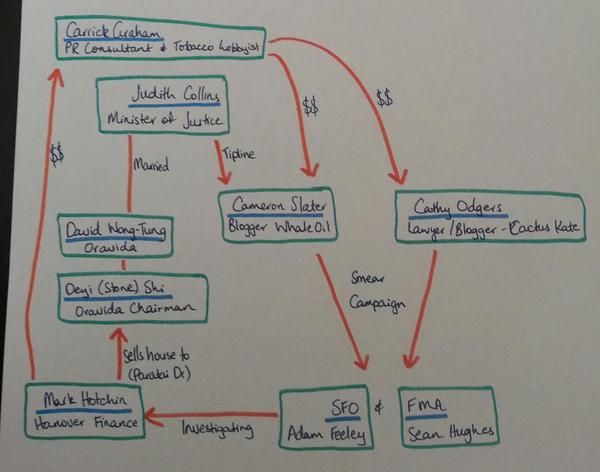 There isn't anything that's totally unevidenced in this picture: even the "Tipline" between Collins and Slater is known to exist, because Collins has been caught using it before, in the reverse direction:
Justice Minister Judith Collins is refusing to apologise to the public servant who received death threats….

…

Mr Pleasants received death threats after Ms Collins passed his details to Slater, who blogged on him.
Equipped with the big picture, let's now go back to Odgers' Friday email leak, and see what we can squeeze out of it that the NZ media may have missed, or, indeed, dear reader, might prefer you to miss. First, let's establish the dramatis personae from the header and summary:
From Cam Slater

To mark [redacted] Carrick

Ok guys here is an update on the state of play on Adam Feeley.

Today is the 4th straight day of headlines and additional revelations about Adam Feeley
Mark is Mark Hotchin of Hanover, under SFO investigation; [redacted] is Cathy Odgers; Carrick is Carrick Graham, the PR Consultant in the Twitter diagram; Adam Feeley is the soon-to-be-ex-head of the Serious Fraud Office.
Next, there's the "smear campaign".
I am maintaining daily communications with Jared Savage at the Herald and he is passing information directly to me that the Herald can't run and so are feeding me to run on the blog. in the meantime I also have additional information flowing in via my tipline.
Note that this 'tipline' isn't necessarily an info feed from Collins, specifically, but just any old info source that Slater can trade with.
That information will be drip fed into the media or via my blog.

Herald articles

Fran O'Sullivan: More than a storm in a champagne flute

Editorial: SFOs bubbly an error of judgment

SFO bubby celebrations vindictive: Petricevic

Ex-SFO chief decries champagne incident

Cathy can outline her contact with Fran O'Sullivan separately. Basically though the Herald and other media are now picking up our lines that this situation is like "Caesar's Wife" where the SFO must be beyond reproach. If he nicked a bottle of wine what else has he nicked or hidden from receivers and liquidators?

So far the Herald has been running NBR to publish on Friday. Cathy will be chatting with Jock Anderson and I will cover Matt Nippert.

Our (Cathy's) nickname for Feeley (Five Fingers Feeley) has stuck. journalists ringing me actually use to describe Feeley now in phone conversations.
Tellingly, the observant Slater relishes both the capture implied by the shared vocabulary and the contempt it indicates for the intended victim.
Now, four articles don't make much of a smear campaign. Eighteen, in total, that would be a smear campaign. Here, then, are the other fourteen that I found, the work of the NZ Herald (and affiliates) and the NBR.
Bridgecorp toast sparks rent query Oct 6, 2011 Jared Savage, NZ Herald
Criminal Bar calls for Feeley to go  Oct 6, 2011 Jock Anderson, NBR
Deborah Hill Cone: Put a cork in it, Mr Feeley Oct 7, 2011 Deborah Hill Cone, NZ Herald
SFO chief angers Hubbard supporters with 'booby prize' book Oct 8, 2011 Jared Savage, NZ Herald
Call to sack SFO boss over slur Oct 14, 2011 Anna Leask, NZ Herald
Feeley 'lucky' not held to our standards – Police Assn Oct 14, 2011 Matt Nippert, NBR
Champagne review out next week Oct 15, 2011 <no byline>, NZ Herald
Sorry for Bridgecorp bubbly – SFO head Oct 17, 2011 <no byline>, NZ Herald
SFO head's lapses in judgment a concern Oct 18, 2011 Reon Suddaby, Wanganui Chronicle, an NZ Herald affiliate
Feeley: Book not a 'booby prize' Oct 18, 2011 Claire Trevett, NZ Herald
Fran O'Sullivan: SFO chief's ticking off fails to reassure Oct 19, 2011 Fran O'Sullivan, NZ Herald
Feeley's emailed apology released Oct 19, 2011 Matt Nippert, NBR.
Police minister 'disappointed' in SFO boss Oct 20, 2011 Claire Trevett, NZ Herald
Editorial: Chief of SFO looks stupid  Oct 20, 2011 <no byline>, Bay Of Plenty Times (an NZ Herald affiliate)
The NBR takes a (relatively) brief sniff at the story. Matt Nippert is perhaps suspicious of a mysteriously superfast Official Information Act turnaround that enables him to publish Feeley's humiliating apology letter to Collins just a few days after the poor guy wrote it. It happens that Official Information Act requests are processed by Collins' office.
Underlying the stream of NBR and NZ Herald articles there are just two bits of police gossip.
The first of those is the story of a bottle of champagne consumed by an SFO team celebrating the laying of charges against a very nasty big time fraudster, Rod Petricevic. The champagne is a trophy: it was found abandoned in the offices of Petricevic's company, Bridgecorp, which, like Hanover, took ~NZD500Mn of small investors' savings with it when it went bust.
The second is the story of a booby prize at an office party:
The head of the Serious Fraud Office gave copies of Allan Hubbard's biography as "booby" prizes at a staff Christmas party while the former Rich Lister was under investigation.

Adam Feeley, the SFO chief executive, gave handcrafted wooden statues to winners at a joke prize-giving last December and paperback editions of "Allan Hubbard: A Man Out of Time" to the runners-up.

At the time, Mr Hubbard's South Canterbury Finance was in statutory management after a $1.8 billion Government bailout and the Timaru accountant was being investigated by the SFO.

Six months after the Christmas party, the SFO laid 50 charges against the 83-year-old, who denied any wrongdoing.

Last month, Mr Hubbard was killed near Oamaru in a head-on car crash on State Highway 1 that also seriously injured his wife, Jean, 82.
The NZ Herald's angle is all based on these two office party stories. Somehow the NZ Herald journos get 14 (fourteen) separate headlines from that unpromising material: that's real professionalism, in a certain highly technical sense.
The NZ Herald sequence is rounded off with some concern trolling:
Watchdogs need to prove they have bite Nov 17, 2011 <no byline>, NZ Herald
And the denouement comes a little over six months later, a decent interval:
SFO boss Feeley quits for Queenstown job  Jul 31, 2012 Jock Anderson, NBR
The Anderson piece mentions that Feeley's departure was predicted in a leak from "well-placed legal and political insiders", whoever they are. Feeley left two years before his contract was up:
Mr Feeley, who has found another job as ceo of Queenstown and Lakes district council, is said to have been under pressure to quit after some well-publicised lapses of judgment.
Maybe the NBR can faintly smell a "well-publicised" rat. It does look as if those heavily recycled office party stories did the trick for Odgers, Slater and Graham.
After Friday's revelations about the underlying corruption, or collusion, behind this deeply unpleasant story, Jared Savage of the NZ Herald gamely holds the line:
In total, I wrote six stories about the Feeley/champagne issue and Slater was not the source for any of them. I didn't know that our conversations about Feeley were being shared with others, like PR man Carrick Graham – and that was naive of me to think otherwise.

…

Journalists talk to all sorts of people about all sorts of stories, much of which is nothing more than rumour or innuendo. Our job is to sort the wheat from the chaff and publish what is accurate, fair and true.
…as does Fran O'Sullivan, in the same piece:
It was – and remains – my strong view that the issues exposed in Savage's story exposed poor judgment by former SFO boss Adam Feeley and compromised his office.
and the Editor weighs in too:
Two big stories the NZ Herald broke regarding Adam Feeley in 2011 were independent of Whale Oil, and sourced from other contacts. It was good journalism, and in the public interest.
Nevertheless, some might still feel that this looks like the media overplaying Mr Feeley's vindictive $70 bottle of bubbly and his annoying booby prize book. Those jejune vignettes, passed on by gossiping policemen, are, as far as I can see, the "big stories" the NZ Herald broke.
According to the NZ Herald, Cameron Slater had no role whatsoever in the sourcing of their stories. Arguably, too, his email is just hyping his own influence, to his client Hotchin's PR man. Nevertheless, an anti-Feeley media campaign, fed by the very people named in his email, did actually occur, right before, during and after his email was sent, and one way and another, the stories all come from police sources inside and outside the SFO. What an astonishing coincidence that is. Does Cameron Slater have police contacts in his tipline, perchance?
So much for the smear campaign and the Friday email leak. One of Nippert's weekend stories also shows Graham apparently suggesting that  a Hanover witness needs to be nobbled:
Another email appears to discuss plans to undermine the credibility of a potential witness in the Hanover investigation, property developer Tony Gapes.

Graham wrote in one email: "Just off ph to MH . . . Seems our friend Tony Gapes is thinking he's a bit of a star witness for the SFO against our man."

He added that Gapes "should have some sunlight shone on him. Enough to raise questions of credibility with the SFO".
That email went out on the 16th August 2012. By the 23rd August, we have this spectacular coincidence:
The Serious Fraud Office is investigating the Wellington Tenths Trust over possibly unlawful payments and transactions.

SFO boss Adam Feeley told The Dominion Post yesterday that the agency had received a complaint about the trust.

"We are investigating transactions connected with the Tenths Trust and whether there may have been any payments or transactions related to them which were unlawful," he said.

The investigation comes after Tenths Trust chairman Sir Ngatata Love stood down from all his positions representing Maori – including chairing the Port Nicholson Block Settlement Trust – pending the outcome of an inquiry into a $1.02 million payment into an account he held with partner Lorraine Skiffington.

…

Other senior members of the Tenths Trust community said they were staggered to learn of Ms Skiffington's consultancy deal.

A later deal, signed with another Skiffington entity – Strategic Directionz – included the provision of payments of $62,500 plus GST per month for ongoing work.

When these payments began to slip, Ms Skiffington warned that there would be no work done on other proposed Redwood Group projects in Petone, Greta Pt and the proposed Kate Sheppard Plaza, until the matter was resolved.

Redwood Group founder Tony Gapes said payments to Ms Skiffington went through a joint venture bank account.
On 10th Sept 2012, in another coincidence, Slater follows up at Whaleoil with another Skiffington/Gapes story. SFO were still struggling with their Tenths Trust investigation in mid 2013, under Feeley's successor; I couldn't find a more recent update. It does look as if Graham and Slater induced the SFO to start an investigation that hampered another SFO investigation: neat. The SFO must now feel it's a pity they couldn't join the dots between the Hanover investigation, Tony Gapes, and the Tenth Trust tip-off. Some journalists reporting this saga will know that feeling. The trouble is, sometimes the dots are quite artfully hidden.
There's another unfortunate NZ Herald connection too; that same Matt Nippert weekend story has the key email. By mid April 2012, the Slater/Odgers/Graham team switch focus from the SFO (sufficiently knocked off balance, by then, I suppose) to the FMA.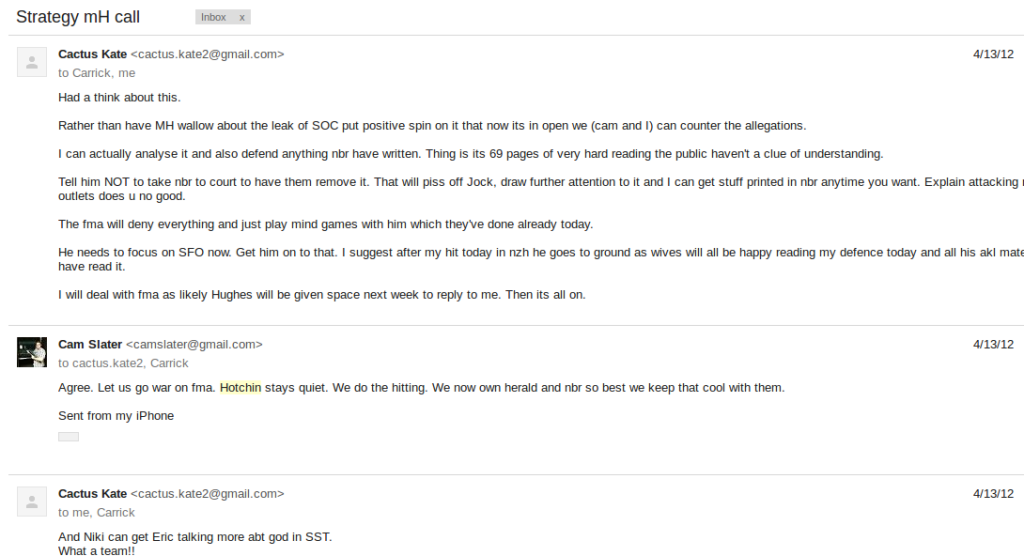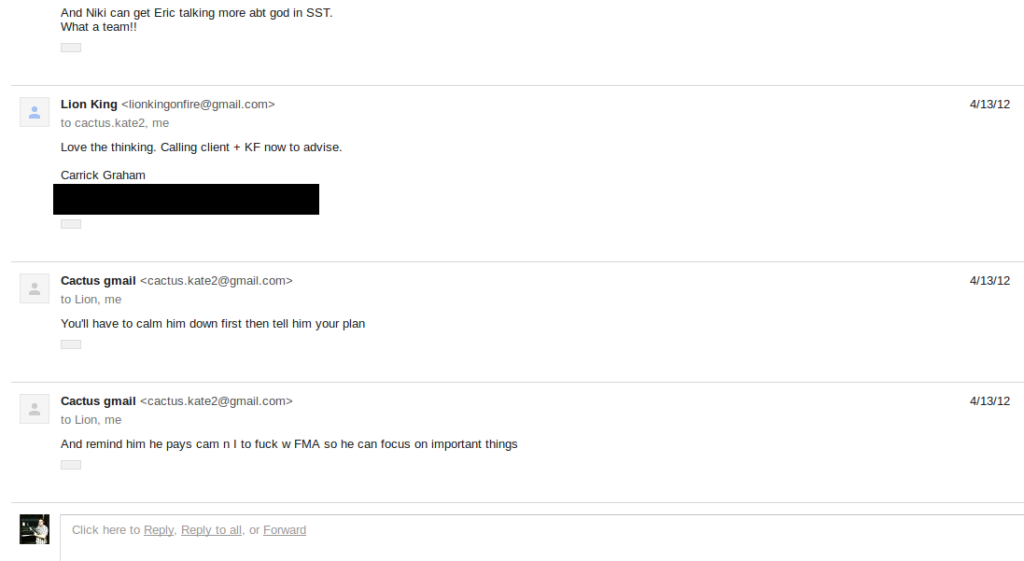 It is well-confirmed that by then Cathy Odgers does indeed own the NZ Herald, and wants to fuck with FMA, for, the very same day as the above email exchange, this anti-FMA knocking copy appears in the NZ Herald under Odgers' byline. As you can see from the very recent update in that piece, the NZ Herald is now rightly embarrassed about carrying this piece of hack work, paid for, one assumes, by Hotchin, also the subject of an FMA investigation:
Herald editors knew nothing at the time of publication of any campaign to disparage the FMA or SFO or their leaders.
Evidently by April 2012 the Herald had forgotten their 15 (fifteen) late-2011 pieces knocking the SFO. It seems appropriate to provide a reminder.
And now we get around to the crook in my headline. One of the Herald pieces listed in the Friday email that forced out Justice Minister Collins is this one:
Rod Petricevic says it was "vindictive" of Serious Fraud Office boss Adam Feeley to crack open a bottle of Bridgecorp's bubbles to celebrate criminal charges against him.

"I'm surprised and I'm really quite appalled to be quite honest. I wouldn't have thought this situation is one for celebration," Petricevic said last night.

He said the SFO was celebrating the "misfortune" of people being charged and it was an upsetting time for him, his co-accused Rob Roest and their families.
Presumably that was not as upsetting as the verdict,
Convicted former Bridgecorp director Rod Petricevic has been jailed for 6 and a half years.

This month Petricevic was convicted on 18 Crimes, Companies and Securities Act charges of including misleading statements in an investment prospectus, with the former charges carrying a maximum sentence of 10 years imprisonment.

Justice Geoffrey Venning said he did not believe Petricevic showed true remorse for his actions in the collapse of Bridgecorp in which 14,500 investors lost $490 million.

"You have said you are remorseful but also maintain your innocence.

"You may be sorry investors lost their money but that is not true remorse – you apparently still consider you did nothing wrong."

Crown prosecutor Brian Dickey earlier said Petricevic's offending was "cynical".
As it happens, Petricevic's trial started on the 25th October 2011, after much wriggling by the defendant, and he might well have fancied a final, remorseless, vengeful pop at the SFO. He duly appears in the Slater email that summarises the knocking stories to date. So what I'd like to know is: if Hotchins was paying Odgers and Slater to knock the SFO, were they also undertaking the same service for the purportedly penniless Petricevic? That would only be true friendship, if it was free of charge, I suppose. Perhaps, though, my headline is altogether wrong, and the fall of Feeley is just a happy vengeful fluke for Petricevic. There's an obvious follow-up: a quick look at coverage of the Petricevic case, by bloggers and newspapers. Is there any sign of a campaign there, too?
To sum up, finally: bamboozled by a PR man and two well-connected bloggers in the pay of a man under investigation by the SFO, the media (especially the NZ Herald) played a major part in the sidelining of the head of the SFO, on a trivial pretext. Somewhere in the background, there is connivance from the police and allegedly the Justice Minister too. One question awaits a truly satisfactory answer: why on earth would Collins take part in a conspiracy like this (if she did)?
A penultimate gentle nudge at the media: the SFO head was above all an effective public servant who ran an investigation that secured a number of convictions in Petricevic's NZD490Mn investment fraud, Bridgecorp. In my neck of the woods, successful fraud prosecutions on that scale are as rare as rocking horse droppings. Maybe New Zealand can afford to throw away public servants who can pull off that sort of feat, but I doubt it. In context, one can only be impressed, though not necessarily in a good way, by Fran O'Sullivan's stalwart conviction that gossip about a tasteless booby prize at an office party, or a psychopath's whine about a bottle of bubbly at another office party, matter more, when assessing an SFO chief, than a good prosecution record:
"It was – and remains – my strong view that the issues exposed in Savage's story exposed poor judgment by former SFO boss Adam Feeley and compromised his office."
Others might contend instead that the background to the Judith Collins resignations exposes poor judgment by the NZ Herald editorial staff and compromises their newspaper. Tellingly, O'Sullivan latest comment still reproduces Slater's line of three years ago:
Basically though the Herald and other media are now picking up our lines that this situation is like "Caesar's Wife" where the SFO must be beyond reproach.
This is proverbial humbug. In fact, "the perfect is the enemy of the good", as we see in the case of Feeley.
This distant blogger, who gets all his stories second hand from public sources, or pre-checked by proper journalists, and can blog when he feels like it, not when print deadlines dictate, has some obvious observations, from his comparatively very easy berth, and with the benefit of a whole lot of hindsight.
The NZ media need to get Slater's humbug out of their heads, straight away, and in future, pay closer attention to who's putting the chum in the water (Odgers, for instance, right now) and who benefits (John Key, rid of Collins, gets a new lease of life, for instance, right now).
Consider also: at the present, ex-Justice Minister Collins (blown up by Odgers on Friday) and Prime Minister Key (now subject of a Privacy Commissioner complaint, by Collins's buddy Cameron Slater, that went in after the Prime Minster's office published the Odgers email) look exactly like proxies in a falling out between the two bloggers, announced by Odgers two weeks ago, on the KiwiBlog (comment 3). That might well affect the development of the story from here.
It's an undignified and erratic way to organise the affairs of New Zealand, this leakery, and it's already caused institutional damage: see the SFO story; with the Fourth Estate led by the nose, to boot. It needs to stop. Otherwise, Hager will write more or less the same book again, and the media will be writing more or less the same stories again, come the next election. Most can agree that this sort of thing really should not be a recurring bug, never mind an acknowledged full-on feature, of public life in New Zealand. Who could make it stop? Someone who thinks hard and dispassionately about sources, evidence and motives, and can get heard above the hubbub, would be a start. The electorate, if it cares enough, is more likely to show its disapproval by staying away; that won't improve anything, far from it.
Meanwhile, the name of serial major fraud bystander and recent chum-dumper Cathy Odgers crops up again in Slater's discussion of yet another fraud, Bridgecorp, and very close indeed to an attempt to manipulate the outcome of another fraud investigation, into Hanover Finance. In the case of Hanover no fraud was found: the investigation hit a brick wall, seemingly because the investigators just couldn't trace the money flows. Odgers is beginning to have quite a rum-looking portfolio there, whatever that implies; I do find it intriguing, I must admit.
Last minute update: Nippert's latest TV appearance has some illuminating musing on his corner of the sausage machine, and we are promised more from Fran O'Sullivan in the NZ Herald on NZ's Wednesday.
Belated disclosure 3rd Sept, after an email scan: it took "Dirty Politics" to wake me up about Odgers, too.