So, here we go.
The Mid-Terms Begin
In politics, management by the numbers is now a thing, if you can afford it; the 2012 elections cost $6 billion dollars. Why, that's almost into Cost-of-Doing-Business Fine For Big Bank territory! Here is some handy data; and see "Why American elections cost so much"), and so a number of pollsters are trying to reverse engineer what a large number of legacy party vermin campaign operatives are very well paid to do: Predict the election results before the election actually happens. (And who needs to go to the polling places, anyhow? If the results are known beforehand everywhere except in a tiny handful of swing precincts in a tiny handful of swing states? A modest step toward restoring a functional democracy would be to outlaw all campaign polling and all election ads a month (say) before the election. Let the candidates barnstorm the country on trains, like Truman did. They might actually learn something if they were forced out of their bubble even momentarily.)
Here's Larry Sabato's assessment; Charles Cook's; an explainer on polling; a thumbsucker from last year's hero, Nate Silver. Everybody seems to think the Democrats will lose the Senate, which they certainly deserve to do — which does not imply that the Republicans deserve to win it — but here's a contrarian analysis arguing from polling methodology. And here's the helpfully congealed conventional wisdom from WaPo: "8 questions — and answers — about the midterm elections." It seems that North Carolina and Iowa are the Senate races to watch. In North Carolina, the banks have given a good deal of money to the Democratic contender, Kay Hagan; shocker, I know. The Iowa campaign is going to suck up a lot of money and go negative. No news there, but right now the race is a literal deadlock. Exciting!
About Those Missing planes
Although "More Than Half of MH17 Victims Now Identified," it's going to take months to identify the rest using DNA sampling of the body parts, say officials at the Netherlands Forensic Institute. But when the pink paper ("Nato alliance goes back to the future") says "almost certainly using equipment provided by Moscow," I for one would be a lot happier turning "almost certain" into certainty if we had satellite imagery from all the powers, telemetry, the black boxes, transcripts from Air Traffic Control, that oddly missing Spanish air traffic controller (if he existed), the pockmarked skin of the aircraft (and not digital photos thereof), and the other debris. At least when Colin Powell sold the Iraq WMDSs to the UN, he had the common human decency to hold up a vial of white powder, for pity's sake. And not pictures of the vial. Or tweets about it.
Of course, absence of evidence is not evidence of absence. The Ukraine war zone is wired to the gills, and none of the great powers involved are being especially forthcoming with the digital data they all certainly hold, and there are no fists pounding tables about releasing physical evidence, either. And with Pan Am Flight 103, the physical reconstruction took three years. (But can't we get a cease-fire on the site? Or an international, impartial inquiry?) Thinking in terms of realpolitik, the only tangible effect of the MH17 affair has been to put Malaysian Airlines into a death spiral; the affair has — so far — not served as a casus belli , assuming intent was at work and not accident. It's the eternal question, isn't it? Stupid, or evil?
And about the other missing Malaysian Airlines plane, MH 370: Hackers are said to have lost "critical information" on the flight's downing to a viral assault. And we now have new tech, including an aviation fuel "sniffer, and a new search area ("the seventh arc"), since MH370 may have turned south earlier than previously thought, say the Australians, based on a newly discovered attempt at a satellite phone call (nobody on board the flight answered). But "the crucial question of why the aircraft flew wildly off course also remains unanswered." Indeed! Once again thinking in terms of realpolitik, the MH370 affair has had negligible geopolitical effects (so far). There has been no cui bono. Once again, the eternal question.
Thoughts on the Ukraine
The Saker has this on questions of method, which I found interesting and useful:
I urge everybody to be extremely cautious with Russian news sources including Russian TV channels and RT. Why? Because Russia has a major stake in this fight and that I am absolutely certain that the Russian elites are split on what the best solution would be for Russia. There are also informal, shall we say, "groups of like-minded people" inside the Russian media who are trying to promote the interest of their patrons and supporters. And while it is would be an oversimplification to say that, for example, NTV stands for "position A" while RT stands for "position B", I know for a fact that inside RT, NTV, Rossia, REN-TV and the rest of various groups have various agendas: one editorial board might have a very different position than another one, even inside the same media outlet.
Sound familiar?
… Russian interests should not be automatically conflated with the interests of Novorussia, just as the interests of the Russian and Novorussian elites should not be conflated with the interests of the Russian and Novorussian people. Seems obvious, but I feel that this should be clearly stated again because any agreement on the final status of Novorussia will be the resulting vector of the goals many very different interests groups and almost certainly end up being a compromise from which nobody will walk away with everything they want.
I like that metaphor of a vector very much. It's a more positive way of expressing the idea of "No single causes!"
The main conclusion I hope that you all will draw from the above is that we should not jump to conclusions and avoid making big sweeping judgments. If I have convinced you that this is a very tricky, complex and multi-dimensional issue then I am satisfied. … So let us keep an eye on this incredibly fluid, complex and dangerous situation and not pretend like it is simple and the solution obvious.
Since my deadline approaches, I'm going to translate this into American moderator-speak: I'm going to whack any CT, hard; and what I think is CT, is CT. Deal, because it's a big Internet, and the door to 4chan is over there. In comments, all other things being equal, I would far rather have a few hard stones of the mosaic every day, than diagram after diagram of the mosaic-to-be, or a general theory of mosaics (some of those we have, but they're not all good). I know we're critical thinkers here, but as Wittgenstein said:
We have got onto slippery ice where there is no friction and so in a certain sense the conditions are ideal, but also, just because of that, we are unable to walk. We want to walk so we need friction. Back to the rough ground!
* * *
There will be plants, propagating themselves through beauty, albeit in this case rather indirectly. I took this shot of a poppy from my garden just now: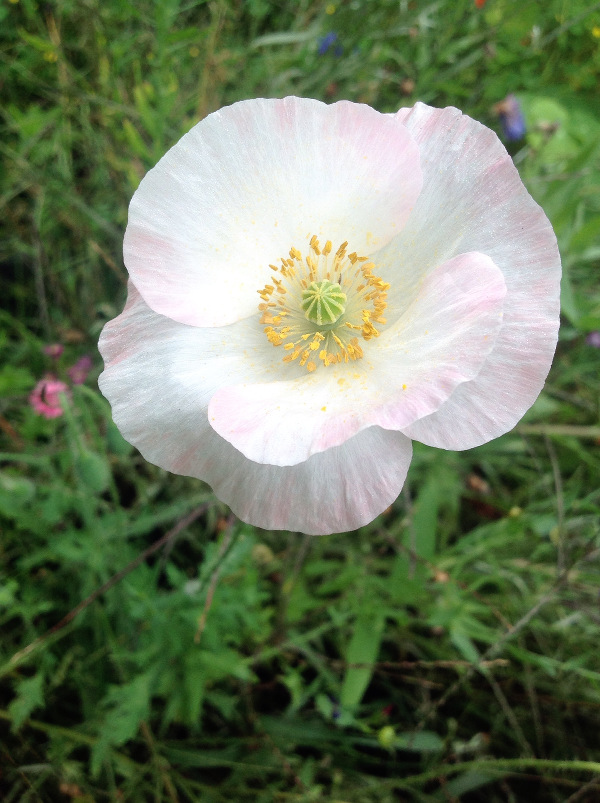 Readers, feel free to send me images of plants that you think might be suitable. Your first test is to find out how to contact me. Don't contact Yves.
Any breaking news?
* * *
If you enjoyed this article, please consider tipping.
Water Cooler Launch Notes
1) I will try to drill as deeply as I can into the topics I look at, but this feature as a whole makes no attempt to be "cover the waterfront," as it were, or to be exhaustive.
2) If there are topics you think should be covered that aren't, please put links in comments, ideally with quotes from the links so readers can assess.
3) If there are sources you think I should curate and look at regularly, please put links to them in comments. I will greatly appreciate this, because it's such a big internet. Hard data is better than theorizing, please!
4) For paywall stories, I'll give the full headline in quotes, so you can google for them. (You should be able to tell a headline quote from a normal quote by the title casing.)
5) We expect commentary to be wide-ranging. Talk amongst yourselves!
6) Just for due diligence, since it's so obviously true, "Yves's roof, Yves's rules" applies.
UDPATE
7) I forgot to say I'd appreciate feedback on the form, as well as the content.