Yves here. As we've written, austerity in Europe and Chinese efforts to rein in construction-related lending have delivered enough of a hit to global growth so as to start denting oil prices, which were holding up in large measure due to tensions in the Middle East. This post suggests that more oil price weakness is in the offing. This is a big negative for the fracking boom, needless to say, and may give environmentalists more time to stymie further development.
By David Llewellyn-Smith, founding publisher and former editor-in-chief of The Diplomat magazine, now the Asia Pacific's leading geo-politics website. Originally posted at MacroBusiness
The oil price is taking a shellacking today on the terrible Chinese data, down north of 1%: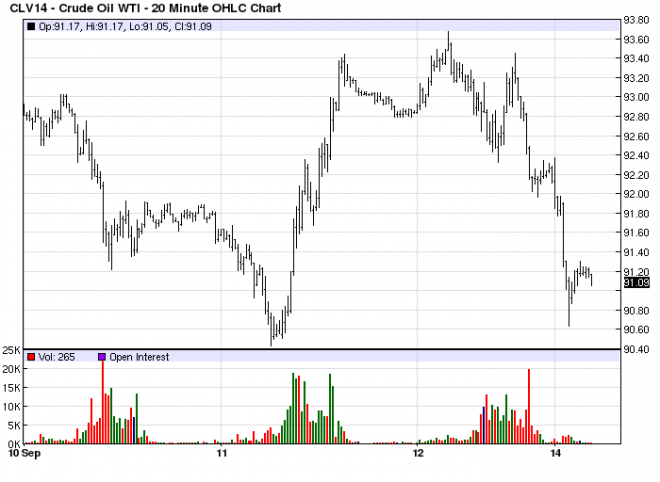 The weekly chart is already through key support and targeting $85: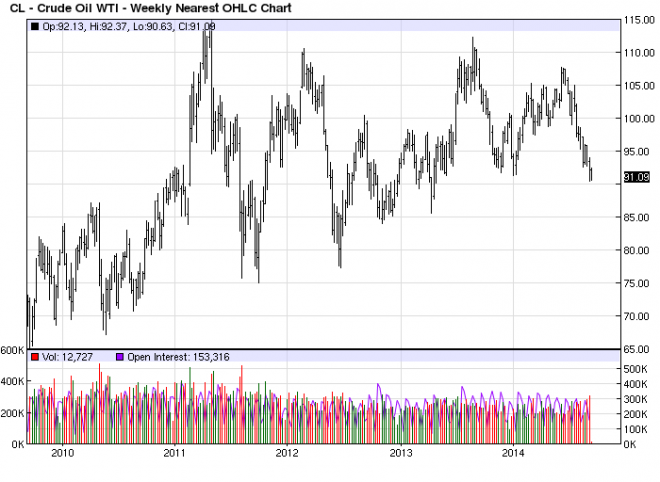 I was one that thought we would see consistent geo-political premium in prices as Iraq deteriorates. However BofAML has an intersting opposite take today:
Islamic State could force a rethink of Saudi oil output policy

We recently showed how active management of Saudi oil output has helped keep oil prices above $100/bbl for almost 4 years. Yet recent advances by the Islamic State (IS) have disrupted Middle East politics and shifted incentives for key regional and global players. After all, self-proclaimed caliph al-Baghdhadi, leader of the IS, rejects political divisions established by Western powers at the end of World War I. As such, IS presents a direct threat to Middle East governments at a time of growing social discontent. What could Arab countries offer the West to help contain this threat? Lower oil prices.

Lower oil would hurt IS, Iran and Russia, but help the West

Western leaders should welcome the help. Lower oil prices could weaken Russia's hand by significantly curtailing revenue streams, just as they did the mid 1980s and again in the late 1990s. Then there is the upcoming November US midterm election. History does rhyme here too. Since 1990 Brent prices have been, on average, 2% lower in the month preceding a US election and 4% lower in the election month itself. Lastly a dip in prices could benefit Saudi Arabia by simultaneously slowing down US shale oil investments and weakening Iran and IS financially. A delay in energy independence would keep the US engaged in the Middle East for longer.

So far, Saudi has increased oil output despite a drop in prices

Are there any signs that Saudi may want lower oil? Discounts in Aramco's official oil selling prices (OSPs) tend to lag the crude oil curve shape and say little about Saudi production intentions. Yet our analysis suggests a 10% drop in oil prices has historically led to an average 1.5% reduction in Saudi production 3 months later. The recent drop would imply a supply cut of 150-200 k b/d. Instead Saudi has increased production by 200 k b/d since June, allowing Brent to move lower. How much money can Saudi forgo? A significant amount, as the government budget break-even is $85/bbl. True, a lower oil price carries risks. But the Islamic State may now pose a larger immediate threat.
I'm not sure I buy the argument. Saudi could just as easily see IS as a stalking horse for Sunni interests to destabilise an Iraq that is dominated by Shia Iran. As well, the best way to pacify the Arab Street is surely to make as much dough as possible and bribe the it like mad.
Still, whether it's geo-politics or a market share battle or falling Chinese growth prospects, the oil price looks like it's going lower. That knocks another leg from under the Australian dollar as oil-indexed LNG prices fall right along with crude.