By Lambert Strether of Corrente
Shootings in Ottawa
Shootings occurred at the National War Memorial, near the Rideau Centre, and on Parliament Hill, say police [CNN].
One soldier killed at War Memorial, corridors of Parliament filled with scent of gunpowder [New York Times].
Schools and government buildings in lockdown, all party leaders safe [CBC].
One gunman killed, bridges closed [Ottawa Citizen].
"Canada is under siege from within" [Toronto Sun]. That was fast! "Terrorists End Canada's Innocence" [Daily Beast]. After École Polytechnique? Demented. "[H]ow an oasis of tranquility became breeding ground for terrorists" [Daily Telegraph]. Note: So far as I know, there's no reported evidence on this (these?) shooter(s?) at all, at least as of 1:00PM EST.
Here's the Globe and Mail's twitter feed.
Hong Kong
Next round of talks not scheduled, occupation continues, 200 protesters march to CY Leung's house, endgame seen "unclear" [Reuters]. Again, this is quite remarkable:
Tuesday's cordial, televised talks … pitted five of the city's most senior officials against five tenacious but (sic) poised student leaders wearing black T-shirts.
Hong Kong protester: "They are slowly cooking Hong Kong in a hot pot" [Asian Correspondent]. There's a lot of that going around.
Polls: Public support for Hong Kong protests grows significantly, despite divisions [South China Morning Post]. So expect pushback to increase in intensity.
Ferguson
Agreement between Occupiers and St Louis University includes increased funding for African-American studies programs, more financial aid for black students, and setting up of a bridge program in the Shaw and Normandy neighborhoods [River Front Times].
Official autopsy said to show Mike Brown was shot in the hand at close range during a struggle in Darren Wilson's car [Newsweek]. The Brown family was smart to get its own autopsy, then. There's also a third autopsy, done by the Justice Department, but not released [WaPo].
Darren Wilson gives his version [St Louis Post-Dispatch]. And here's more, er, highly colored coverage of same [Daily Mail]. I have to say, I think "incredibly strong" is over-egging the pudding.
And St Louis isn't the only big, Democratic-controlled midwestern city where cops whack citizens with "impunity" [Truthout].
2014
We don't have a Surgeon General because the Ds threw their own nominee under the bus to protect Blue Dogs in states where ammosexuals could swing the vote [Bloomberg]. 
Sleazy private equity "No Labels" D mole Greg Orman goes for the youth vote [Emporia Gazette], while R silverback Pat Roberts deploys pro-lifers [RH Reality Check]. Orman's plan is to hold interest on student loans to the rate of inflation. I guess we'll see a lot more students studying German, because you can get a free German college degree if you do, which sounds like a better deal than handing over a huge chunk of your income to rentier parasites for a big chunk of your working life, assuming you can find work [CBS]. Just saying.
Will Independents — Orman, Pressler, King, and Sanders — hold the balance of power in the Senate? [Politico]. Maybe. Or maybe not!
Stats Watch
Consumer Price Index, September 2014: Inflation "excluding food and energy" "soft" [Bloomberg]. "[I]nflation is soft and not leading the Fed to hurry the first increase in the fed funds rate next year. Fed funds futures suggest that first rise will be in the second half." Party on, dudes! Annual COLA increase for Social Security and disability payments, calculated from September's figure, will be 1.7% [WSJ].
EIA Petroleum Status Report, week of October 17: Inventory up from refinery maintenance [Bloomberg]. Build larger than expected [Oil and Gas Journal]. (Here's a handy source on rig counts.)
Rapture Index: Unchanged [Rapture Ready].
Slavery
Slavery explainer, with links [Science 2.0]. 
Mauritanian woman rescued from slavery, faces stoning for having sex outside marriage [CNN].
Asia's brutal slave trade [Reuters].
Tax Geekery
The money quote: "[M]arginal tax rates on the top 1% of the earnings distribution of close to 90% are optimal" [NEBR]. So the Birchers were right. Dwight D. Eisenhower (92%) was a communist.
Brownback's tax cut nostrum crashes the Kansas economy [FT, "Tax 'experiment' rebounds on Republican in re-election campaign"].
Maps and Mapping
Crowdpac has an interesting and useful new tool on candidates' issues, money sources, and donor networks [CrowdPac]. Just in time for the mid-terms! Can you see the problem with it?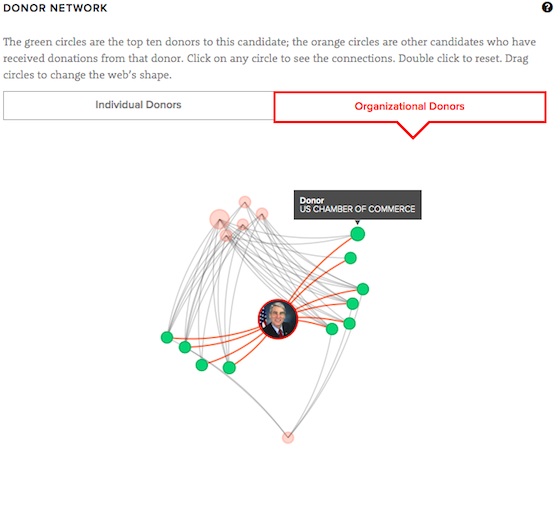 That's right. You can see a "donor network,"  but you can't get a synoptic, total view of all donors simultaneously; you have to hover over each node to get its label (here, "U.S. Chamber of Commerce"). Can you tell from that one hover whether whether the CoC is an outlier for this candidate, or not? No. How do users create a synoptic view for a candidate and then share it to others? Apparently by hovering over each node and writing the label down, or something. I'm consideirng the idea that there's a pervasive mentality that 1:1 relations are always digging into, but 1:M, not so much, as least where money is concerned. Yes, I know displaying labels like ""U.S. Chamber of Commerce" on a network graph is a hard problem, but that's why we pay programmers the big bucks to create tools that users can use.
News of the Weird
* * *
Readers, feel free to contact me with (a) links, and even better (b) sources I should curate regularly, and (c) to find out how to send me images of plants. Vegetables are fine! Fungi are deemed to be honorary plants! See the previous Water Cooler (with plant) here. And here's today's plant (Steve R):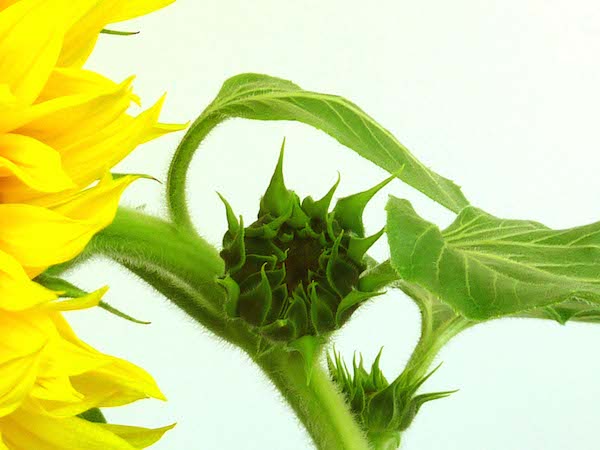 I love how optimistic plants seem. They keep budding and pushing toward the light, even when winter is coming.
Talk amongst yourselves!